Back
WAX COT. PERSUADER SNAP VEST
REVW A250
ARMY 1010 FIELD TAN WAX COTT
Textile wax cotton canvas snap front motorycle vest
Sleeveless denim jacket - wax lined inside gun pocket
WAX (tin) to easily recondition wax-cotton sold separately
Adjustable side snaps
External D-ring sunglass holder
Leather pass-through hole for earphones
Snap front
Black oxidized metal hardware
1 Interior pocket sewn vertically to front facing
Concealed Carry - CCW - Pocket
Inside multi-media pocket sewn to lining
Black rayon lining
ID key fob embossed with garment unit-number for reference
Oversized sleeve holes and body to make room for layering
The Vanson PERSUADER is a Western denim-style vest in waxed cotton with a traditional snap front, two top pockets with inset flaps, and two zippered hand pockets.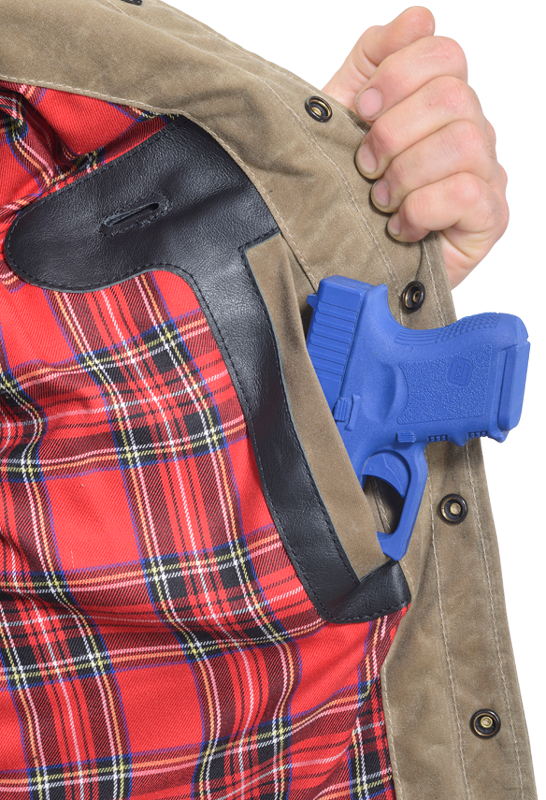 Set into the flap seam of the right front chest pocket is a D-ring sunglasses holder. The side tabs are adjustable snap-sets. The classic Western-style inset panels with double-needle topstitching make the PERSUADER both a great looking and highly functional vest.
On the inside, a concealed carry (CCW) leather lined gun pocket is anchored to the inside facings, this pocket can be ordered for either right or left hand draw. Set onto the lining is a multimedia pocket to hold your cellphone and other small valuables. Cut through the vest, and reinforced with leather, is a pass-through for a discreet earbud wire from the left outside pocket, which can then be run through a fabric guide by the edge of the main label. Sleek black metal hardware and a plaid cotton lining complete the look. Overall, the PERSUADER is a classic design updated for today - ideal for warm weather riding or just hangin'.
Data sheet
Material

Jackets........16
Jackets........25

CATAGORY

Casual and Street Mens
Mens........9
Specific References
ean13

HAND MADE IN U.S.A. OF DOMESTIC AND/OR IMPORTED MATERIALS

upc

35.10,35.20,.00,.00,.00,.00,.00,.00,.00,.00,.00,.00,.00,.00

MPN

REVW A250
SIZES.....32..34..36..38..40..42..44..46..48..50..52..54..56..58..60..52
Originally designed to be worn over a jean jacket or sweatshirt - this vest
has a generous cut with wide armholes so it can fit over the sleeves of a
jacket. The Body of the vest is full and cut straight down to the waist
with very little taper. Back length of the 44 is 26.50 inches.
Bottom circumference of the 44 vest is 46 1/2. Chest ease is 7 - so a
size 44 vest will have a 51 inch chest circumference.
Bottom side snap tabs allow snugging the waist 1 inch each side.