Back

Email from Steph (blogger and illustrator of JellyCity.com)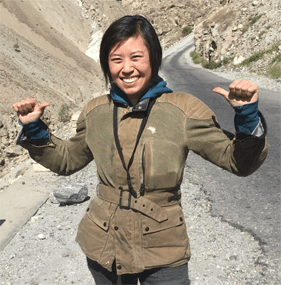 Vanson's Baja Jacket in Pakistan
Thanks! The trip went over mountain passes and down to valley desert floors, we saw snow and then hit 30 C+ heat in the same day. The mesh jacket with a wet kerchief was essential for the valley, and I piled on layers underneath for the cold or put rain gear over top for snow.
One of the more exciting and beautiful roads we took was from Gilgit to Skardu. It hugged the mountainside, often with cliffs overhanging the road and frothy rapids 100ft below. It's a trucking route with two way traffic and no guard rail. The road itself alternated between pavement, gravel, and fresh landslide. That's probably where I picked up the most dust, and white hair.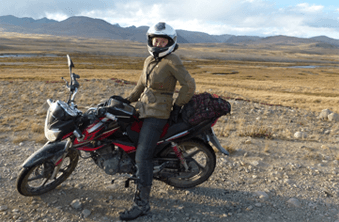 Many of the photos are from Deosai Plains, the second highest plateau in the world. After a grueling climb along narrow rocky roads we arrived on the plains 13,000ft above sea level.
It's beautiful and otherworldly above the timberline, and we picked our way along trails and water crossings with rocks the size of a babies heads. I definitely stood on the bike more than I sat that day.
The Baja jacket was versatile enough for both extremes. I lost count of the water crossings we made, but in warm weather I'd just keep riding and let myself dry off through the mesh. I hope you and your co-workers enjoy the photos! The northern region of Pakistan was absolutely beautiful, and people were so friendly.

Death by chai and selfies!

Best,
Steph

Sprouty 115 - ADVRider.com
I tried the Klim Induction at Revzilla and put it right back on the hanger - I didn't like the fit or the stiff feel of the jacket. To start with I have no affiliation with Vanson outside of being a long-time customer and a big fan of their products, so bear that in mind if you read anything further...
So last year as I was boiling away I decided I needed something to wear in the summer so I picked up a Vanson Baja jacket. It's a mesh/waxed cotton mid-length jacket that flows air like a t-shirt (maybe all mesh jackets do?) and is really well built.
So then I was trying to sort out my options when I remembered Vanson. This is what I ended up with - It's called the Baja and it's new and they had plenty in-stock.
The Baja is mesh and flows a ton of air, so it really is a hot-weather summer jacket.

- Sprouty
Peter's Review Is In
How does our jacket fair our friend Peter's attention to detail?
Browsing Vanson's factory store one day I ran into what I thought was a cool vintage looking jacket on the rack. It had the look and feel of being ready for off road riding. Yet the intricate stitching and detail mixing suede leather and a fine mesh fabric carries it into a stylish jacket. My tan one has a desert storm look to it.
Enjoying Mike's description of the Baja's combination of leather and unique mesh I could see how the jacket is perfectly designed for warmer temperatures. The whole jacket is nearly ventilated yet it has protection where you need it.
Since I am moving to Florida I had to have one.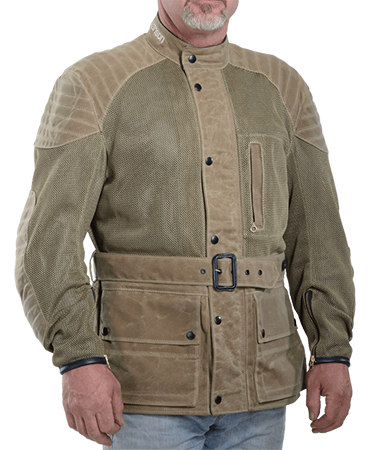 It works perfectly and is incredibly comfortable.
Here are the details:
- It's a 3/4 length jacket similar in style to a Barbour International/Bellstaff Trialmaster
It has waxed cotton panels on the shoulders, elbows, and front and back
It has CE rated armor (shoulders, elbows, back)
1000 denier mesh
5 pockets, (two inside mesh, one outside mesh, two outside front that are waterproof)
perforated microbial liner
YKK zippers
It comes in brown and black.
and most importantly it's typical Vanson quality - which means it's a solid piece of riding gear, not a piece of fashion-wear.
I have no idea how it compares to other mesh jackets with respect to air-flow but I do know that it feels like I have a tee-shirt on when riding. I've had it for a week and I'm very happy with it.
'Baja's fit is custom the quality is authentic,
and the durability is life long'
Like all my Vanson's jackets, (I have a TT2 and a Stormer) the Baja's fit is custom the quality is authentic, and the durability is life long.
Best,
Peter J VanLancker