We're Cutting Inflation! 10% Sale*
* Sale applies to all discount marked items. Some items only available at MSRP.
Due to these Inflationary times we have had to raise our Custom Racing Suit prices, Please call us for these prices adjustments.
---
Slava Ukraini! "Glory to Ukraine!"
Back
ARMORED COMET JACKET
M201 BLK
BLACK COMPETITION WEIGHT
Leather biker jacket
50s Scooter leather jacket updated with armor
Backpad optional - will accept optional backpad
CE approved F.A.S. armor at elbow
CE approved F.A.S. armor at shoulders
Leather lined collar
Snap collar
Chrome hardware
2 Interior zip-close secure wallet pockets
Armor access zipper in lining to adjust or remove armor
Black rayon lining
STREAMLINER snaps for streamliner vest attachment
2 Zip-close chest pockets
ID key fob embossed with garment unit-number for reference
Windtight low-bulk zip close sleeves
Leather windflap
Modern classic leather jackets like the M201 come along occasionally. The styling of the Vanson Comet M201 '60s scooter jacket combines modern motorcycle protection with an old-school look and modern hand craftsmanship,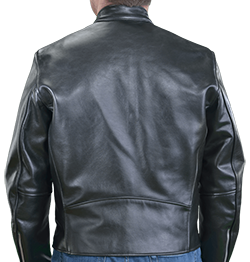 Perfect to scoot from cafe to cafe, checking out the scene with your shades in one top pocket and your smokes or cellphone in the other. Keep your wallet in the deep inside pocket as you lean over the pool table to line up your shot. And when the night cools down the wind flap and gusseted wrist zippers will help you stay warm and comfortable.
The M201 Mens Armored Comet has a zipper in the lining for easy installation of shoulder and elbow/forearm CE armor, with the patented Vanson Floating Armor System. The optional backpad is slid in through the zipper opening and attached with Velcro to the hanger system. A last-a-lifetime classic worth slipping into.
Data sheet
Material

Jackets........45
Jackets........46

CATAGORY

Mens........29
Mens........30
Specific References
upc

4.40,8.10,26.10,30.10,35.10,35.20,35.70,.00,.00,.00,.00,.00,.00,.00

EAN13

COMT

MPN

M201 BLK
SIZE:.....32..34..36..38..40..42..44..46..48..50..52..54..56..58..60..62
Armored Comt.
Chest Measurement Size 42 is 48 inches --------Norm Ease 6 inches
Back length 24 ------Front 21.5 ---------Nape to Wrist 35.5
Bottom circumference sweep is 41 inches.
Shoulder and Elbow CE armor is standard. Will accept Back-Pad.
This is a short jacket meant to hit beltline. This maybe too short for
people over 6 ft. tall.