This Weekend - 15% OFF SALE!
On Internet and Showroom Purchases Now thru Sunday
Holiday Showroom hours are M-F 9-6 Sat 10-4, Sunday 11/27 and every Sunday until Christmas 12-4.
Our Elves are hard at work filling your orders!
Back
NITROUS GLOVES
NITR G150
REINFORCED BLACK GOATSKIN
Professional leather race glove
Curved hand drag-race glove with coolmax lined
ARAMID under palm-patches and knuckle-patches
Coolmax lining on top hand only to reduce bulk
Finger seams sewn inside for durability
Inserted wrist gore gusset for snug wrist fit
Knuckle patches sewn over knuckles and down fingers
Leather tab across wrist with velcro closure
Palm heel patch
Wrist strap with D-ring and velcro closure
Chrome hardware
Specially tanned and prepared Glove deerskin
Two-tone color styling
NITR Drag Racing Gloves
Back in 1999 when Dave Schultz joined the Vanson Team, he was instrumental in helping us develop the Vanson family of Drag Race products. Dave was sponsored by Sunoco Race Fuels and Suzuki Motor Corp. running in NHRA ProStock and ProStar ProStock racing. Until his untimely passing, Dave was a constant source of innovation. The Vanson Nitrous family of gloves is the result of years of experience and collaboration with top riders like Dave. (Thank you, Dave...R.I.P.)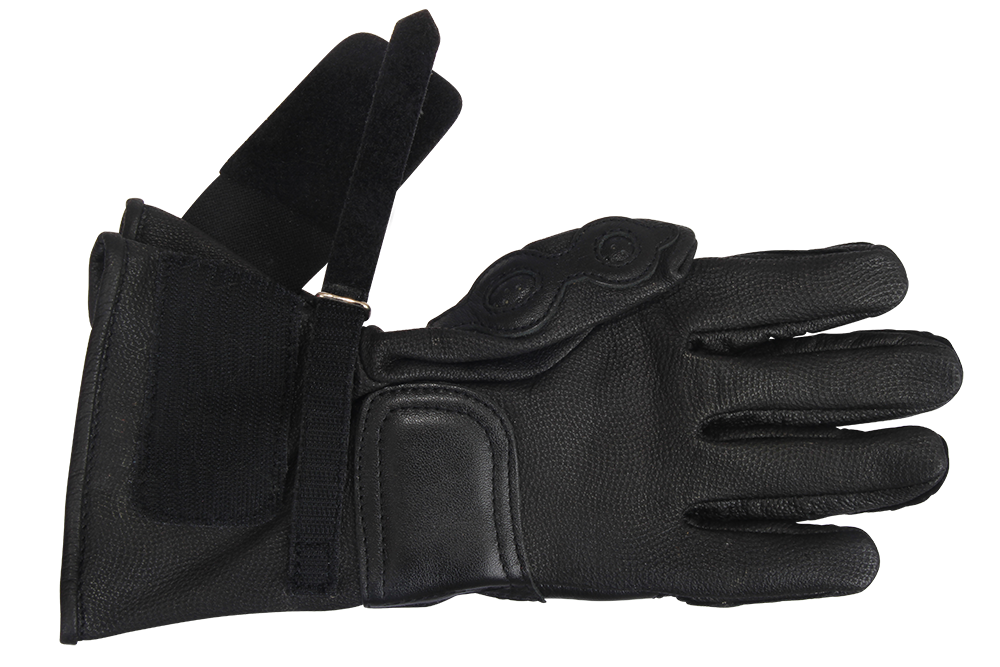 The sole reason for the existence of these gloves is that they are functional safety equipment. This is achieved through several aspects of the design.
The gauntlet of these gloves serves one purpose - to protect the wrist zipper of the racing suit sleeve in a crash. If the wrist zipper is exposed and broken, the sleeve will be pulled up the arm, exposing skin to asphalt. The gauntlet prevents that.
There is a strap on the inside of the wrist, and when this is tightened it works with the elastic strip zig-zag stitched to the inside of the glove, between the wrist and the knuckles, to stop the glove being pulled off if you crash and are sliding backwards down the track. Dave Schultz learned about this the hard way with a competitor's glove.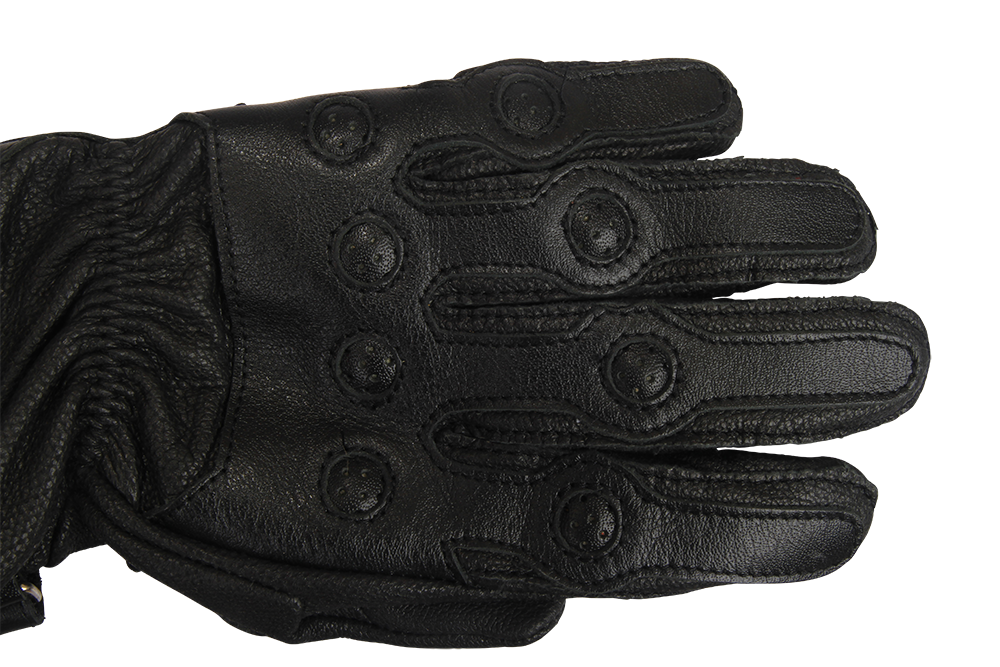 The backs of the knuckles and fingers, the back of the thumb and the palm are padded with a sandwich of materials, including a high impact energy absorbing foam.
There is Kevlar® under the palm pad for added protection.
Comformax lines the back of the hand for cooling, but is only used there and not on the palm, for less bulk when gripping the controls.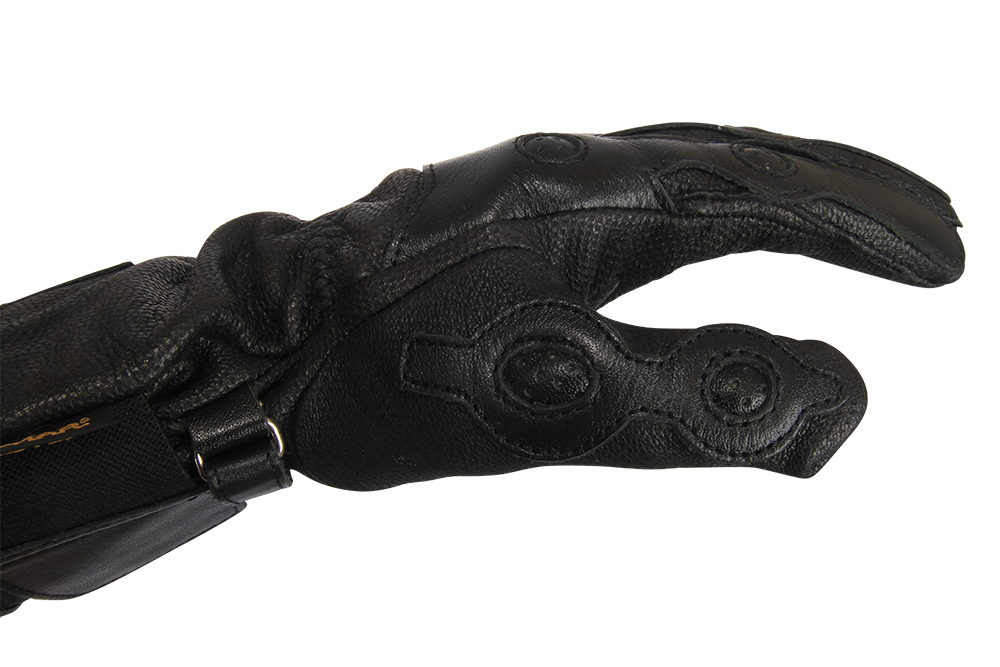 These gloves are precurved for better fit, minimum bulk in the palm area, and less break-in time. These gloves should fit skin-tight around the palm and fingers with your hand partly curled. The wrist fit should be snug, holding the glove securely in position. The top of the gauntlet should be held tightly over the suit sleeve by the Velcro tab, with plenty of overlap.
We know these gloves work at speeds in excess of 200 mph. In one incident Korry Hogan jumped off the Top Fueler in Gainesville, FL when the spark plug wire broke and the high-voltage electric current was burning and shocking him. Korry told us These bikes put out a quarter of the electricity of an Electric Chair and his Vanson Nitrous Gloves saved him from severe burns.
Chris Hand was blown off his bike also in Gainesville, and slid on his back at about 180 mph. When we looked at his Nitrous Gloves they were minimally damaged. And there was no visible damage to his hands.
Larry McBride had a nitro fire at the starting line and the flames engulfed his hands and chest. He was unhurt, his Nitrous Gloves took all of the abuse and shriveled from the heat and flame....but his hands were not hurt at all.
These gloves come in two versions - the NITR and the NITX. The only difference is that the NITX has brass studs on the heel of the hand for even more protection if you ever find yourself sliding down the asphalt.
DuPont™ and Kevlar® are trademarks or registered trademarks of E.I. du Pont de Nemours and Company.
Data sheet
Material

Gloves........25

CATAGORY

MENS GLOVES
Specific References
ean13

HAND MADE IN U.S.A.

upc

35.10,.00,.00,.00,.00,.00,.00,.00,.00,.00,.00,.00,.00,.00

MPN

NITR G150
SIZE....1XS.......2S.........3M.........4L..........5XL..........6XXL
MEAS.....7......7.5-8.......8.5-9......9.5-10......10.5-11......11.5-12
Wrap tape over the widest part of the knuckle - make a fist and note this
measurement. Measure your dominant hand.
Measures about 12 inches from tip of middle finger to edge of cuff - Medium
Cuff is about 5 inches long from wrist elastic.
.
Glove dimensions given are approximate as gloves stretch during manufacture
and use.