Back
MOHAWK JACKET
JMV2 Z150
ZIRCONIAN SMOOTH BLACK LEATHE
Buco style slim fit motorcycle riding jacket
70s clean Leather Jacket w/2 chest & hand pockets
Full length action back
Leather lined collar
Snap collar
Chrome hardware
1 Interior lining zip-close secure wallet pocket
Black rayon lining
Full leather inside facings
2 Zip-close chest pockets
2 Zip-close exterior hand pockets
ID key fob embossed with garment unit-number for reference
Underarm gusset for enhanced movement
Windtight low-bulk zip close sleeves
Underarm ventilation grommets
Leather windflap
The MOHAWK JACKET is a look-back of forty years or so. In 1974, America was a beacon in a world in turmoil. It's hard to imagine a time when if you really wanted to manufacture something, America was the place to be. Japan was definitely growing in manufacturing prowess, and Europe had its interesting niche companies; but for sheer output volume, the States still held the records.
Production and wealth-creation on this scale became known worldwide as "American Know-How", "American Creativity", "American Management" and the "American Standard of Living". International business of all types was dominated by American companies exporting American Management through conglomerates with vast global holdings and investments. Looking back from the wreckage of today one is struck by the complacency and short-term thinking that led the entire country away from these internationally acclaimed successes. At the time, no one, not even the companies themselves, ever imagined the outcomes we live with a half century later.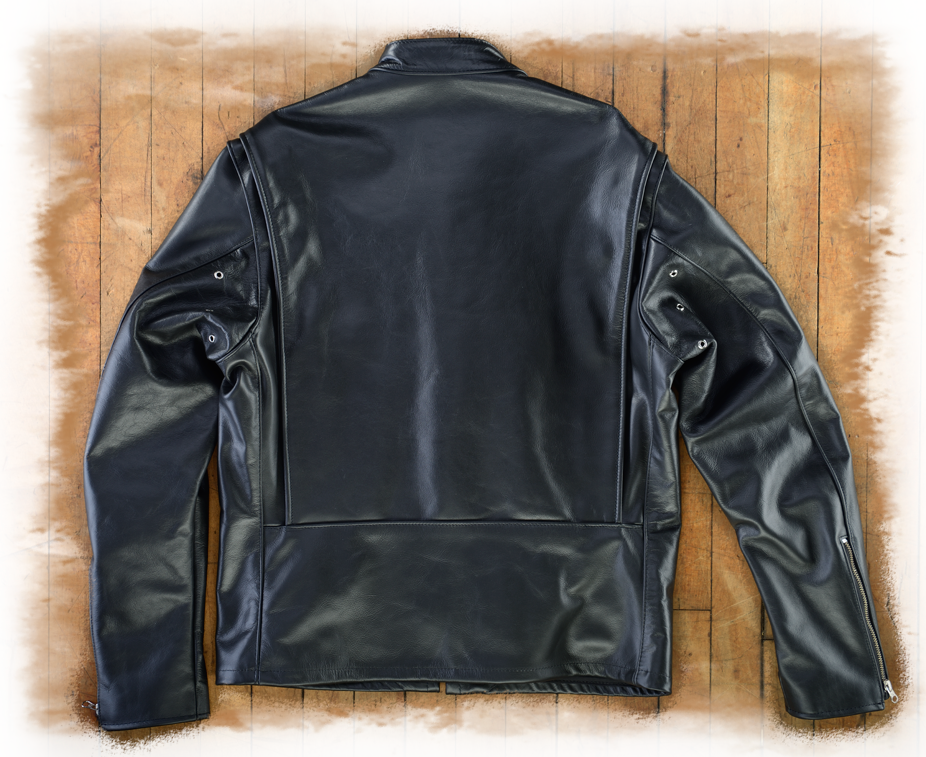 1974 was a propitious year full of contrasts: Vanson Leathers started, Watergate, Sam Ervin and  "Deep Throat" dominated the discussion. Ronald Reagan was one of fifty state governors. August of 1974 saw the unprecedented resignation of Richard Nixon.
Today, the Vanson MOHAWK Mens Jacket pays homage to those times. In every respect, the products of that time, different in design, fit and finish to those of today, are authentically represented by the Vanson MOHAWK JACKET. This is not as easy and straightforward as it may seem…it's a little like asking Ford make a faithful reproduction of the 1964 Mustang.
Using the Continental Daytona Jacket (Style 4007) as our starting point, we chose Zirconian Smooth Black Leather for its construction and added features from the period. Faithful in all respects to the craft of its time, the Vanson MOHAWK JACKET  captures the straightforward style of the '60s and '70s Cafe Racers. So whether you ride a vintage motorcycle or want to stand out with a classic metro style the Mohawk is for you.
Sizing.XXS(32)..XS(35)..SM(38)..MED(41)..LG(44)..XL(47)...XXL(50)..XXXL(53)
SIZES:..XXS....XS....SM....MED...LG....XL....XXL...XXX
Scale....32..34..36..38..40..42..44..46..48..50..52..54
Size MED-(SZ 41) Chest measures 45.5 = CONTINENTAL FIT (4 in of chest ease)
Back length is 26inches - Front 23 Sleeves are 35.5 Nape of neck to Wrist
CONTINENTAL FIT Bottom circumference 41.5
Jacket is meant to cover the beltline.