Back
GARAGE JACKET WORK SHIRT
REDM A350
ARMY 1010 OLIVE - WAX COTTON
Textile waxed cotton canvas biker jacket
Garage jacket with two chest pockets and two hand pockets
WAX (tin) to easily recondition wax-cotton sold separately
Shirt-style collar
Tack-button front closure
2 Interior lining pockets button-close
2 Chest pockets with flaps
2 Front open hand pockets
ID key fob embossed with garment unit-number for reference
Sleeve cuffs with double tack buttons for adjustable close
Ex*cess n. an amount greater than needed;  the amount by which one is greater than another; overindulgence. (Source: Webster's Dictionary)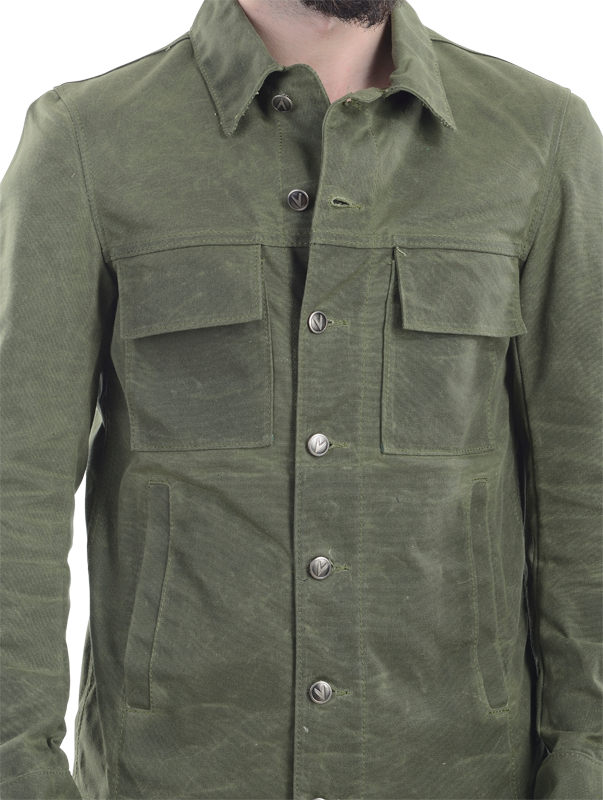 Excess pockets; on the front: two extra-deep and secure waxed-cotton-lined hand pockets, two applied chest pockets with flaps... an inside left chest patch pocket with bellows construction... inside lower fronts: two deep top-loading pockets secured with button tabs.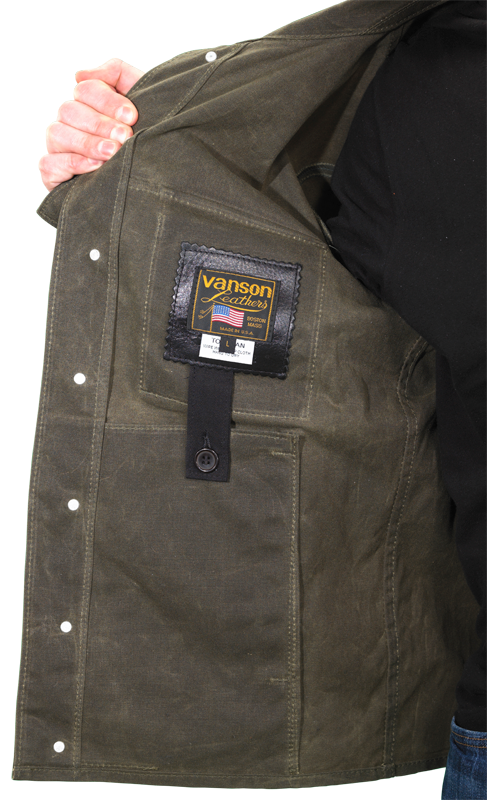 Excess construction; all seams, except the armholes and sleeve inseams, are double-constructed with no exposed stitching. Every seam is overlapped and carefully wrapped so there is no bulk and no visible stitching. The result is a beautifully finished, unlined-for-low-bulk-and-comfort casual jacket.
Excess attention to detail; the collar is designed with a shaped half-moon inset in the undercollar to get just the right amount of shape and roll in the way the collar folds down onto the neckline. The collar is carefully applied on both sides of the neckline to eliminate any raw edges. The cuffs are built with twin tack-buttons for convenient adjustability.
The Vanson REDEMPTION GARAGE JACKET. Go ahead, make a statement. Because sometimes apparent excess feels just about right.
SIZES......XS......SM......MED.....LGE.....XL......XXL.....XXXL....XXXXL
SCALE......32......36......40......44......48......52......56......60
Size MED-(SZ 40 Chest measures 44in. = CONTINENTAL FIT (4 of chest ease)
Back length is 27.50 ... Front 25 ... Sleeves 35.5 Nape of neck to Wrist.
Bottom circumference sweep is 44 inches.
Jacket is meant to fit like a shirt and cover beltline.
No lining - two breast pockets and two hand pockets