Back
MANCHESTER JACKET
4016 WL10
WOOL BLACK 24 oz.
Wool English Mod scooter jacket
Hip length wool jacket with kick pleat
Bi-Swing action back for greater movement
Zip-closed kick-pleat at rear bottom hem
Slant front zipper
Chrome hardware
1 Interior lining open-top wallet pocket
Rayon-lined sleeves for easy wear comfort
Red plaid cotton-blend lining
2 Zip-close chest pockets
2 Zip-close exterior hand pockets
Riveted leather pull-tabs on zipper
Zip-close cigarette pocket on right sleeve
Zip-close ignition key pocket on left sleeve
ID key fob embossed with garment unit-number for reference
Windtight low-bulk zip close sleeves
Two-way main zipper for comfort
The Vanson MANCHESTER JACKET was inspired by the scene in early-1960s England, at a time when the Mods and the Rockers were battling each other for recognition and popularity. It recalls the trans-Atlantic fashions of the day. The Beatles, The Stones, the Yardbirds, The Hollies, the Dave Clark Five, the Spencer Davis Group…when they first came onto the scene remember the thin ties, slim, fitted clothes and narrow lapels? All this was way before bell-bottoms and jeans became the de facto hip look.
Slim and long, the Vanson MANCHESTER JACKET has a zippered kick-pleat in the back and a two-way center-front zipper to adjust the jacket for optimum riding position. The right sleeve has a cigarette pocket at the bicep area, while the left sleeve has an ignition key pocket just above the wrist zipper. Twin matching inside pockets built integrally into the curved facings lie under both the left and right fronts.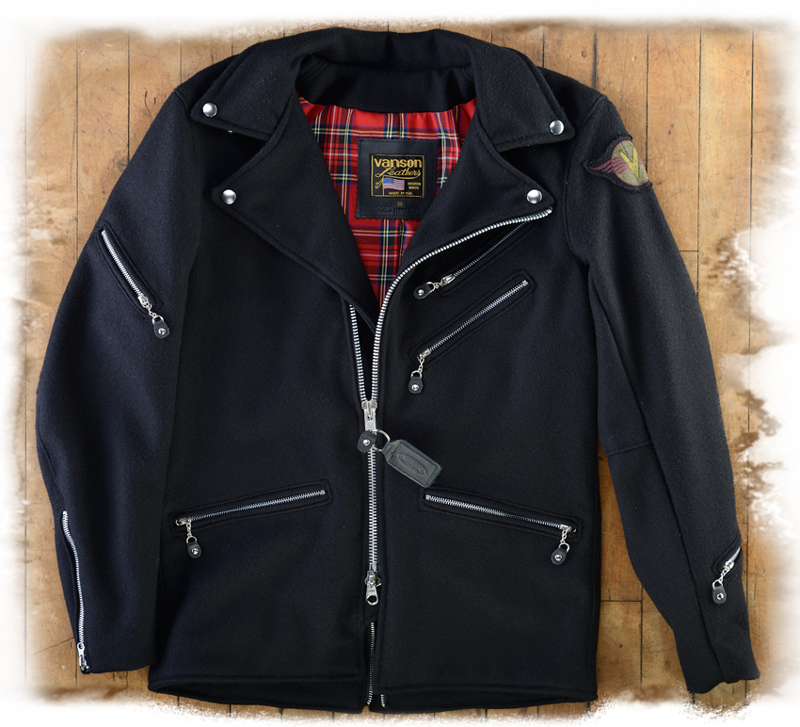 Outside front pockets include two zip-close hand pockets and two diagonal-slash, zip-close chest pockets. The vintage Vanson Flying V logo is printed by hand on the left shoulder.  Other nice Vanson touches are the leather pull-tabs riveted to the pocket zippers.     
This hip-length jacket is a walk-about metro style with a strong '60s Mod scooter influence. Whether you stroll Tokyo's Shibuya-ku or ramble in New York's SoHo, the Vanson MANCHESTER JACKET brings the past forward to today.
Data sheet
Material

Jackets........14
Jackets........20

CATAGORY

Mens........7
Metro Mens
Specific References
ean13

SPECIAL ORDER ITEM OF DOMESTIC AND/OR IMPORTED MATERIALS

upc

35.10,35.20,.00,.00,.00,.00,.00,.00,.00,.00,.00,.00,.00,.00

MPN

4016 WL10
SIZES...32..34..36..38..40..42..44..46..48..50..52..54..56..58..60..62
Wool jacket - slant front with lapel - 2 angle chest pockets left front -
2 hand pockets lower fronts. Slanted Ignition key pockets on each sleeve.
Jacket 42 chest measures 48.5 in. -------- 6.5 inches ease around chest.
Back length measures 30 in.Nape to Wrist measurement is 35.5 in. This is a
normal fitting jacket meant to drop to the hip area.
Bottom circumference sweep is 45 in.
Chrome hardware - 2-way main zipper to assist in front length when seated.