We're Cutting Inflation! • 10% OFF Sale*
Slava Ukraini! "Glory to Ukraine!"
* Sale applies to all discount marked items. Some items only available at MSRP.
Back
LETTERMAN JACKET
V403 E350
OLIVE GREEN BODY + CREAM SLVS
Bomber slim fit leather jacket
Updated flight w/snaps + zip front and self-edge knit trim
Knit waistband and cuffs
Knit collar
Snap front
Zip front
1 Interior pocket sewn vertically to front facing
Black quilt lining
Full leather inside facings
2 Front open hand pockets
ID key fob embossed with garment unit-number for reference
Chrome hardware black cap snaps
Chrome zippers
The word "varsity" is used attributively in the U.S. and Canada to describe a sports team made up of talented older high school or college students.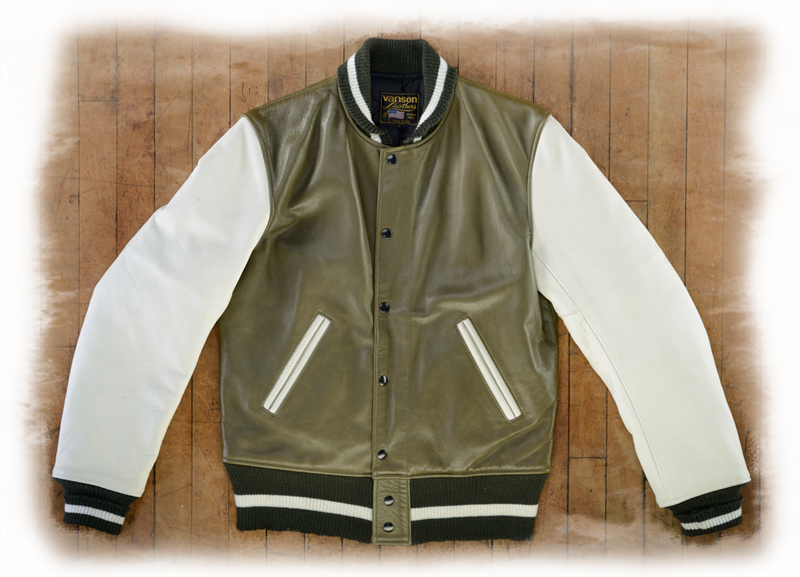 Only the best make it to a varsity team…and only the best of the best get to wear a VANSON LETTERMAN JACKET.  From the dual-close snap and zipper front, to the carefully hand-made self-edge knit used at the collar, wrists and waist…this is a true reflection of the youthful Vanson craft.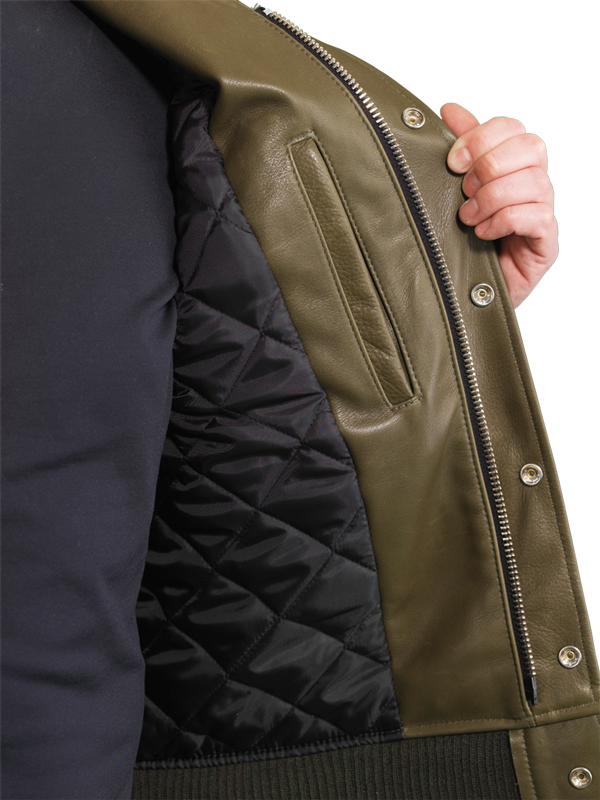 Craft following function, self-edge knit waistband and cuffs are made from a single ply which keeps the knit from being folded, heavy and bulky. The result is a light and elegant elasticity that enhances the fit and comfort of the jacket. Self-edge waistbands are made one at a time, by hand in Minnesota.  Knitted flat on a slow machine, watched over by an experienced operator, controlled by punch-card type paper tapes, each piece is a little different from the next one. In contrast, modern knitting is done on ultra-fast circular, robotic machines which can spit out so many thousands of parts that the completed knit is sold by the pound.   
Cut in a slim and sophisticated fit, the VANSON LETTERMAN JACKET is an expression of achievement and success. Meticulously made, with special attention to every detail, every line and seam speaks to a high standard of quality and comfort. Everything about this handmade classic jacket speaks to a polished, urbane, confident lifestyle. 
Data sheet
Material

Jackets........14

CATAGORY

Mens........7
Specific References
ean13

SPECIAL ORDER ITEM

upc

35.10,35.20,.00,.00,.00,.00,.00,.00,.00,.00,.00,.00,.00,.00

MPN

V403 E350
SIZES.........1XS......2S......3M......4L.....5XL.....6XXL....7XXX....84XX
SCALE......32..34..36..38..40..42..44..46..48..50..52..54..56..58..60..62
Size MED-(SZ 42 Chest measures 46.5 inches ---NORM FIT (4.5 of chest ease)
Back length is 28 --Front 24.5 --Sleeves are 36 Nape of neck to Wrist.
Jacket is meant to cover the beltline. Jacket Sweep 42 inches.
NOTE: ALL MEASUREMENTS ABOVE ARE FULLY EXTENDED WAISTBAND ETC.
.....Expected measurements with normal waistband + cuff draw-up is ::
......BACK LENGTH +- 26.5in. Jacket Sweep +- 34in.
...All knit is self-edge and meant to be folded by the wearer so sleeve
.....lengths are highly adjustable to fit.