Back
CUB BOMBER JACKET
4019 A150
Textile wax cotton canvas slim fit flight jacket
Original Bomber leather jacket snap windflap and knit trim
WAX (tin) to easily recondition wax-cotton sold separately
Knit waistband and cuffs
Leather lined collar
Mandarin collar with neck-belt and buckle
Snap front
Zip front
Black oxidized metal hardware
2 Interior lining pockets button-close
Rayon-lined sleeves for easy wear comfort
Red plaid cotton-blend lining
2 Flap-closed lower hand pockets
ID key fob embossed with garment unit-number for reference
The Vanson CUB JACKET is a varsity-style jacket in wax cotton with self-edge knit cuffs and waistband. This mens jacket is a lightweight textile, all wax cotton, that looks great, is easy to wear, and is incredibly comfortable as you wander the metro avenues.
The self-edge knit waistband and cuffs use a single ply, so they are not folded, heavy or bulky. The result is a light and elegant elasticity that enhances the fit and comfort of the jacket. Self-edge waistbands are made one at a time, by hand in Minnesota.  Knitted flat on a slow machine, watched over by an experienced operator, controlled by punch-card type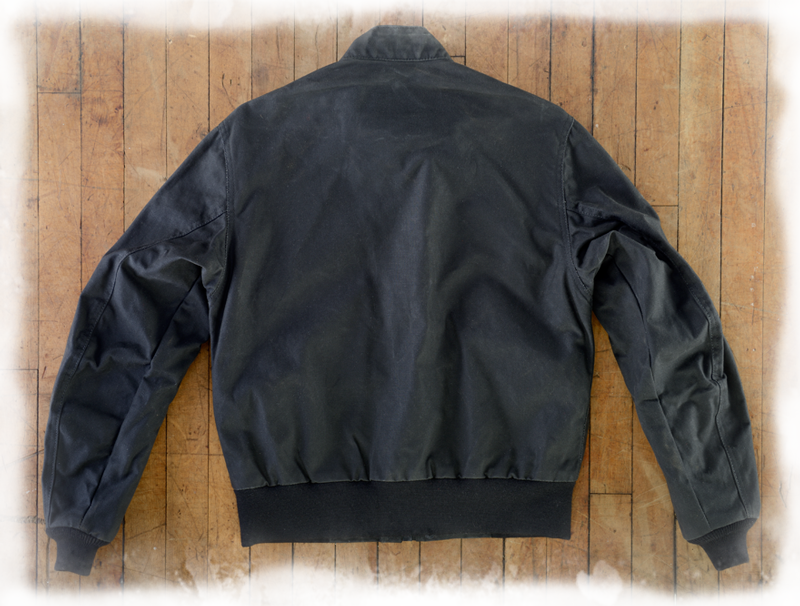 paper tapes, each piece is a little different from the next one. In contrast, modern knitting is done on ultra-fast circular, robotic machines which can spit out so many thousands of parts that the completed knit is sold by the pound.
The waxed cotton body and the cotton plaid lining allow the jacket to breathe, so it will keep you from getting sweaty or clammy. We all know how a typical modern textile jacket will get damp on the inside from your natural perspiration and can become uncomfortably cold. The materials used in the Vanson CUB JACKET will not get damp and then cold because they breathe. At the same time, the waxed cotton is water-resistant, virtually impervious to the elements. These are some of the great advantages of waxed cotton, along with the cut and construction we have incorporated into the Vanson CUB JACKET.
Lightweight, easy to wear, water-resistant, breathable, year-round comfort brought forward from the past with superior materials and details in a modern jacket – another timeless Vanson classic.
Data sheet
Material

Jackets........14

CATAGORY

Mens........7
Specific References
ean13

SPECIAL ORDER ITEM

upc

35.10,35.20,.00,.00,.00,.00,.00,.00,.00,.00,.00,.00,.00,.00

MPN

4019 A150
SIZES:..XXS....XS....SM....MED...LG....XL....XXL...XXX
Scale....32...34....36....38....40....42...44...46....48....50....52.....54
Sizing XXS(32) XS(35) SM(38) MED(41) LG(44) XL(47) XXL(50) XXXL(53)
Size MED-(SZ 41) Chest measures 45 in. - CONTINENTAL FIT(4in of chest ease)
Back length is 29.5in.- Front 25 - Sleeves are 36.5 Nape of neck to Wrist
CONTINENTAL FIT
Jacket is meant to cover the beltline. Bottom circumference sweep is 44 in.