Back
MOTOR OFFICER 3/4 COAT
LUSP Z150
ZIRCONIAN SMOOTH BLACK LEATHE
Classic leather coat with with rounded shawl collar
30s Double breasted Officer 3/4 leather Greatcoat
Full length action back
Chrome heavy duty 2 inch buckle
Removable belt buckle - held by fold-over + snap
Beltloops - long leather beltloops to fit 2-inch-wide-belt
Full belt
Shoulder epaulets with buttons
Double-breasted front
Chrome hardware
2 Interior open-top wallet pockets
Rayon-lined sleeves for easy wear comfort
Red quilt lining
2 Flap-closed lower hand pockets
ID key fob embossed with garment unit-number for reference
Back in 1983, we got a call from the Rhode Island State Police. After we regained our composure, they told us they were looking for a company with leather sewing experience to design and make a new version of the 1930s-style Motor Officer ¾ length leather coat. 
At that time, the Rhode Island State Police (RISP) ran their own in-house tailoring shop that made all of their uniforms. These handmade uniforms were so good-looking that they received national attention because they were unique and popular among the law enforcement community. In fact, in 1986, The RISP uniform won the "Best Dressed" award from the National Association of Uniform Manufacturers and Distributors (NAUMD). In September of that year, six RISP troopers went to New York City to model the uniform on the television show Late Night with David Letterman.(source: Wikipedia)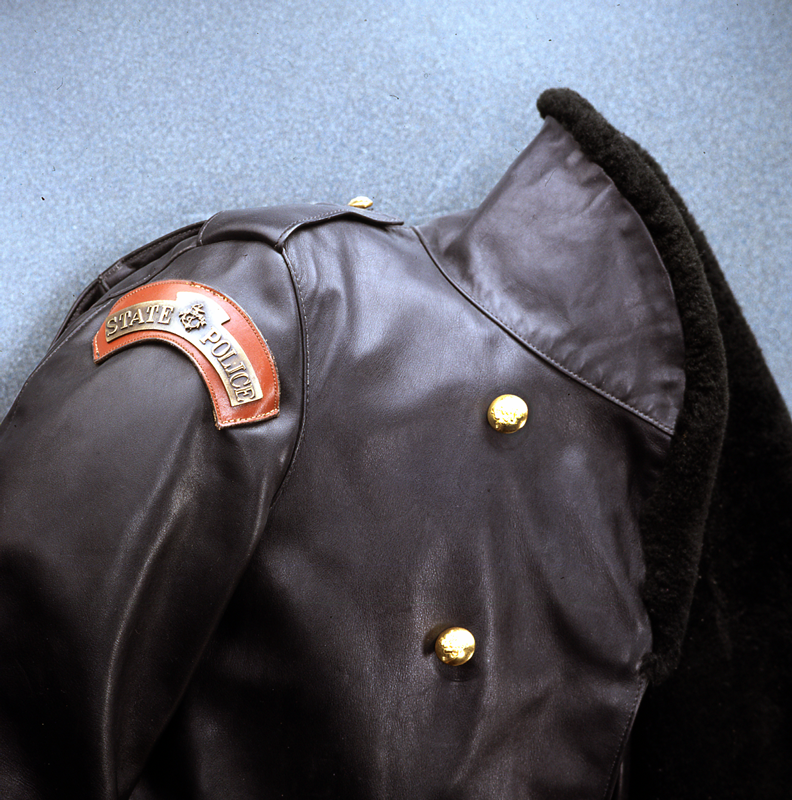 We know why they decided to go out of house: they picked us because we are the best, in quality, fit and design; but being selected to work with RISP has been a great honor. We quickly discovered that they are demanding perfectionists. There is no detail too small to review and, if necessary, improve. Every coat was done only when they said it was done, not before. We appreciate their commitment and attention to detail because thats the way we work here at Vanson. It was a good fit.
What Colonel Stone wanted was a traditional 1930s-style Motor Officer Coat. In the '30s, it was common for state police officers to have a leather overcoat that would fall to the mid-thigh or longer. They were typically double breasted with either large notched leather collars or a rounded shawl-style fur collar. There was a kick pleat in the rear to allow comfortable freedom of movement. These coats also had a belted waist, usually with a hefty 2 wide belt.
One cannot wear this coat without making a statement. Theres a hint of menace and an underlying message of Don't tread on me in the DNA of these coats. Whether on a bad guy or a good-guy cop the distinctive look and power vibe are the same.
Data sheet
Material

Jackets........14

CATAGORY

Mens........7
Specific References
ean13

SPECIAL ORDER ITEM

upc

35.10,35.20,.00,.00,.00,.00,.00,.00,.00,.00,.00,.00,.00,.00

MPN

LUSP Z150
SIZES...34..36..38..40..42..44..46..48..50..52..54..56..58..60..62
Shoulders measure 21 - making this a broad shouldered full cut over coat.
Size MED-SIZE 42 Chest measures 51 = NORM FIT (9 of chest ease)
Back length is 35 ----Front 30.5 ----Sleeves are 35 Nape of neck to Wrist.
Jacket is meant to end above knees. Bottom circumference is 53 inches.
Slightly fitted waist (45 inches on sz 42) gives the jacket an elegant cut.