We are now offering Sezzle as an interest-free payment option when purchasing our product
You can choose between 4 payments. 6 weeks. (cart $1-$500) or a 3-month loan (cart $500-$25,000)
Back
DRAG RACE 2-PIECE READY MADE
DRAG FIRE
FIRENZE BLACK MEDIUM WEIGHT
Two-Piece Drag Race suit
Drag Race suit - 2 piece zip-joined medium weight leather
Backpad installed as standard equipment
GRIND - leather + ARAMID sandwhich at knees and seat
GRIND - leather + ARAMID sandwhich at shoulders and elbows
Cross-zipper security tab at ankle
Expander section at back for ease of movement
VANSON embroidered on collar
Tall Sizes - extra length Legs Body + Sleeves available
Brass hardware
Ventilated mesh lining
Suspender buttons - sewn on - 4 sets of 2 buttons each
Zippers at rear of calf
ID key fob embossed with garment unit-number for reference
D-ring for ignition kill switch sewn into right sleeve
Racing suit style wrist zippers with shaped zip guard
2 Rear zip-close exhaust vents
Leather windflap with license pocket
This is a 2-piece, competition-ready Drag Race Suit. This suit is enhanced with GRIND at the shoulders, elbow/forearm, knees and seat; it also has a backpad.  GRIND is the special proprietary Vanson mix of leather and Kevlar® to make an almost impermeable protection barrier at key areas.
GRIND meets or exceeds even the AMRA and NHRA HARLEY FUELER CLASS requirements.  GRIND is light in specific weight, always important when measuring ounces for speed. GRIND is extremely protective; Chris Hand came off at 220 mph, Korey Hogan at 246 mph...  and so on.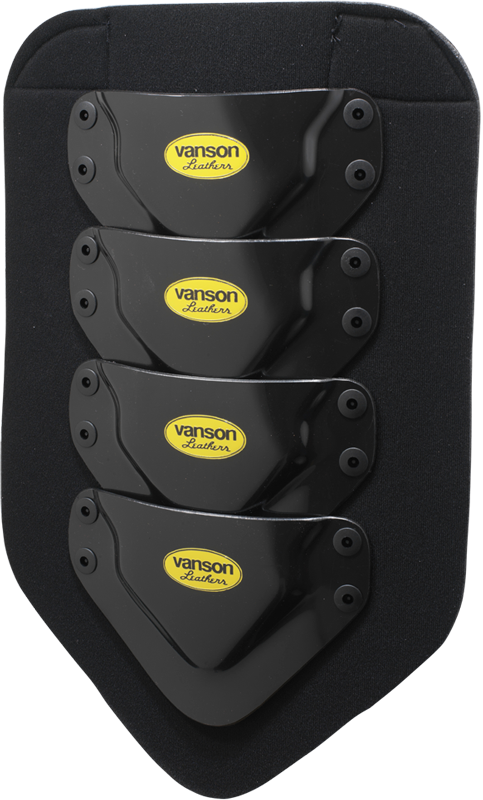 Our exclusive use of GRIND allows Vanson to build these suits using our butter-soft, already broken-in leather which we call CBLK.
The Back pad is the Vanson four scale, articulated, hard polyethylene pad that we produce for our high performance motorcycle road race suits.  The waist zipper is full circumference, made of heavy-duty brass, and the lining is ventilated nylon athletic mesh. The Suits are produced in regular chest sizes, men only.  These suits are not basic suits, they are complete in all important aspects, already broken-in and ready to go.
DuPont™ and Kevlar® are trademarks or registered trademarks of E.I. du Pont de Nemours and Company.
Data sheet
Material

Drag Racing Suits........27
Drag Racing Suits........28

COMFORT

Armor installed........44
Armor installed........45

ARMOR

Leather........34
Leather........35

CATAGORY

Off the rack suits........16

CHANAME

Not vented........63
Not vented........64
Specific References
upc

8.20,24.50,35.10,35.40,35.70,.00,.00,.00,.00,.00,.00,.00,.00,.00

EAN13

DRAG

MPN

DRAG FIRE
SIZES (DR2 )..34..36..38..40..42..44..46..48..50..52..54
2" CHEST GRADE SLOPER SIZE 42 CHEST MEASURES 46.25 (4.75 chest ease)
...............
.................
NAPE OF NECK TO WRIST GRADE
TOTAL TORSO GRADE 1.00 SLOPER 42 MEASURES 63.63
INSEAM GRADE .25 SLOPER 42 MEASURES 31.63
CROTCH TO MIDKNEE GRADE .13 SLOPER 42 MEASURES 15.13.