Back
HYBRID ONE-PIECE RACING SUIT
HYB1 FIRE
FIRENZE BLACK MEDIUM WEIGHT
Road Race suit with twin zip front- full armor + back hump
Professional grade track tested 1 piece roadracing suit
Backpad installed as standard equipment
CE approved F.A.S. armor at knee
CE approved F.A.S. armor at shoulder + elbow
Competition double leather at shoulders and elbows
Competition double leather in the knee area
Hip pad armor standard
Leather seat with 1000 denier cordura layer for protection
Puck made from UHMW material for smooth wear resistance
Puck velcro fields - for knee pucks
Cross-zipper leather security tab at neck
ARAMID inset in crotch area for low-bulk comfort
Expandable leather movement panels
Expander section above knees for comfort
Expander section at back for ease of movement
Tall Sizes - extra length Legs Body + Sleeves available
Brass hardware
ProPerf chest back and arm panels
Fully removable ventilated mesh liner
ID key fob embossed with garment unit-number for reference
Racing suit style wrist zippers with shaped zip guard
This is a one-piece, competition ready, Double Front Zipper Road Race Suit made from industry standard leather. Both the Twin Front design, invented and patented by Vanson (US Patents #6070274, #6854130) and the Floating Armor System F.A.S., also invented and patented by Vanson (US Patents #6070274,# 6260196), are incorporated in this suit.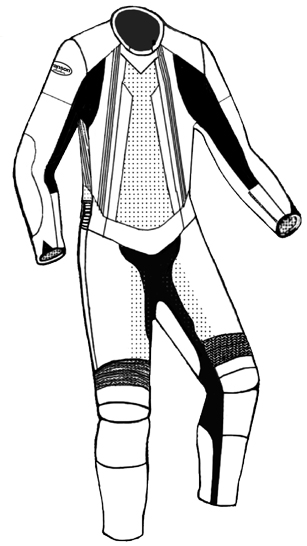 The ventilated athletic nylon mesh lining is fully removable for washing, replacement or repairs to the suit. The backpad is attached by Velcro to twin straps sewn into the shoulder area. Like a hiker's backpack these straps hang it over the spine without pulling down the rear neckline area of the suit. Articulated chest expanders alongside the twin main zippers help maintain a comfortable, concave shape while riding. Elbow expanders set into the upper sleeve let you bend your arm, while keeping the diameter constant, so the sleeve does not creep up, and the protective armor stays where it needs to be. Expander panels set into the back at the rear armhole let you move your arm forward. The off-center knee expander panels give you more flexibility when your leg is swung out. Kevlar® inlays at the crotch and behind the knees help make riding comfortable. At the edge of the knee area are Velcro fields for the included pucks. At the center back lower waist you have an expander panel for tight tuck riding positions.
Air flow is important, and the fronts are made of ProPerf perforated leather. The center front bib is laminated to spacer fabric which provides both comfortable cushioning and channels air across the torso; an AeroHump on the back, with a mesh screen across the top, allows air flow at speed into the suit, along the spine.
The armor at the shoulders, elbows and knees are all CE approved pieces attached using the Vanson patented F.A.S. System. Hip pads are included.
Vanson Hybrid Racing Suits are produced in regular chest sizes, men only. These suits are not basic suits - each suit is carefully made by hand in the Vanson workshop in Fall River, Mass. Every Vanson product is covered by our warranty and we will do repairs, alterations, washing, reconditioning and redye regardless of the age or condition. A lot of design thought and consideration goes into each example, HYB1 suits are complete in all important aspects, already broken in and ready to go. Winners Wear Vanson!
DuPont™ and Kevlar® are trademarks or registered trademarks of E.I. du Pont de Nemours and Company.
Data sheet
Material

Road Racing Suits........31
Road Racing Suits........32

CATAGORY

Off the rack suits........16
Off the rack suits........17
Specific References
ean13

USA MADE TO ORDER - OF DOMESTIC AND/OR IMPORTED MATERIALS

upc

4.40,8.20,11.30,15.40,19.20,23.10,35.10,35.40,35.70,.00,.00,.00,.00,.00

MPN

HYB1 FIRE
SIZES (VO9)........34..36..38..40..42..44..46..48..50..52..54
2" CHEST GRADE SLOPER SIZE 42 CHEST MEASURES 45 (3.00 chest ease)
.............................. WAIST MEASURES 38.5 (3.00 waist ease)
.................................HIP MEASURES 42.5 (1.00 hip ease)
NAPE OF NECK TO WRIST GRADE
TOTAL TORSO GRADE 1.00 SLOPER 42 MEASURES 63.75
INSEAM GRADE .25 SLOPER 42 MEASURES 31.75
CROTCH TO MIDKNEE GRADE .13 SLOPER 42 MEASURES 15.50