Back
COMPASS LADIES TOUR JACKET
CMPL A150
ARMY 1010 BLACK - WAX COTTON
Textile wax cotton canvas motorcycle jacket with armor
Belted hip-length wax cotton motorcycle touring jacket
WAX (tin) to easily recondition wax-cotton sold separately
Backpad installed as standard equipment
CE approved F.A.S. armor at shoulder + elbow
Leather covered buckle to protect the motorcycle tank
Full belt
Leather lined collar
Quilted shoulders and elbows
VANSON embroidered on collar
Brass zippers with black snap caps
2 Interior zip-close secure wallet pockets
STREAMLINER zippers along facing - attach streamliner vest
Ventilated mesh lining
1 Zip-close exterior chest pocket
2-way lower front pockets - top loading + side entry
ID key fob embossed with garment unit-number for reference
Low bulk beaded sleeve end finish at wrist
Inner windflap and outer stormflap full front length
Two-way main zipper for comfort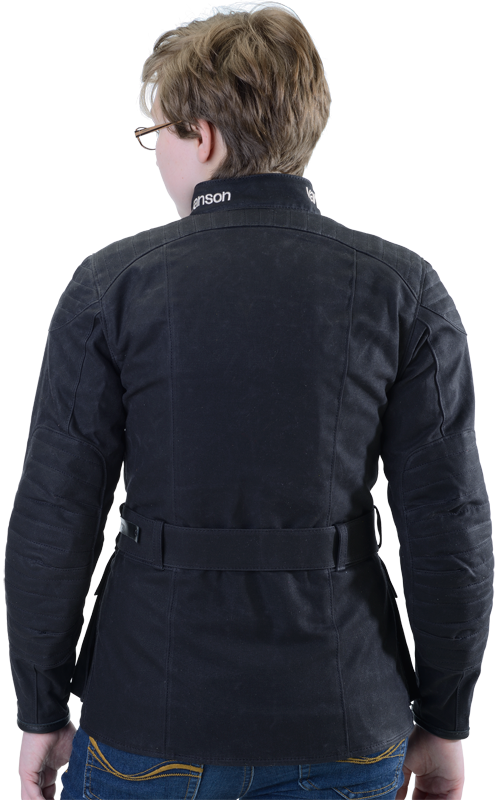 Start with a belted military tunic. Cut to hip-length for comfort. Add a two-way center-front zipper for a perfect fit on the bike without bunching up. This zipper is covered by a snapped storm-flap, to avoid scratching your tank. CE-approved protection is included at the shoulders and elbows, with a back pad in a pouch sewn into the lining. Its uniform-style full belt has a leather-covered buckle...again we thought of your tank. A leather keeper, embossed with the unit number of the jacket, is on your left side near the buckle, making sure the belt stays with you. The sleeves are finished with race-style turned leather ends, and leather guards are under the wrist zippers.
On the outside we have a chest-pocket on the left, which could take a cellphone, and two combination hand/cargo pockets.
Inside are two large and secure zippered pockets. What makes this jacket really versatile and modular is the provision for zipping in our Streamliner Vest - ideal for those hot days that turn into chilly evenings, or for transitional-season riding.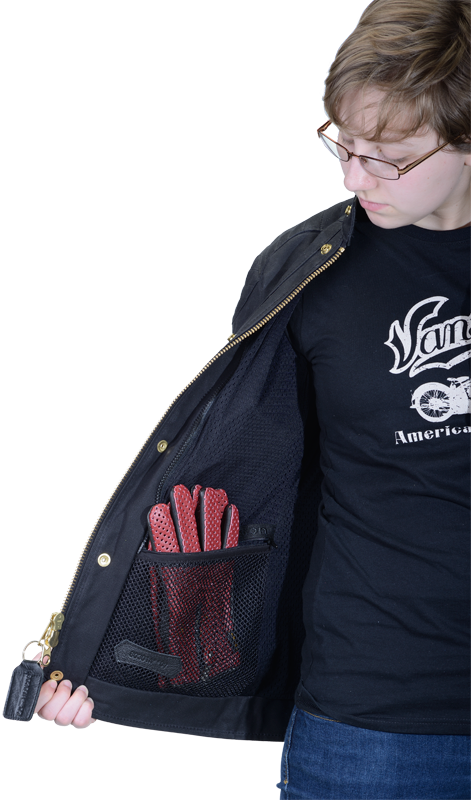 Add classic 1010 Army Duck waxed cotton with hose-off clean and go maintenance, very strong but breathable material. It has a natural look and feel and only needs to be hosed off, then air-dried, for true on-the-go round-the-clock use. In the shoulders a double layer of military-derived ballistic nylon spacer fabric is used, which resists compression, so giving additional padding and energy-absorption. It offers little resistance to airflow, so cooling air can flow through it when you are hot.
Then, from elegant design to sophisticated finish, we build them by hand, one at a time, all right here in our Fall River, Mass workshop.
When you go far faster be sure to take your Vanson Compass jacket with you!
Available in men's and women's sizes.
Sized in..........XXS...XS.....S....MED...LG ..XL...XXL...XXXL
Ladies Size........
Chest measurement..34....35....36...40....42...44...48....50
Front 25.5 in.....Chest Measurement Medium 42 in...... Norm Ease 2
Sized to take armor - Shoulders + Elbows standard - will accept optional
backpad. Access for armor is through zippered lining at back.
Medium back length is 28.5 inches.
Nape of Neck to wrist 32.5 inches.
Bottom circumference sweep is 44 inches.