Back
WOMENS ODYSSEY JACKET
ODLS C650
RED + BLACK CORDURA - D1000
Womens Textile Nylon Cordura motorycle jacket
Ladies long-distance touring jacket - vented and armored
CE approved F.A.S. armor at shoulder + elbow
Adjustable Cobra waistband using velcro pull-through tabs
Reflective ovals for extra visibility at night
Reflective piping for added visibilty at night
Two-way main zipper for comfort
For adventure touring, here is our Vanson ODYSSEY JACKET. Originally designed as both complement and compliment to the Buell adventure-touring motorcycle, our Odyssey Pants and Jacket  (Styles ODYS, ODYP for men; ODLS, ODLP for women) are an excellent combination for both on- and off-the-road excursions.  Comfort, protection, ease of movement and ventilation control in all weather conditions were the design goals for this family of garments. 
Your sine qua non for comfort, ventilation and protection is a garment that flows the maximum amount of air, without billowing and deforming, which would lead to both fatigue and loss of protection, from armor shifting away from impact areas.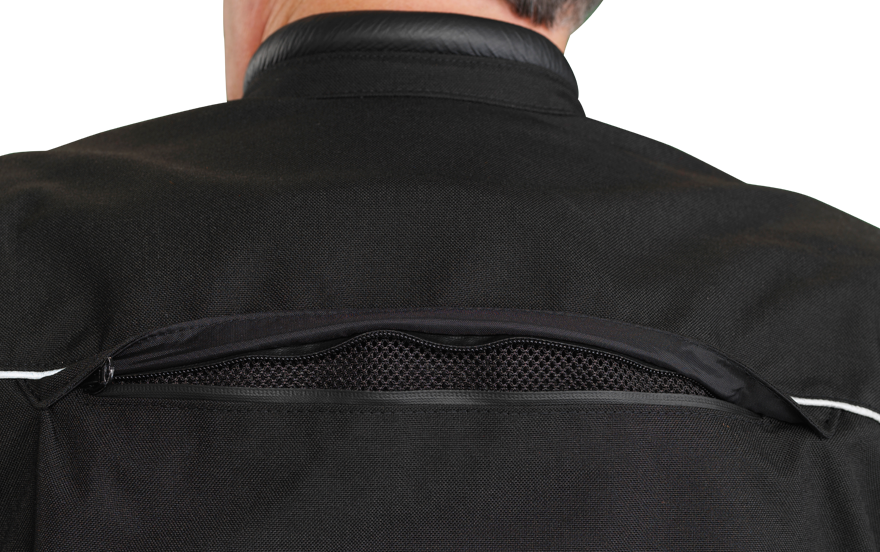 We chose 1000 denier Cordura nylon as the base material for its renowned durability and strength (developed at DuPont to replace the steel belts in radial tires). Cordura is very strong, but does not breathe well. With the Vanson Air Curtain Vent (US patents 5507042, 6883178,6868557) in the front and R.A.M. Air Induction Vents (US Patent 5704064) in the sleeves we can give you very effective ventilation.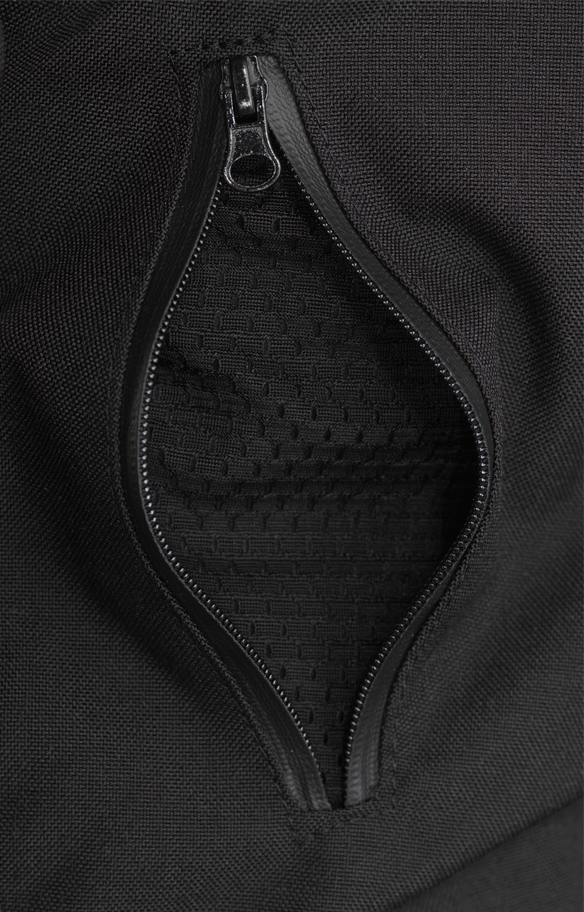 The cover for the Air Curtain Vent is a double layer of 1000 denier Cordura which we top-stitch in a diamond pattern for extra strength.  Behind the opening is the Air Curtain, of waterproof coated nylon with waterproof zippers, and an ingenious drainage system that lets rain water flow out of the sides, with air leaving through two exit vents just below your armpits, and a larger vent across your upper back.
Protection is enhanced by the Vanson Floating Armor system (US patents 607274, 6260196 ) with CE approved armor at the shoulders and elbows.  The standard back pad fits into a lining pouch.
With a two-way center-front zipper you can adjust the opening for comfort on a long ride, and the Velcro tabs on the sides of the waistband can give you a snug fit if you need to keep out the wind; at the back you can zip the jacket and matching pants together. To keep your neck comfortable while keeping out the weather we lined the collar with lightweight leather over a foam-filled roll.
You'll have plenty of storage with two inside open-top mesh pockets and two waterproof zippered hand pockets on the outside.
Data sheet
Material

Jackets........11
Jackets........18

CATAGORY

Touring Womens
Womens........6
Specific References
ean13

HAND MADE IN U.S.A. OF DOMESTIC AND/OR IMPORTED MATERIALS

upc

4.40,8.50,22.10,22.20,24.10,24.30,28.20,35.10,35.20,35.70,.00,.00,.00,.00

MPN

ODLS C650
Sizing is ................XS..Sm..Med..Lge..Xlge..XXL
Chest size Scale..........34..36..40...42...44....48
Ladies Size...............04..06..10...12...14....18
Size MED (10) --Chest measurement 46 inches ------Norm Ease 6 inches
Back length 24.5 ------Front 19.5 ------Wrist to Nape 33
When cut in Cordura this jacket has a trim fit. CE armor at shoulders and
elbows is standard. Back-Pad included. Waistband is adjustable.