We're Cutting Inflation! • 10% OFF Sale*
Slava Ukraini! "Glory to Ukraine!"
* Sale applies to all discount marked items. Some items only available at MSRP.
Back
ROAD KING JACKET
VW1 A153
Textile motorcycle jacket
King-of-the-Road armored textile striped motorcycle jacket
WAX (tin) to easily recondition wax-cotton sold separately
Backpad optional - will accept optional backpad
CE approved F.A.S. armor at shoulder + elbow
Bi-Swing action back for greater movement
Black oxidized side buckles
Snap-close mandarin collar
Embroidered Vanson Oval
Black oxidized metal hardware
2 Interior zip-close secure wallet pockets
Rayon lining
2 Zip-close chest pockets
ID key fob embossed with garment unit-number for reference
Underarm ventilation grommets
The right jacket for the electric motorcycle cross country challenge
We at Vanson were excited to support the 2022 Charging Across America Challenge (CAAC)! Following the path of the 1971 Cannonball Run, Robert Swartz and Steven Day simultaneously rode their Energica motorcycles along a 2,906-mile route across 10 states. The challenge was to conclude on April 22 (Earth Day) with the riders on opposite sides of the country. Unfortunately, it was cut short because of a slight altercation of one of their support vehicles and a semi. For more about our support for their historic attempt click here. We coordinated with them to make this version of our ROAD KING in waxed cotton along with a pair of water resistant wax cotton matching CHARGER BIB TOURING OVERPANT, click here for more info and purchase a pair for yourself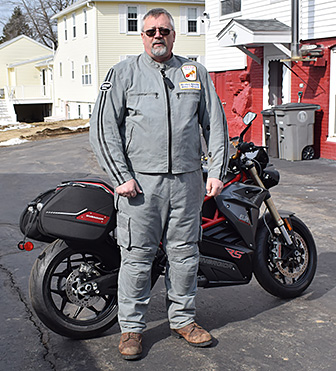 About the Jackets Features
A Classic Jacket available in waxed cotton or Cordura, fully kitted out with all the modern conveniences, the Vanson ROAD KING draws from a deep well of traditional design cues, such as the vintage racing stripes on the sleeves, the twin chest pockets and hand pockets.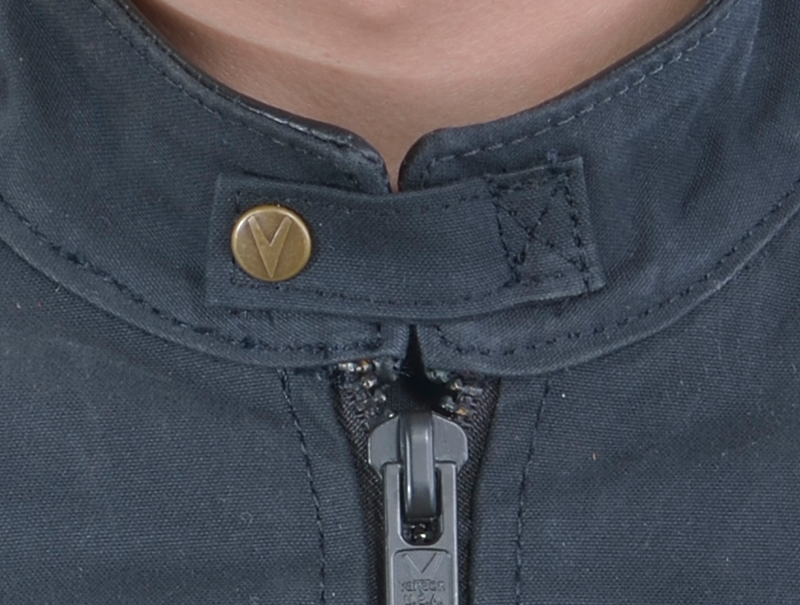 The mandarin collar features a neck tab with snap for keeping it closed. Traditional side-belts and buckles allow fit adjustment at the waist, and complement the action-back pleats that give you more freedom of movement. Each sleeve has an old school racing-style snap tab at the wrist end – for securing the wrist zipper – and two more up the sleeve, for a snugger fit if you prefer.
This jacket is constructed with all the normal panels and pieces of a Vanson leather jacket. The finishing inside the jacket is neatly done with full facings – so all the wear areas are protected from chafing. A leather anti-chafe inner face is set into the inside of the mandarin collar. Two large zippered wallet pockets are set into both the left and right inside facings, Behind the two way front zipper is a full length windflap to seal out the weather.
At the same time modern CE armor is incorporated at the shoulders and elbows. You can insert an optional back pad into a special zippered pocket built into the lining.
The Vanson ROAD KING jacket is built to be an easy-to-wear, light and comfortable, first-thing- to-grab-when-heading-out-the-door jacket. Not every jacket made has to have a karma soaked in past stories and journeys. The Vanson ROAD KING is a clean slate, a useful and practical tool freshly to imprint your own experiences over many miles and smiles....
Data sheet
Material

Jackets........9

CATAGORY

Mens........5
Specific References
ean13

HAND MADE IN U.S.A.

upc

4.40,8.10,22.70,24.10,35.10,35.20,35.70,.00,.00,.00,.00,.00,.00,.00

MPN

VW1 A153
Sizing is.................XS..Sm..Med..Lge..Xlge..XXL..XXXL..XXXXL
Chest size Scale..........34..38..42...46...50....54...58....62
Size MED (42) Chest measurement 46 --Norm Ease 4
Back length 27 -------Front 22 -----Wrist to Nape 35
When cut in Cordura this jacket has a trim fit. CE armor at Shoulders and
Elbows is standard. Back-Pad included. Waistband is adjustable from 44
to 40.