Back
CHARGER BIB TOURING OVERPANT
BIBW A153
Bib touring overpants with adjustable suspenders
Side zippers for easy entry and exit
CE approved F.A.S. armor at knee
Expander section above knees for comfort
Expander section at back for ease of movement
Embroidered Vanson Oval
Full facings
2 Zippers on the lower leg for wearing in or over boot
Double seat
Fly-less crotch-front to protect from pooled water
Leather anti-wear strip inside pant at bottom hem
Leather knee patchs - inside
Twin head water-proof side zippers for easy-on/off
Twin head zipper allows easy side entry to trouser pockets
2 Zip-close chest pockets
Cargo pockets on legs
Pocket flaps sealed with velcro
ID key fob embossed with garment unit-number for reference
Self sealing water-proof coil zippers
Made in U.S.A.
The right bib touring overpant and matching jacket for the electric motorcycle cross country challenge
We at Vanson were excited to support the 2022 Charging Across America Challenge (CAAC)! Following the path of the 1971 Cannonball Run, Robert Swartz and Steven Day simultaneously rode their Energica motorcycles along a 2,906-mile route across 10 states. The challenge was to conclude on April 22 (Earth Day) with the riders on opposite sides of the country. Unfortunately, it was cut short because of a slight altercation of one of their support vehicles and a semi. For more about our support for their historic attempt click here. We coordinated with them to make this version of our CHARGER BIB TOURING OVERPANT in water resistant waxed cotton along with matching a jacket (modified version of our ROAD KING) with the same wax cotton click here for more info and purchase a version of the jacket for yourself and complete the riding kit.
About the Bibs Features
The CHARGER BIB TOURING OVERPANT are available waxed cotton, fully kitted out with all the modern conveniences, the Vanson Charger bib touring overpant draws from a deep well of traditional design cues, such as the vintage waterproof zippers and CE armor at the knee, a convenient chest pocket and easy access cargo style pockets.
Rider comfort over a long trip was fully addressed. Long twin head side zippers make for easy entry (and exit), and wide adjustable suspenders will not dig into the shoulders. Expander sections at the knee and back allow the rider ease of movement helping to prevent fatigue. For all of the features see the above bulleted items/features list at the top of this page.
Here are some images of Rob showing the grey version of the Vanson gear that was used during the Charging Across America Challenge.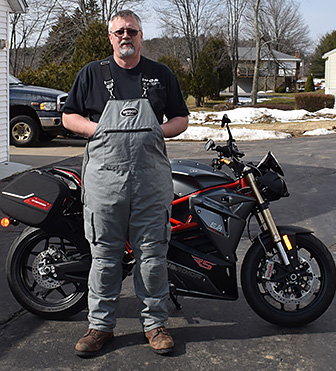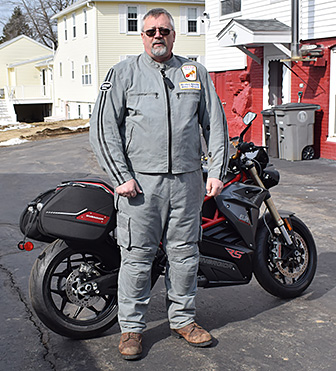 Data sheet
Material

Pants and Chaps........10

CATAGORY

Mens........5
Specific References
ean13

HAND MADE IN U.S.A.

upc

11.30,15.40,35.10,35.20,35.70,.00,.00,.00,.00,.00,.00,.00,.00,.00

MPN

BIBW A153
26..28..30..32..34..36..38..40..42..44..46..48
SIZE 34 ---------Size flexibility is provided by expander panels at sides
Outseam is 42 ------Inseam is 29.5 -----Hip is 43 ---------Ankle is 11
Crotch to Mid-Knee is 15 ---8 inch long rear ankle zippers allow snug fit.
Technical pants - cut with pre-curved legs + knees. Expander sections
set into leg above knee for ease of movement. Kevlar inlays at the crotch
and behind the knees extending down leg behind calf for less bulk and
ventilation. Waistband is equipped with 3-zippers and opti-panels for
jacket attachment. Velcro tabs on waistband allow 4 inches of adjustment.
Stock Sizes 30...32...34...36...38...40