Back
VX4 VENTMAX MESH JACKET
VX4 V150
BLACK HEAVY-DUTY VENT MESH
Vented textile Nylon Cordura motorycle jacket
Mesh vented motorcycle jacket w/pockets and adjustable fit
Backpad optional - will accept optional backpad
CE approved F.A.S. armor at shoulder + elbow
Competition double leather at shoulders and elbows
Beaded leather collar
Zip front
Ventilated mesh lining
2 Zip-close rear pockets
ID key fob embossed with garment unit-number for reference
Low bulk beaded sleeve end finish at wrist
Could this be the perfect summer riding jacket?  Read about it, then decide.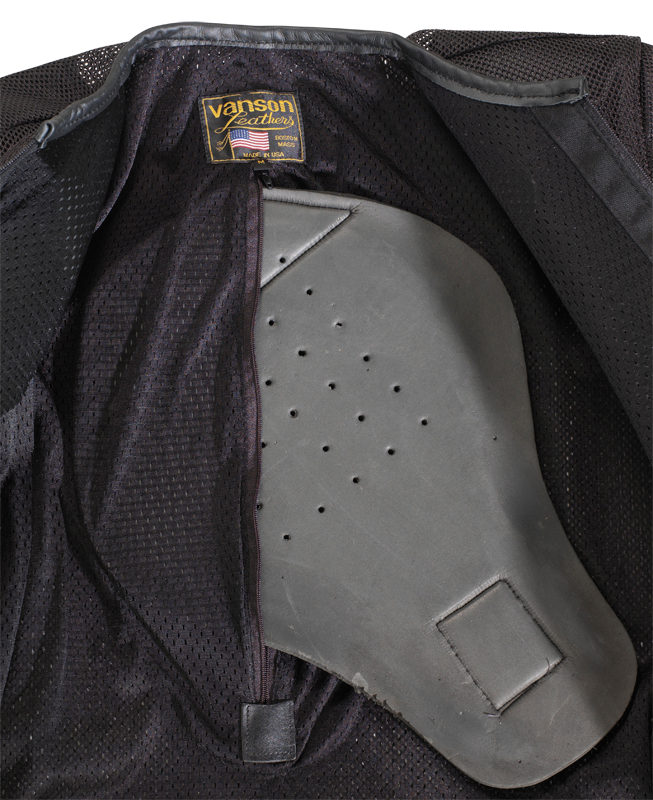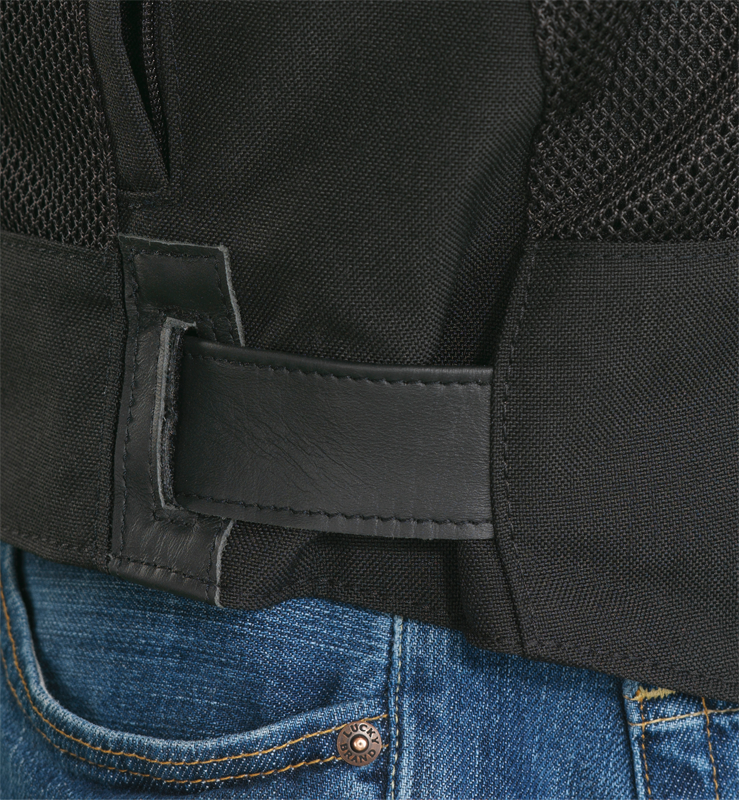 Vanson starts off with 1000 denier Cordura nylon mesh. A backpad is installed, fully supported at the shoulder areas with suspender-style Velcro straps, leaving the rear center neck area completely free of uncomfortable pulling and bunching up. Then the shoulders and elbows are reinforced with shaped leather patches sewn under the Cordura mesh. CE armor is attached to elbow and shoulder leather patches using our patented F.A.S. (Floating Armor System US patents #607274, 6260196). Twin elastic snap-straps are provided at the forearm area to snug up the fit of the elbow armor.
Fit adjustment at the waist is by Velcro tabs.
Two outside zippered hand pockets, and two pockets sewn into the mesh lining give plenty of carrying capacity.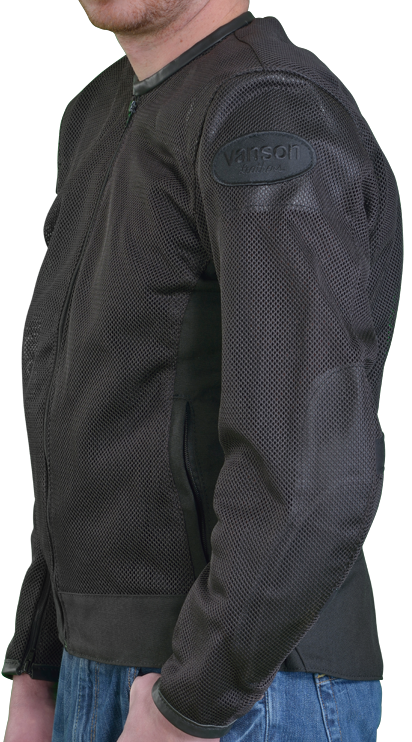 Redundancy is a good word to describe the VX4 family of jackets for men and women. The 1000 denier nylon Cordura is known for strength and abrasion resistance. Cordura was originally created by DuPont to replace the steel cords used in radial tires, so using it for protective clothing was an afterthought. Add the protection of leather at key impact areas, with the CE armor and backpad, to the properties of Cordura and you have a significant protection package. Make the Cordura into a mesh, and know you are getting 100% flow-through ventilation and excellent protection at the same time.
The VENTMAX family is produced for both men and women. The men's version is slightly longer, about 2more in the body and 1more in the sleeve. Both men's and women's styles are offered with several design choices, colors, stripes etc...
Sizing is.................XS..Sm..Med..Lge..Xlge..XXL..XXXL..XXXXL
Chest size Scale..........36..39..42...45...48....51...54....57
Cruiser fit - with armor. CE Armor is standard at shoulders and elbows.
Backpad is standard. Sleeves are pre-curved - wrists are finished with
leather beading for a low-bulk finish. This jacket has a trim fit - but is
flexible and comfortable mesh. Protection areas reinforced with leather.
Chest Measurement MED (SZ 42) 47.5 ----Norm Ease is 5.5
Front Length 22.5 --------------Nape of neck to wrist 34.5
Back length on a Medium is 28. Adjustable bottom circumference from 44 to
40.