Back
HIGHWAY 101 PANTS /TEXTILE
C101 C150
BLACK CORDURA 1000 DENIER
Textile biker pants with long leg outseam zippers
Nylon Cordura motorcycle overpants with suspender buttons
WAX (tin) to easily recondition wax-cotton sold separately
CE approved F.A.S. armor at knee
Hip pad armor standard
Exterior side-tabs with velcro for adjustable waist
Black oxidized metal hardware
Boot-cut leg - with velcro and tab to adjust
Suspender buttons - sewn on - 4 sets of 2 buttons each
Tack-button close waistband
2 Front open hand pockets
2 Pass-through zippered openings to reach under garment
2 Welted back pockets with snap closure
ID key fob embossed with garment unit-number for reference
Highway 101 runs the entire length of California, from the hot and dry Los Angeles basin, along the coast, past Santa Barbara, up to foggy San Francisco, and further north to the cool and often wet Redwood Empire. Native Californians like to boast about easily riding from one weather zone to another, and for this we created the Highway 101 Mens Pants in Cordura nylon or 1010 Army Duck Wax Cotton.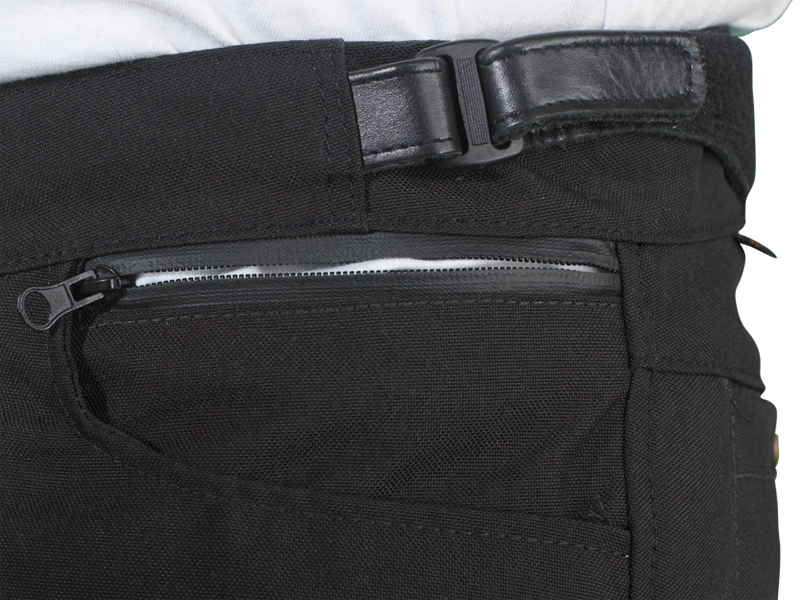 Designed to be slipped on over regular pants, our Highway 101 Motorcycle Pants have long chap-style zippers along the outseam of each leg. The waistband has Velcro tabs at each side seam, so the pants can be adjusted for the most comfortable fit. The back/kidney area is protected by the raised and curved rear waistband so that when riding there is full coverage. At the ankle, the zipper end is covered by a flap secured by Velcro, which allows the legs to be easily trimmed to length and hemmed, if need be. Armor pouches are sewn in at the inside knees to accommodate knee armor. Along the side seam and outseam zipper is a long strip of sewn-in Velcro to accommodate optional hip pads. Sewn inside the waistband are four sets of buttons (two buttons at each location) to allow suspenders (Style SUSP) to hold the pants comfortably. Vanson Style SUSP are a perfect match. Above the two hand pockets, set directly below the waistband, are waterproof pass-through pockets that allow the rider to reach through the Highway 101 Mens Pants and into his regular pants pocket.
Both the 1000 Denier Cordura and the 1010 Army Duck Wax Cotton are strong and lightweight and highly weather resistant. For riders wanting the comfort of leather, we also make the Style 101.
Sizing is in waist size – from 26 to 44 in two inch increments.
101s are my favorite. They are so easy to wear – I have had three pairs in 14 years...
K. Nixon.
SIZING:...26 27 28 ... to 44 Waist....1 inch increments. We commonly
stock the even sizes 26 28 30 32 34 36 38 40 42 44. Design ease is 2.5 in
in the waist - so the size 34 pants measures 36.5 with the side adjusters
at each side seam completely let out - and maybe snugged up 1.5in each side
for total of 3in. So a size 34 pants can be adjusted from 36.5 to 33.5 in.
Outseam zippers are 30 inches long. Black metal hardware is standard.
Bottom of Outseam zipper is covered by a flap extension secured with velcro
Size 34 outseam measures 41 - inseam 31.5in. Rear waist is raised to fully
cover - 101s look like jeans but work like chaps. They are meant to be
worn over jeans. Twin rear pockets are leather lined. Standard hip and
knee armor.