This Weekend - 15% OFF SALE!
On Internet and Showroom Purchases Now thru Sunday
Holiday Showroom hours are M-F 9-6 Sat 10-4, Sunday 11/27 and every Sunday until Christmas 12-4.
Our Elves are hard at work filling your orders!
Back
VENT PANTS
VEPT C150
BLACK 1000 DEN. CORDURA+MESH
Vented textile Nylon Cordura motorcycle pants
Composite pants designed for ventilation and protection
CE approved F.A.S. armor at knee
Hip pad armor standard
Adjustable waistband with secure cam-cleat follower
Beltloops - long - for 2-inch-wide-belt
Expander section above knees for comfort
Rear waist zipper (11 inch) to connect pants to jacket
Ventilated mesh lining
Tack-button close waistband
Tapered leg to wear inside boot
Zippers at rear of calf
1 Rear snap-close pocket
2 Front open hand pockets
Heavy duty cordura lining in pockets
ID key fob embossed with garment unit-number for reference
Coil zippers - self-sealing black nylon coil
Designed to single-zip to any of our SportRider jackets (Styles CSR2 COB2  CAV2 etc), Vanson Vent Pants are lightweight, durable and highly protective.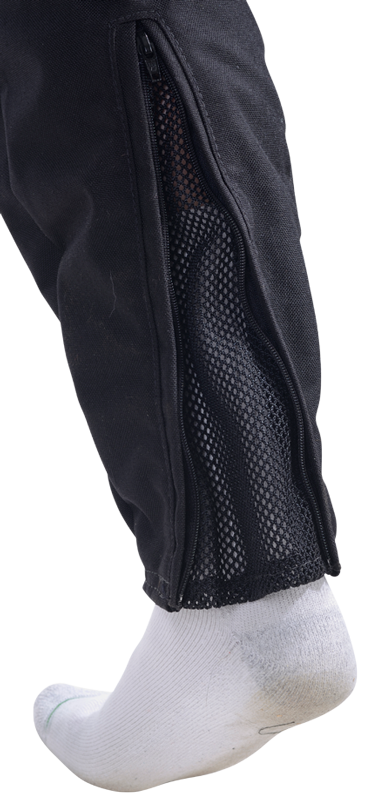 They are made from rugged 1000 denier Cordura cloth and 1000 denier Cordura heavy-duty mesh. 1000 denier Cordura heavy-duty mesh not only allows for maximum air-flow, but is also very flexible and compressible  -  making key areas comfortable, such as behind the knees when riding in a tight tuck.
Vanson Vent Pants are constructed for warm weather riding with strategically placed heavy-duty mesh cutouts for enhanced ventilation at the inner thighs, behind the knees, and below the waistband at the rear. Even the rear ankle-zipper gussets are made of heavy-duty mesh  -  combining low-bulk comfort (when zipped closed) with flow-through ventilation on warmer days. Extra leather reinforcements at the knees, with pre-installed armor (Floating Armor System US Patent 6070274) and hip pads, provide added protection. Waistband adjustment works with a cam-lock slider system making it possible to fully adjust for size, underlayers and comfort. Racing-suit-style expander panels above the knees make almost any riding position a breeze. "Easy does it", could well be the motto for our Vanson Vent Pants.
Data sheet
Material

Pants and Chaps........10

CATAGORY

Mens........5
Specific References
ean13

HAND MADE IN U.S.A.

upc

11.30,15.40,23.10,24.10,30.10,35.10,35.20,35.70,.00,.00,.00,.00,.00,.00

MPN

VEPT C150
SZ:..XS..........S...........M...........L.......XL..........XXL.......XXXL
.....27..28..29..30..31..32..33..34..35..36..37..38..39..40..41..42..43..44
SIZE M (33 Waist) Adjustable waist from 33 to 39 inches
Outseam is 42.5 ------Inseam is 29 -------Hip is 41 ---------Ankle is 11
Crotch to Mid-Knee is 15 ------ 8 long ankle zippers allow snug fit.
SportRider pants - cut with pre-curved legs + knees. Expander sections
set into leg above knee for ease of movement. Adjustable waist is secured
by cam-locks and slidiug front pockets.