Back
ODYSSEY PANTS
ODYP C150
BLACK CORDURA 1000 DENIER
Nylon Cordura textile motorycle riding pants
Motorcycle Touring pants Vented + Armored adjustable waist
CE approved F.A.S. armor at knee
Hip pad armor standard
Adjustable waistband with secure cam-cleat follower
Beltloops - long - for 2-inch-wide-belt
Rear waist zipper (11 inch) to connect pants to jacket
Reflective piping for added visibilty at night
Ventilated mesh lining
Boot-cut leg - with velcro and tab to adjust
Tack-button close waistband
Tapered leg to wear inside boot
2 Zip-close exterior hand pockets
Cargo pockets on legs
Patented RamAir leg vent system
Self sealing water-proof zippers
For adventure touring, try on Vanson's Water-Resistant Odyssey Pants.
Originally designed as both compliment and complement to the Buell adventure touring motorcycle, our Odyssey Pants and Jacket (Styles ODYS, ODYP for men; ODLS, ODLP for women) are an excellent combination for both on- and off-the-road excursions. Comfort, protection, ease of movement and ventilation control in all weather conditions were the design goals for this family of garments.
Your sine qua non for comfort, ventilation and protection is a garment that flows the maximum amount of air, yet will not billow and deform, which would lead to both fatigue and loss of protection, from armor shifting away from impact areas.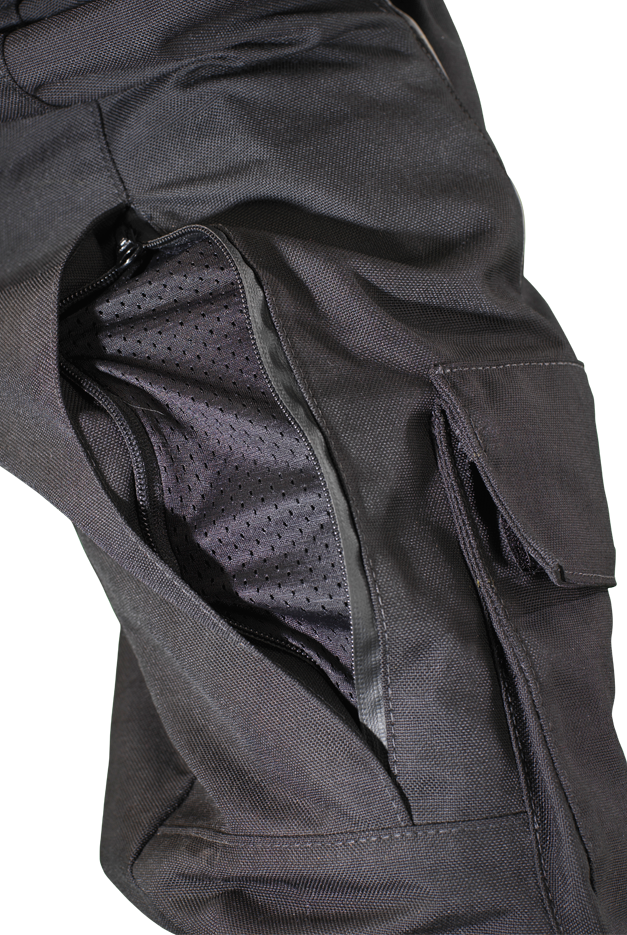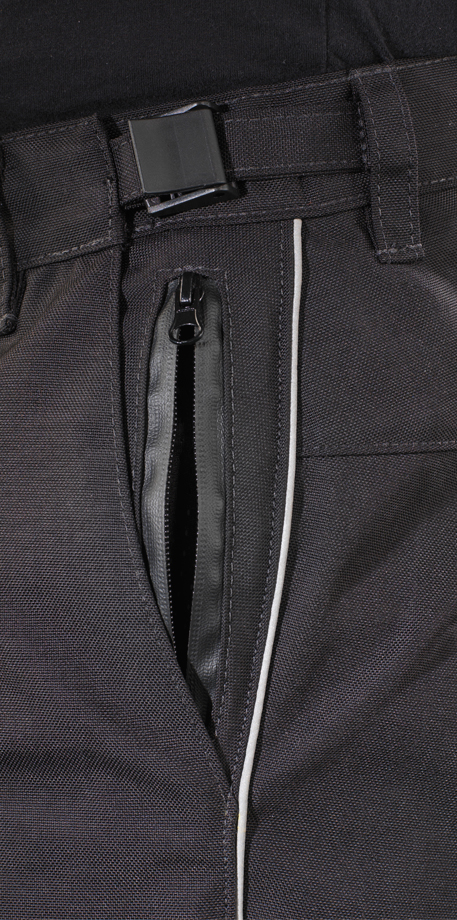 We selected 1000 denier Cordura nylon as the base material for its renowned durability and strength (developed at DuPont to replace steel belts in radial tires). Cordura is very strong, but does not breathe well. By incorporating our patented RamAir Induction Vents (US Patent 5704064) in the upper legs, we can give you very effective ventilation.
The Odyssey Pants may be worn either as pants or over-pants, thanks to their flex-adjusting waistband with cam-lock sliders riding on a secured tab. Directly below the front waistbands are two hand pockets with waterproof self-sealing zippers. Mounted on each leg is a Velcro-close cargo pocket and our patented RamAir leg vent system. This design allows the waterproof zipper to open, scooping air into the pant leg, while preventing the pant leg from expanding. This is pure air-flow through the ventilated mesh lining without weakening the structural integrity of the pants. At the rear waist, a single zip allows the pants to attach to a jacket. The ankles are secured with over-the-boot leather and Velcro closures. Pre-installed armor is supplied for the knees (Floating Armor System US Patent 6070274) and hips. For versatility, functionality and comfort in all kinds of weather and terrain our Odyssey Water-Resistant Pants are a top choice among experienced riders.
SIZE....XS.....S.....M.....L.....XL.....XXL.....XXXL
SCALE...27....30.....33....36....38.....41......44
SIZE Medium (SZ.33) Waist is 37 inches - with adjustability from 34 to 40.
Hips are 46. -----Outseam is 43. -----Inseam is 32. ----Ankle is 17.5.
Note that garments made from Cordura will feel tighter than garments made
from other materials; this is because Cordura does not stretch and give as
other materials do. Waist adjustability is with a cam-lock and sliding
front pocket.