Back
BONE VEST
VZLB BLK
Leather skeleton bones biker vest
Bones on front - Zipper front vest with lace sides
Side laces with chrome grommets
Zip front
Chrome hardware
Black rayon lining
 
Early leather vests typically had lumps at the shoulders where the front and back were joined together, and the linings and grommets looked as though the primary production tool was an Uzi. So at Vanson, we took the classic leather vest and re-engineered and refined it to make it fit better, look better, and be more comfortable.

Our Zip-Front Bones Vest is a fine example.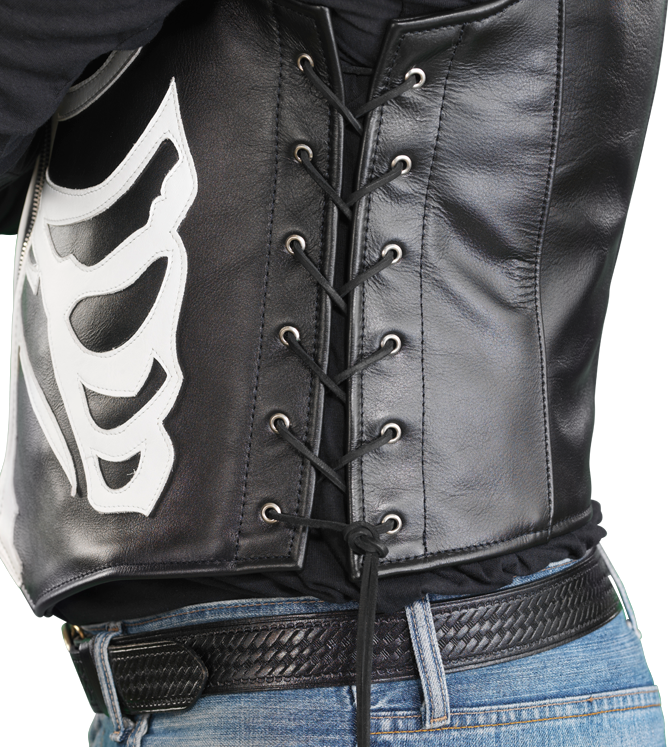 The Vanson Bones motif from our famous flat track racing suits is carefully cut out of leather and edge top-stitched onto the vest. We start with the design of a man's formal dress vest. Look closely, you will see that the connection points of the front and back are perfectly matched and top-stitched, open and flat for a comfortable low bulk, smooth fit over the shoulder. You'll also see that the sides are turned and faced evenly – so the lining is smoothly set into the vest and the brass side lacing grommets are neatly set away from the lining in two layers of leather. Substantial rawhide laces give this formal cut vest a Western flair – and enable a perfect fit. Twin single-welted pockets cut into the front add a formal look to the style. This vest makes a statement wherever you may go.  
Data sheet
Material

Jackets........1

CATAGORY

Mens........1
Sizes:..32..34..36..38..40..42..44..46..48..50..52..54..56..58..60..62
Vest patterns are designed with very little chest ease - about 2 inches.
These are very snug fitting - meant to be worn over a shirt - close to the
skin. Natural waist ease is about 4in. A size 42 Vest measures 44 in the
Chest and 41 in the waist. Back length on a size 42 is 22.5 inches.
Back Lengths grade .25 each size- with a 1.25in. jump in length at size 48.
Lacing is incorporated at the side seams to allow girth increases of up to
2 inches each side ( up to 4 inches total ).