We are now offering Sezzle as an interest-free payment option when purchasing our product
You can choose between 4 payments. 6 weeks. (cart $1-$500) or a 3-month loan (cart $500-$25,000)
Back
ZIP FRONT VEST + LACE SIDES
VZL FIRE
FIRENZE BLACK MEDIUM WEIGHT
Leather biker vest
Lace side zipper front vest in traditional cut
Side laces with brass grommets
Zip front
Black rayon lining
2 Front open hand pockets
Brass zippers
The first vest that Vanson ever made was a button-front Hippie-style vest - which turned out to be a great way to learn how not to build a vest.  These early vests had lumps at the shoulders where the front and back were joined together, and the linings and grommets looked as though the primary production tool was an Uzi.  But this is how we all learn, by doing, and by realizing that there is a lot more to a "simple" vest than meets the eye.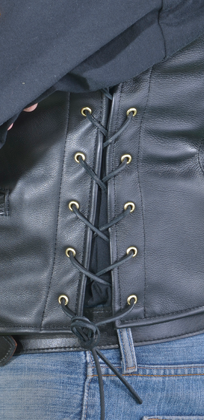 Vanson's classic Zip-Front Leather Vest with lace-up sides is beautifully constructed with a man's formal dress construction in the way the backs and fronts are joined at the shoulder.  Look closely and you will see that the connection points are perfectly matched and top-stitched, open and flat for a comfortable low bulk, smooth fit over the shoulder. You will also see that the sides are turned and faced evenly – so the lining is smoothly set into the vest and the brass side-lacing grommets are neatly set away from the lining in two layers of leather. Substantial square-cut rawhide laces give this formal cut vest a Western flair – and allow it to fit perfectly. Twin single-welted pockets cut into the front give a formal look to the style. Available in either competition-weight cowhide or medium-weight Firenze leather. This vest is handmade, great looking, and is equally comfortable on a bike, or out on the town.
Data sheet
Material

Jackets........1

COMFORT

Non armored........1

ARMOR

Leather........1

CATAGORY

Mens........1

CHANAME

Not vented........1
Specific References
upc

30.10,35.10,35.20,.00,.00,.00,.00,.00,.00,.00,.00,.00,.00,.00

EAN13

VEST

MPN

VZL FIRE
Sizes:....32..34..36..38..40..42..44..46..48..50..52..54..56..58..60..62
Vest patterns are designed with very little chest ease - about 2 inches.
These are very snug fitting - meant to be worn over a shirt
skin. Natural waist ease is about 4. A size 42 Vest measures 44 in the
Chest and 41 in the waist. Back length on a size 42 is 22.5 inches.
Back Lengths grade .25 each size- with a 1.25in. jump in length at size 48.
Lacing is incorporated at the side seams to allow girth increases of up to
2 inches each side ( up to 4 inches total ).