We're Cutting Inflation! 10% Sale*
* Sale applies to all discount marked items. Some items only available at MSRP.
Due to these Inflationary times we have had to raise our Custom Racing Suit prices, Please call us for these prices adjustments.
---
Slava Ukraini! "Glory to Ukraine!"
Back
CROSSBODY SHOULDER STRAP
CBH1 150
NATURAL WEBBING + BLACK TRIM
Detachable Shoulder-Strap with brass swivel-hooks
Natural canvas webbing Shoulder-Strap with leather ends
Detachable shoulder strap
Brass hardware
Swivel-Hooks at each end
Crossbody Shoulder Strap
Fully detachable and interchangeable Shoulder-Strap made from 2 inch wide 100% natural heavy cotton webbing.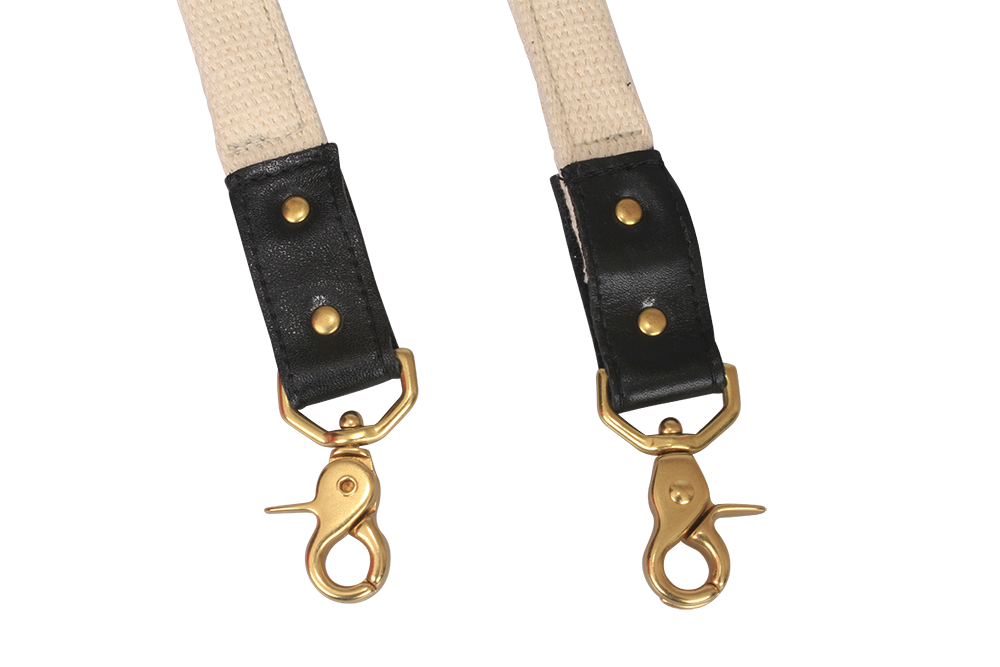 The strap is folded and stitched at each end for a narrow profile then left open and wide in the center section for maximum over-the-shoulder comfort. Brass Swivel-clips are secured in leather attachments riveted through the webbing.
Available in two lengths 43 inches and 38 inches measured along the strap to the top of the swivel-clips.
Attractive, sophisticated and multi-functional this bag is a smart and easy bag to use everyday.
Data sheet
CATAGORY

Bag Collection
Specific References
upc

35.10,.00,.00,.00,.00,.00,.00,.00,.00,.00,.00,.00,.00,.00

EAN13

DRAW

MPN

CBH1 150
Detachable Shoulder Strap - 100% Cotton Canvas Webbing
Webbing is 2 inches wide. Measurements are from Webbing - end to end.
Clips and hardware add to the overall length. Shoulder Straps come in two
lengths: Size Medium measures 38 inches - Size Large measures 43 inches.
Swivel Clip hardware adds about 2 inches at each end.