Vanson Automotive Racing Fire Suits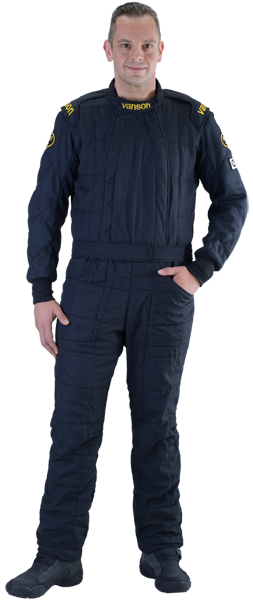 You're a racecar driver, your safety is paramount. Vanson automotive racing fire suits meets all current safety standards alowing you to concentrate fully behind the wheel you need to be alert, cool and comfortable.
When you're wearing a Vanson Racecar Suit(see our racing suit sizing chart) you're benefiting from our over 40 years of motorcycle road-race suit development. When sizing your racing suit use our time provent sizing video to make sure your measurements are spot on. We've engineered and constructed our suits for extreme functionality. With our unique triangular pivot armholes, you gain freedom of movement; with our twin-zip-front design you eliminate bulk while seated and lose the risk of sharp zipper teeth injuring your neck.
We use CarbonX® material which easily meets all current safety standards while being breathable and comfortable. You can shift easily through the gears and corners - no pulling, no fighting the suit - just simple, fluid, smooth movements.
Many racing suits out there look the part of a racecar driver, but the Vanson CarbonX® racing suit is for real. It'll fit you like a second skin, letting you mold into the seat…become one with the car…comfort creating concentration…which equals a focus on winning.