How Vanson got into the Glove Business...
or – Weather forecasting used to be an "art"
The trek to Gloversville…
Back in 1975, Alan, the Oracle at Cycle Parts, told me to go to Gloversville, for gloves. I thought he was kidding, but he insisted there was such a place somewhere in upstate New York. And he was right; it was even on the map, roughly 210 miles from Boston and 25 miles off the New York Thruway. So one January Tuesday, I hopped into the trusty 1963 Vanson VW beetle, left Boston at 4 am, and headed west on the Mass Pike. The plan was to drive the 200 odd miles, find a glove maker or two, and return home that evening.
But it wasn't supposed to snow…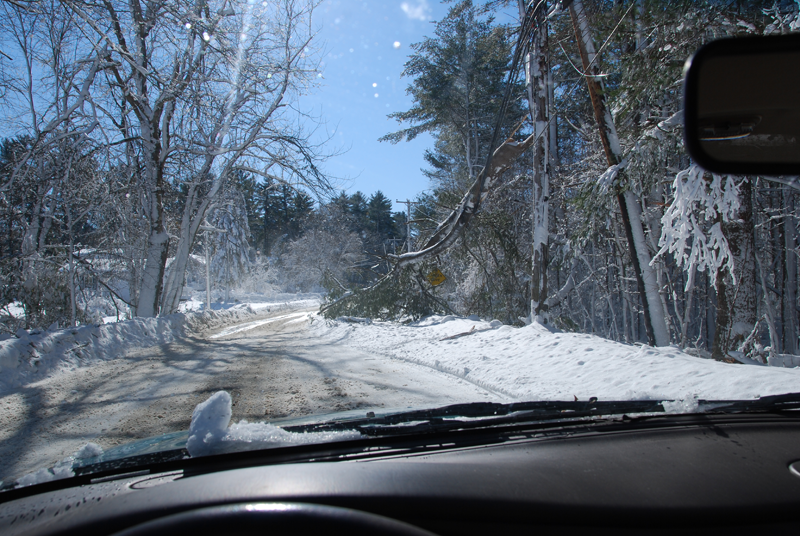 I clearly remember that morning…it was warm, deceivingly almost tropical with a soft warm rain. The forecast was good for travel. Forty-five minutes later, around Worcester, it had begun to snow. The further west I drove, the colder the air became and the falling snow kept getting heavier. About 90 minutes out, near Springfield, the Mass Pike became a one-lane track with serious snow accumulated on either side. As you drive west on the Pike, it's a lot less populated, forests and lakes on either side of the road, definitely not Boston! There is a long hill up to the rest stop westbound at Blandford, and even the Volksie was squirrely, but I made it up. Plus, it was cold in the car and the wipers were not keeping up...so I pulled into the rest stop and went to the Howard Johnsons' for some hot coffee and a warm breakfast. About the time I was ready to pay; a state trooper came in and announced the Pike and NY Thruway were closed due to the bad weather "until further notice".
This isn't San Diego…
Westbound traffic drained off the Pike and filled up the restaurant. The Volksie, being both a California refugee, and a 1963, only had a 6-volt electrical system. Probably never was a problem in San Diego, on the beach, under a palm tree…but in January, at about 1700 feet, in Massachusetts, with howling winds, and low temperatures during a snow storm… that was a different proposition. Every fifteen or twenty minutes it was necessary to leave the warmth of the restaurant and go out and start the car, and let it run for a while to warm up. There was no way a push start with so much snow and ice was going to solve anything. And right around lunchtime, the restaurant ran out of food.
Sometime in the late afternoon a big snowplow went by – the first vehicle to move on the Pike since earlier that morning. Being an adventurous type and tired of sitting around, I decided to follow. So the big plow and the little car rolled to the end of the Pike together. Even though the road was closed, diehard civil servants were standing by there in their booths to make sure the state did not miss any toll money.
A new land-speed record...of sorts…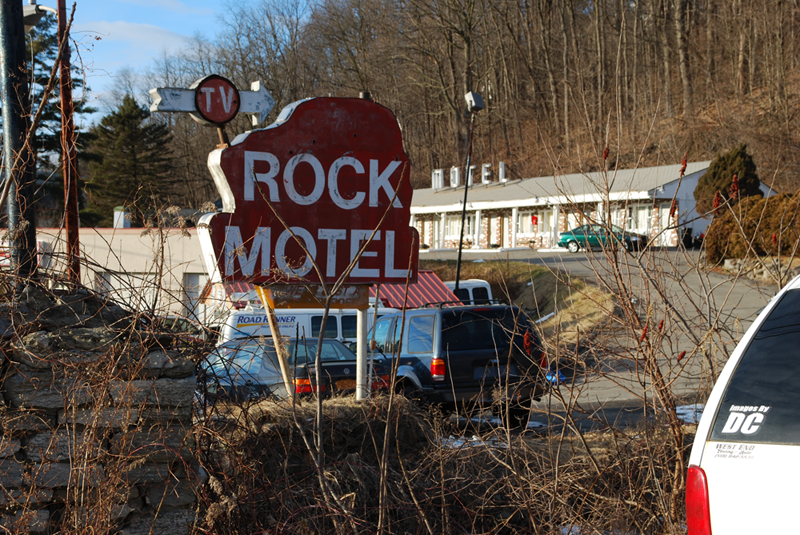 There is a gap of about 10 miles between the end of the Mass Pike and the NY Thruway toll booths. I recall navigating this with the Volksie successfully and arriving at the NY tolls only to be turned away as the road was still closed. So I was caught in a dilemma – the Mass Pike would not let me on to go back to Boston, and the NY Thruway would not let me continue west. So it was all side roads – heading generally towards Amsterdam, NY. And eventually around 8 pm, I made it to Amsterdam and found a motel for the night - a new record, 15 hours to cover 200 miles!
Welcome to Gloversville!
Columbus arriving in the Americas had nothing on my arrival in Gloversville. I had never been to a town as actively engaged in manufacturing - leather, textiles, gloves and all the supply-chain components. It was exciting to see so much, and the pool of talent and knowledge was truly impressive.
Not only leather was produced there, but toys (Coleco – the Adam computer, Pet Rock), carpets (Mohawk Carpet in Amsterdam right on the Mohawk River), and even vinyl records. In fact, it was possible to open a shop to make things and find almost every material needed right at hand.
Meeting Ralph, the Glove Man…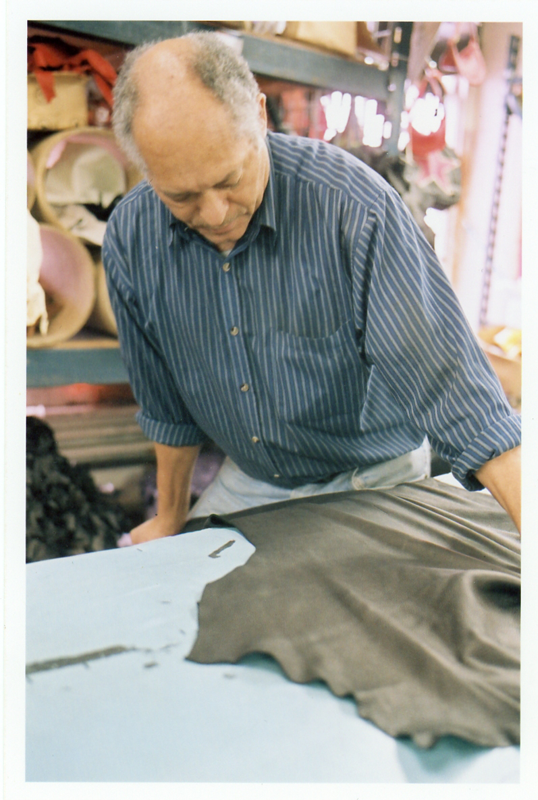 Once I got to town I went to the first glove company bigger than a garage that I found, Perella Glove, if I remember correctly. The owner of the shop, I believe his name was Frank, listened to me and decided that the type of active motorcycling glove I wanted to have made was best handled by another company already in that business. So he had me follow him over to Ambroson Glove Co, where I met the owner, Ralph Ambrosino.
Ralph was already well-seasoned at building bike gloves and had an understanding of the fit and type of leather needed. He showed me his "secret weapon"; a machine he invented to knit a 360-degree circular stretch material which allowed him to develop "one-size-fits-all" gloves for golf. He had his machine in the cellar with the various threads looped over and through the plumbing pipes to keep the correct tension when knitting. Sounds crazy, but it worked.
More to the point, beginning then and lasting for almost ten years, Ralph would always make time for me whenever I came to visit. I did not know at the time, but he was mentoring me in the art of working leather and making gloves.
It's too bad what happened…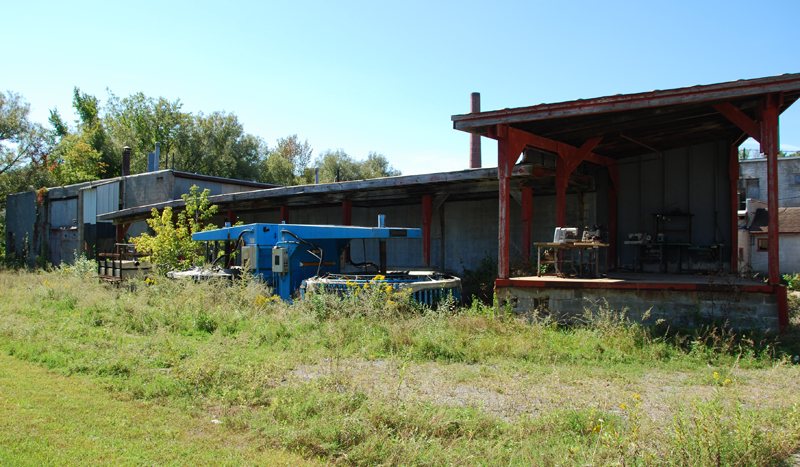 Today, 40 years on, the area is an industrial wasteland. Empty lots, abandoned buildings, broken-down everything litters the yards and streets. The famous American "Can Do" spirit was replaced by "Can't do it here", which then became "Who cares anyway?" I have been told that the population of the three clustered towns, Gloversville, Johnstown and Amsterdam is almost a third less than it was in 1975.
As the business climate for American manufacturing went from bad to worse, the tools and dies, that so much care and thought had been invested in, were scrapped as the buildings emptied and their roofs caved in. It seemed that the very means needed to nourish a producing, self-supporting society were of no value to the bankers and bureaucrats swooping in for the kill, as one company after another either folded or was offshored.
Generosity out of hardship…
In the midst of all this turmoil and grief, Ralph Ambrosino elected that Vanson get his dies, equipment and training to continue the tradition of hand making gloves in the USA. He made sure that I got the dies he wanted me to have. It was a very meaningful gesture and the reason that Vanson was able to start cutting and making our own gloves.
So I like to think that every glove we make has some of this story in its DNA, and that Ralph is somewhere looking down and reminding me to "Watch the stretch, keep the leather tight as you cut, pay attention to the seams, and you will be alright". Thank you, Ralph!
Mike van der Sleesen
Founder, Owner Vanson Leathers