The heritage of Vanson's racing suits has its roots in Flat Track Racing.


 Flat track racing is one of the oldest and most exciting forms of racing here in the U.S.
Imagine – no brakes on a slippery dirt track using you foot for balance in the turns going 100+ miles per hour. Now add additional racers with handle bars touching as you slide around the corners – that's Flat Track Racing!

Back in the day Dave Aldana shocked the racing community with a skeleton design on his racing suit. It was frowned upon by the AMA as be an "outlaw" influence, so much so that it was almost banned from use. Later on Vanson sponsored Aldana using this design from 1984 -86.
     'The heritage of Vanson's racing suits has

               its roots in Flat Track Racing'
You can own on of Vanson's Bones styles…choose from either the BONES Flat Track Jacket (the top half of our flat track suit with an anatomically correct bone design) the Model B w/BONES Jacket (a cartoon bone style designed in 1975) or the BONES Vest. Our BONES motif doesn't end there, we offer two styles of BONES gloves the Roper and the X-Ray to finish the 'look' when wearing the jacket. For those that really want to make a statement where ever they go we offer a BONES Bag that is guaranteed to turn heads. If you are just bopping around and want something casual, we finish off our collection with the BONES Tee-shirt and Hoodie.
---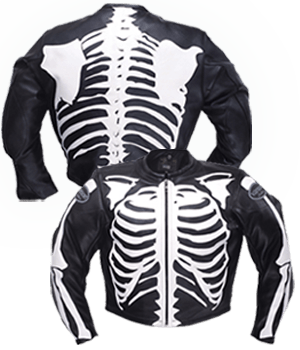 Vanson BONES Flat-Track Jacket
The Vanson BONE jacket is the top half of our Flat Track Racing Suit. The anatomical bone design is stitched to the front and back of the jacket. If you are the type that wants to turn heads and likes being the center of attention this jacket is for you. Now you can order a set of BONE leathers from Vanson, or just the jacket part of this famous Dirt Track combination, and get on the inside line at every corner.

  >>visit product page
---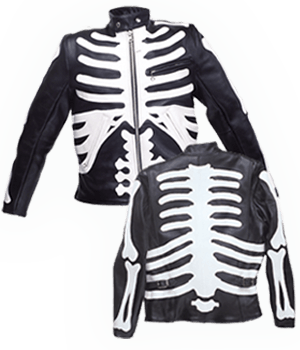 Vanson Model B w/BONES Jacket
To put it mildly, the Vanson Bones Flat Track Suit has a unique look.

Taking the wild trademark motif of our Bones suits and adding it to the Model B jacket was the next obvious step. On its own the Model B is a real deal classic leather motorcycle jacket - but also just a nice jacket to hang out in. For this jacket we designed full circumference, three dimensional graphic bones, with the ribs meticulously meeting at the side seams. The workmanship and design are evident in the careful edge/top stitching and the way the front hand pockets are integrated into the design.

  >>visit product page
---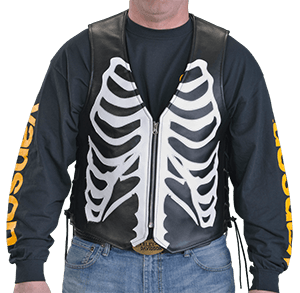 Vanson BONES Vest
The Vanson Bones motif from our famous flat track racing suits is carefully cut out of leather and edge top-stitched onto the vest. We start with the design of a man's formal dress vest. Look closely, you will see that the connection points of the front and back are perfectly matched and top-stitched, open and flat for a comfortable low bulk, smooth fit over the shoulder. You'll also see that the sides are turned and faced evenly – so the lining is smoothly set into the vest and the brass side lacing grommets are neatly set away from the lining in two layers of leather. Substantial rawhide laces give this formal cut vest a Western flair – and enable a perfect fit. Twin single-welted pockets cut into the front add a formal look to the style. This vest makes a statement wherever you may go.

  >>visit product page
---
     'the Vanson Bones Products have a unique look.'
---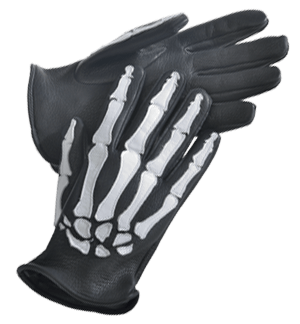 Vanson BONES Roper Gloves
After we introduced our X-RAY Gloves, with their popular "Bones" motif, it was brought to our attention that the length of the cuff was in some cases making driving more difficult.

So...we had to do something, we needed to invent a glove with an integrated anatomical diagram whose cuffs won't get in the way when you operate. We chained our designers to their workstations until they came up with the ROPX, a glove hand-crafted from natural unlined deerskin, with white applied cowhide bones, and finished with a stylish integral bead at the wrist. These gloves don't just make a (or several) statement(s), they wear well and will last a long, long time.

Vanson ROPX Gloves are available in men's and women's sizes.

  >>visit product page
---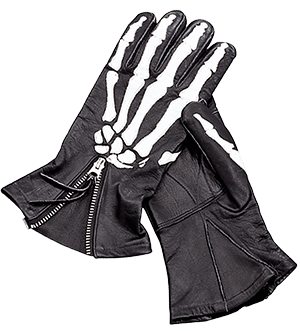 Vanson X-Ray Gloves
In 1985 we added the anatomical bones motif to the Rocket Gloves to complement our Vanson Bone Suits and Jackets. We decided to call them X-RAY Gloves. You might not want to use them in a surgical procedure, but they are still darn realistic.

Leaving aside for a moment the Bone motif, Vanson X-RAY Gloves are elegantly old-school, with a long, integrated, zippered cuff and a one-piece hand, meaning the top continues into the palm of the hand along the index-finger side, in one piece of leather.

Once broken in your gloves will truly become a second skin/exoskeleton. With proper, regular care these gloves should last for many miles and many years.

Vanson X-RAY Gloves are available in both men's and women's sizes.

  >>visit product page
---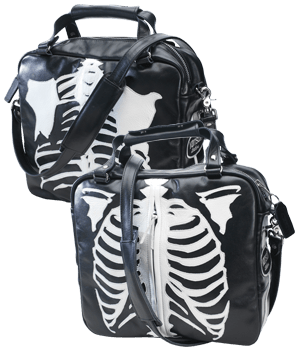 Vanson BONES Bag
Same construction as our Star Bag (AC-SBAG), but for those of us with a darker, more punk-rock view of the world, this bags for you.

(Not that you'd ever use anything so vulgar as a public baggage carousel...but just supposing you did, you could pick it out immediately - no two are alike).

  >>visit product page
---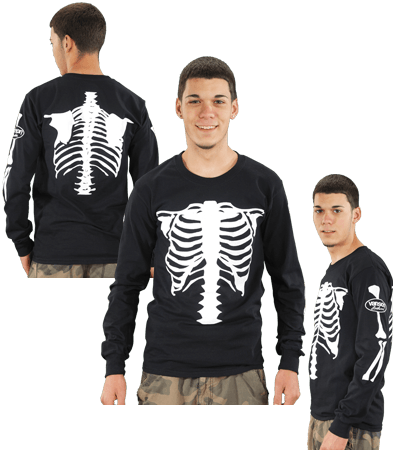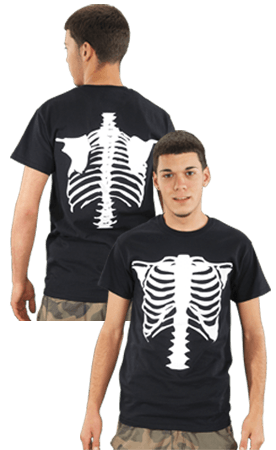 BONES Tee
(offered in short or long sleeves)
We start off with a beefy black cotton T-shirt…then add our infamous Skeleton print on the front and back (the long sleeve version has the Skeleton print on the arms).

There's also a Vanson Competition Oval screened on the left sleeve. Who needs skin when you have bones like these!

  >>visit short sleeve tee product page
  >>visit long sleeve tee product page