Vanson's Vintage Leather Motorcycle Jackets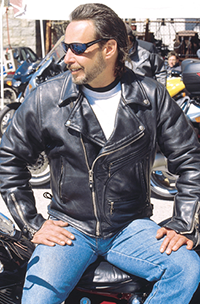 Cruiser, Touring, Urban, Scooter, or just plain out-and-about wearing your vintage leather motorcycle jacket  – Vanson Leathers has you covered.
Riding a vintage motorbike with the vintage classic motorcyle leather jacket – Vanson has it.  On a hot Sportbike heading for a track day – our Sportrider collection has got you covered. Cruising and you need that Classic Biker Leather Jacket look, we can take you back. Touring across the country, comfort and ventilation are our specialty. Walking the Champs Elysee in Paris, cafe to cafe with style, got that too. 
From the iconic Vanson Star Jacket, to our technical pants and SuperMoto jackets and pants, our American Made garments stand out with a purposeful flavor unique to Vanson.
Vanson means Versatile. The materials we use range from full competition weight leather through wax cotton and Nylon Cordura. All of our garments stand out from the crowd and have the subtle details that  identify them as Vansons.

Vanson means Protection. Not only is there the obvious quality of first rate materials, there are also in many styles we make CE armor at the shoulders, elbows and knees. Some styles also come with back-pads. Most of the armor installation used by Vanson is supported by patented methods. The concept is to provide the protection desired at the potential point of contact, while also preventing the fitment of the armor from restricting movement.  We call this "Floating Armor".
Vanson means Cool.  Proper air-flow, particularly on a long hot ride, is an important safety factor. Vanson Leathers has several patents on incorporating aspects of ventilation into a garment without allowing the garment to "blow up" in size and become a distracting, fatiguing, billowing bag of air.  We have all seen examples of this on the road, and it is not only ugly but potentially dangerous as any  armor or padding placed to protect is also moving about with the billowing garment. This kind of loose fit as a result of allowing the jacket to expand with the vents opened is prevented in a Vanson  by the design of the patented ventilation systems.
Vanson means Style. We make many different styles. If you wish your designs can be incorporated into your garment. We can take your designs and cut them out of leather on our water-jet, and then apply them to your Vanson.  We can embellish with embroidery, either outside or on the lining, inside. You can pick from a wide range of leathers, colors and textiles.
Vanson means Fit. Fit is important. Fit is comfort. If a standard size does not fit you, we can either adjust the fit, such as longer sleeves, or make a fully custom fitted motorcycle jacket or pants.
Fit, Style, Innovation, Cool, Protection, Versatility, Hand-built-to-last, Heirloom-Quality, Made one-at-a-time and identified with an unique number, Renewable-by-design, American Made with Pride, Sold with Pride, Owned with Pride. No Compromises...