Back
CITY JACKET
VAJ3 FIRE
FIRENZE BLACK MEDIUM WEIGHT
City style leather jacket
Slim fit urban leather with 2-way front zipper for comfort
Competition double leather at shoulders and elbows
Side zippers for waist-fit adjustability
Leather lined collar
Snap-back mandarin collar
Chrome hardware
1 Inside vertical facing pocket
2 Inside facing vertical pockets - one over the other
Inside multi-media pocket sewn to lining
Full leather inside facings
Rayon lining
4 Zip-close front pockets
Riveted leather pull-tabs on zipper
ID key fob embossed with garment unit-number for reference
Ignition key pocket - leather lined - on left sleeve
Windtight low-bulk zip close sleeves
Chrome snaps - all parts
Underarm ventilation grommets
Two-way main zipper for comfort
Funny how what was old is popular again  -  The Vanson CITY JACKET  -  looks back to England in the early '60s  -  In the days of the Mods and the Rockers. The CITY JACKET is narrow and slender with that '60s "modern sophisticated" look  -  slick, shiny and new. Early Beatles album covers show the Fab Four in narrow ties, slim-fit, narrow-cut jackets. Almost wholesome even…a last gasp before the cultural revolution.  
This was England in the early '60s. Soon in the USA, the British Invasion would start and a whole new look would emerge. All this was two generations ago. Today, with the Vanson CITY JACKET, you can own a new, shiny, slick slice of the '60s.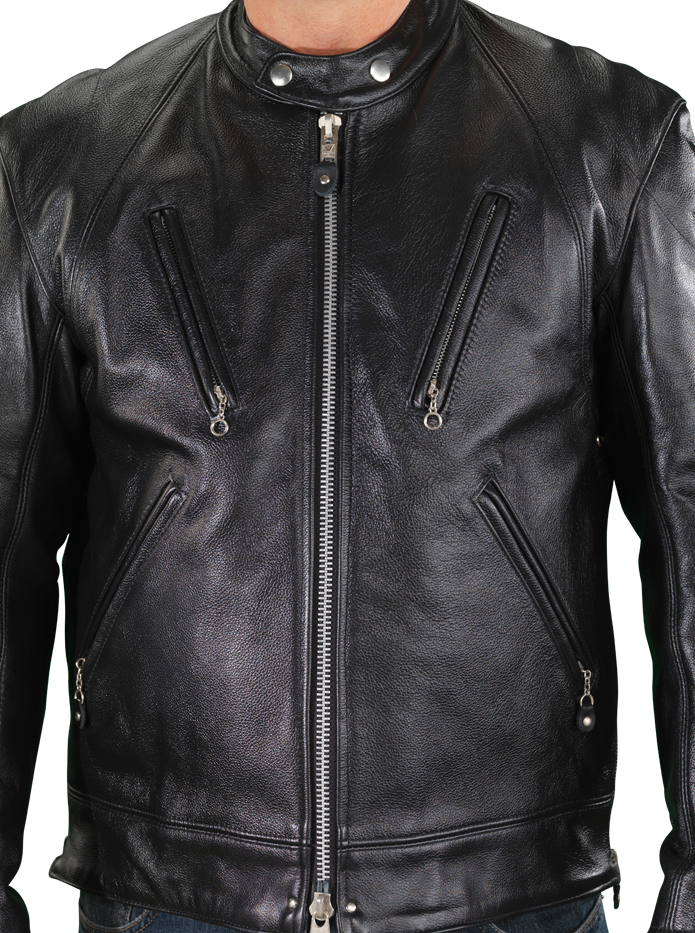 Four pockets in an "X" pattern are on the front - very modern indeed. Inside, there is a lining inlay with contrasting polished material, and in a gesture to today, the inside right lining also has a multimedia cluster pocket - très chic, n'est-ce pas? All around the lining and the collar wear areas wide leather facings protect from chafing - deluxe finish details. The period European Look is carried over to the zipper-close left sleeve ignition key pocket.
Fit adjustment is by two zipper side-slits lined with heavy-duty nylon Cordura mesh and a two-way center-front zipper. For extra durability, the bottom of the front zipper is riveted into place. The wrists are also secured by zippers backed by leather gussets.
This is more than a nice-looking jacket, it's a time machine. Put it on and you can hear the echos:  "She loves you, yeah, yeah, She loves you, yeah, yeah, yeah …."   No magical mystery here though…each Vanson CITY JACKET is made by hand, one at a time, right here in the USA.
SIZES.........1XS......2S......3M......4L.....5XL.....6XXL....7XXX....84XX
SCALE......32..34..36..38..40..42..44..46..48..50..52..54..56..58..60..62
Size MED-(SZ 42 Chest measures 44 inches -------NORM FIT (2 of chest ease)
Back length is 26 ----Front 22.5 ----Sleeves are 34 Nape of neck to Wrist.
Jacket is meant to cover the beltline. Jacket Sweep 39 with the side seam
zippers closed - 44 inches with the side zippers open.