Vanson Racing Suit DNA
Custom leather Vanson motorcycle racing suits DNA. Vanson has been in business since 1974; we are a small operation, we specialize, and everything we do is done very well. Buy a racing leathers suit from us, and you may be paying more up-front (we reserve the right to be cheap), but in the long run it's likely to cost you less, and for sure will serve you better along the way. Welcome to the Vanson family. 

We don't just stitch these things together - we design them. Vanson has 10 patents in ventilation and protection. What other racing suit company can say that? Vanson has 40 years of experience, of being in contact with top riders (yes, they crash too - see Eric Gilbransen in the "RIDGID" video below), listening to what they have to say, and learning.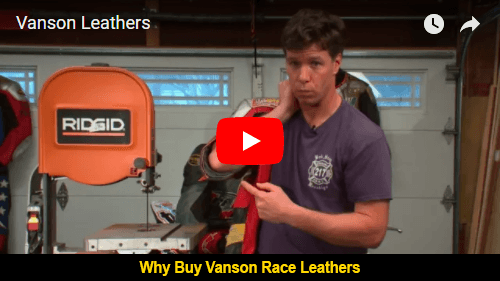 Our materials are the best you can get. Vanson competition-weight leather is 1.3 - 1.5mm thick, and as our suppliers well know, we are picky, picky. Our Kevlar material is our own weave, comes from work we did for the US Army Labs in Natick on mine-removal gloves, and is exclusively ours. We use it to make flex panel inserts in Road Racing Suits and SuperMoto Suits, as well as our proprietary "GRIND" material. GRIND is our multi-layer sandwich of Kevlar and leather, protecting shoulders, elbow/forearm, knees, and seat in our drag suits. Of course it meets or exceeds even the AMRA and NHRA Harley Fueler Class requirements.
Our hard armor for track suits is of our own design and manufacture, but what really distinguishes it from others' is where it goes, and how it's kept there. Vanson's F.A.S. (Floating Armor System, US patent 6260196) lets the armor move with you, and stay over the area it is meant to cover, while still keeping it attached to the suit. Protection with comfort.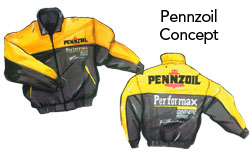 When it comes to graphics, Vanson offers a design service, or we can turn any sketches/ideas you have into finished designs, and execute them either in embroidery or by cutting colored leather with our waterjet. The base color of your suit can be anything that pleases you, as long as it's in our palette.
Now...thank you for reading so far...about fit. Vanson is the only suit-maker that guarantees fit. Our measuring form is elaborate, and you need someone else - if not us or one of our dealers, then a trusted accomplice - to measure you with our special measuring device (which you can easily make for yourself). Take a look at our How To Measure, a video and measurement-by-measurement instructions. Once we have your measurements we check to make sure they are consistent with each other, and then cross-check them against our database (maintained in a secure location, on powerful 'DOS' data-processing equipment), which has records of all the suits we have ever made. If there is a problem, this is when we like to catch it.
Your suit will be cut using CAD and a computer-driven cutter, and we emboss on it next to the Vanson oval its unique unit-number. Very handy if stolen; and if you ever need to get it repaired - or just decide you need a more generous sponsor with better-looking umbrella-girls - and so need to change the color or graphics of a panel, we can cut and fit a new piece exactly the same shape and size. If you need alterations, we can go back to the original measurements, make the necessary changes, cut and fit a new piece.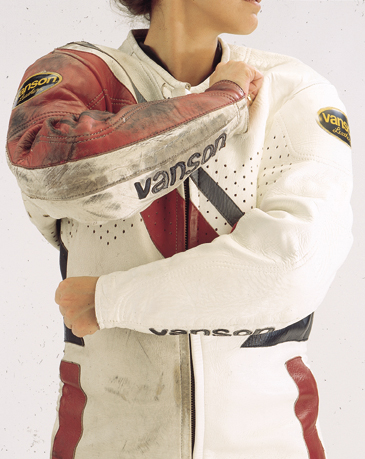 Your suit can come back to us for routine maintenance too. (We are the only manufacturer that offers this service). As you use it normally (ie without getting off the bike while it's moving) you will be exposing it to UV light, different salts and varying pH levels from sweat, all of which can weaken the fibers of the leather, not to speak of grit, which can cut through them. Send it back to us for reconditioning, and (without altering the outside of the leather) we will clean the surface of grit, wash out the contaminants from the inside, and renew the waxes and oils used in tanning, which let the fibers slide over each other, making the leather supple but strong. Do this, and your suit will be more comfortable, protect better, and last longer, making it the best value in the industry.
Comfort + Innovation   = Confidence + Concentration
                                      =Safety + Speed
                                      = No Compromises
                                      =Vanson