Memorial Day Weekend - 10% OFF SALE!
On Internet and Showroom* Purchases Now thru Monday
*Showroom hours are Fri 9-6, Sat 10-2,
Showroom Closed Sunday 5/28 and Monday 5/29. 
* Sale applies to all discount marked items. Some items only available at MSRP.
Back
BAJA VENTILATED JACKET
BAJA V251
TAN BAJA JACKET COMPOSITE
Textile vented mesh Touring motorcycle jacket
Belted and armored hip-length fully-vented Summer jacket
WAX (tin) to easily recondition wax-cotton sold separately
Backpad installed as standard equipment
CE approved F.A.S. armor at shoulder + elbow
Leather covered buckle to protect the motorcycle tank
Full belt
Leather lined collar
Quilted shoulders and elbows
VANSON embroidered on collar
Brass zippers with black snap caps
2 Interior zip-close secure wallet pockets
STREAMLINER zippers along facing - attach streamliner vest
Ventilated mesh lining
1 Zip-close exterior chest pocket
2-way lower front pockets - top loading + side entry
ID key fob embossed with garment unit-number for reference
Low bulk beaded sleeve end finish at wrist
Inner windflap and outer stormflap full front length
Two-way main zipper for comfort
Comfort + Innovation    = Confidence + Concentration
                                     = Safety + Speed
                                     = No Compromises
                                     = Vanson
Trip. Hot. Air-Cooled. Pockets. Protection. Functional look. Hose-off clean and go maintenance. The BAJA is here. A simple concept with sophisticated execution in design details and assembly. Crafted by hand, one at a time, in our Fall River, Mass workshop, the BAJA combines simple design with durable materials.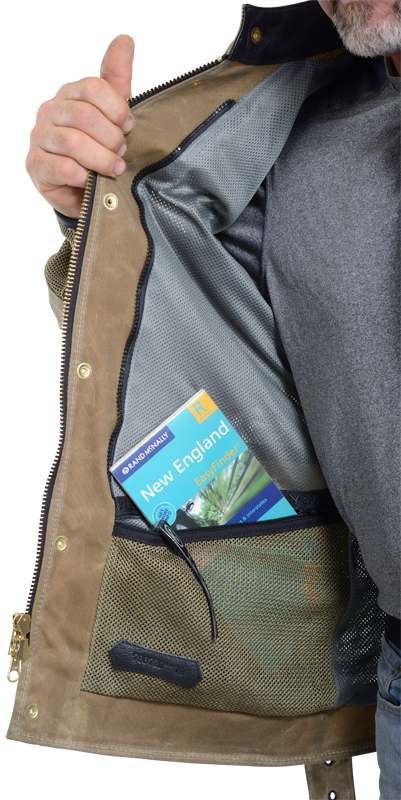 Start with the 1000 denier Cordura heavy mesh that makes up most of the outside shell. Cordura yarn was developed by DuPont to replace the steel used in radial tires. It is strong. It resists abrasion. It does not degrade. Knitted into a heavy-duty mesh it brings you all these qualities and allows 100% airflow. Once you touch the material you can feel the toughness. To this we add 1010 Army Duck waxed cotton, also a very strong but breathable material. It has a natural look and feel, and like the Cordura mesh only needs to be hosed off, then air-dried, for true on-the-go round-the-clock use. In the shoulders a double layer of military-derived ballistic nylon spacer fabric is used, which resists compression, so giving additional padding and energy absorption. It offers little resistance to airflow, so cooling air can flow through it when you are hot.
This jacket is cut like a military dress tunic, hip-length for comfort, and with a two-way center-front zipper for a perfect fit on the bike without bunching up. This zipper is covered by a snapped storm-flap, to avoid scratching your tank. CE-approved protection is included at the shoulders and elbows, with a backpad in a pouch sewn into the lining. Its uniform-style full belt has a leather-covered buckle . . . again we thought of your tank. A leather keeper, embossed with the unit number of the jacket, is on your left side near the buckle, making sure the belt stays with you.
The sleeves are finished with race-style turned leather ends, and leather guards are under the wrist zippers.
On the outside we have a chest pocket on the left, which could take a cellphone, and two combination hand/cargo pockets, while in the lining there are two large zippered pockets. What makes this jacket really versatile and modular is the provision for zipping in our Streamliner Vest - ideal for those hot days that turn into chilly evenings, or for transitional-season riding.
When you want to go, this is the way to go.
Available in men's and women's sizes.  
Data sheet
Material

Jackets........45
Jackets........46

CATAGORY

Mens........29
Mens........30
Specific References
ean13

HAND MADE IN U.S.A. OF DOMESTIC AND/OR IMPORTED MATERIALS

upc

4.40,10.20,24.10,26.10,30.10,35.10,35.20,35.70,.00,.00,.00,.00,.00,.00

MPN

BAJA V251
SIZES:..XXS....XS....SM....MED...LG....XL....XXL...XXX
Scale....32..34..36..38..40..42..44..46..48..50..52..54
Sizing XXS(32)..XS(35)..SM(38)..MED(41)..LG(44)..XL(47)..XXL(50)..XXXL(53)
Size MED-(SZ 41) Chest measures 45 inch - CONTINENTAL FIT (4 of chest ease)
Back length is 29.5 - Front 25 - Sleeves are 36.5 Nape of neck to Wrist
CONTINENTAL FIT
Jacket is meant to cover the beltline. Bottom circumference sweep is 44