Back
BONES ROPER GLOVE
ROPX D150
BLACK DEERSKIN + WHITE BONES
Outlaw motorcycle deerskin driving glove
Unlined gloves with skeleton x-ray bones in white
Anatomically correct leather bone motif stitched to glove
Finger seams sewn inside for durability
Specially tanned and prepared Glove deerskin
After we introduced our X-RAY Gloves, with their popular "Bones" motif, it was brought to our attention that the length of the cuff was in some cases making driving more difficult.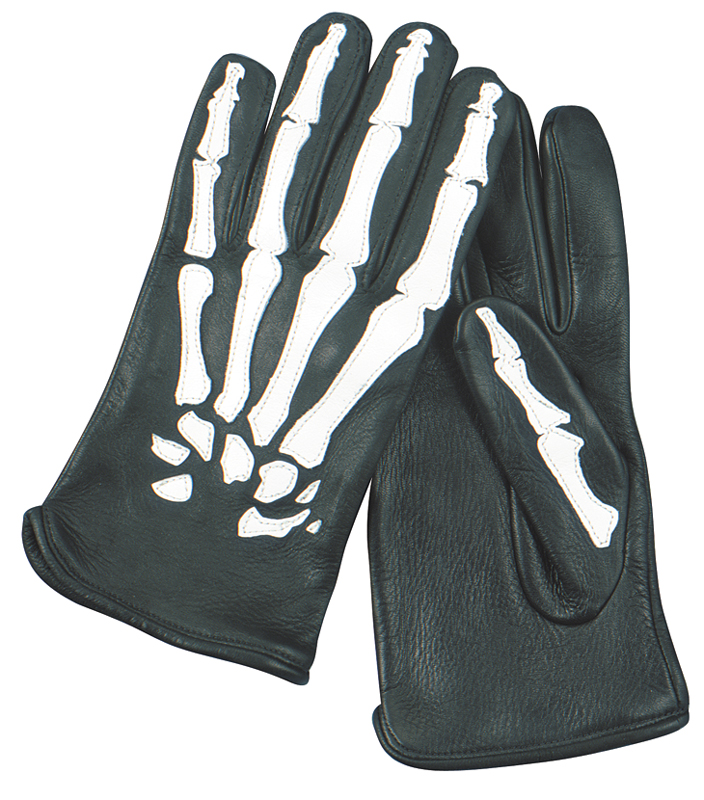 While our bones are not exactly from Gray's Anatomy, they might be close enough for most hand surgeons in most operating rooms....
So....we had to do something, we needed to invent a glove with an integrated anatomical diagram whose cuffs won't get in the way when you operate.
While looking around for a suitable base on which to build this new glove we found, very appropriately, the Roper Glove (GL-ROPE), which is, as we say, 'true to the legends of the cowboys'. Cowboys, we have been told, have the reputation of being "operators."

We chained our designers to their workstations until they came up with the ROPX, a glove hand-crafted from natural unlined deerskin, with white applied cowhide bones, and finished with a stylish integral bead at the wrist. These gloves don't just make a (or several) statement(s), they wear well and will last a long, long time.
Vanson ROPX Gloves are available in men's and women's sizes.
SIZE....1XS.......2S.........3M.........4L..........5XL..........6XXL
MEAS.....7......7.5-8.......8.5-9......9.5-10......10.5-11.......11.5-12
Wrap tape over the widest part of the knuckle - make a fist and note this
measurement. Measure your dominant hand.
Measures about 12 inches from tip of middle finger to edge of cuff - Medium
Cuff zipper length is 3 3/4 inches.
.
Glove dimensions given are approximate as gloves stretch during manufacture
and use.