Back
SUPER ROCKET GLOVES
SURK D150
SUPER ROCKET DEER- GLOVE LEA.
Classic deerskin leather biker glove
Super soft deerskin gauntlet glove with knuckle-palm patch
Gauntlet wrist gusset and zipper
Inserted wrist gore gusset for snug wrist fit
Knuckle patches sewn over knuckles
Palm patch with built-in thumb patch protection
Brass hardware
Specially tanned and prepared Glove deerskin
Riveted leather pull-tabs on zipper
After the 1985 introduction of Rocket Gloves in cowhide we created a sister design in deerskin. Now deerskins are much smaller than cowhides  -  a full deerskin will measure about 9 square feet, an irregular shape, with all the scars and damage a wild animal will pick up.
Not to speak of bullet- (or arrow-) holes. A typical cowhide would be about 45 square feet, so five times the area of the average deerskin, and, coming from a farmed animal, will be in much better shape. This surprises people, but a pair of Super Rockets take about 1½ deerskins!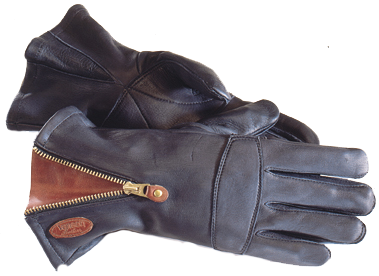 Vanson Super Rocket Gloves are classic old-style gloves, using one piece of deerskin from fingertips to hem on both palm- and top-sides. A knuckle patch and a palm patch, that covers the side of the thumb and part of the thumb seam, give added protection.
Complex curves at the wrist give a slim fit, with a deerskin gusset on the palm side, and a zip-close Octagon Leather gusset on the outside. Octagon Leather, which is one of our special XL Leathers, is tanned, waxed and finished in the old way, by hand. It is used also for the Vanson logo patch and the polished brass double-headed riveted zipper pull.
To build these gloves we start with selected deerskins that have been specially tanned. The day before we cut the gloves, the leather is nourished with a special mixture of oils, lanolin, waxes and water. Then the leather is rolled up and covered with plastic to allow the moisture to evenly permeate the fibers. When we are ready to cut, the leather is unrolled and stretched on a special toggle frame where it is allowed to sit until it "sets." Only then can the leather be cut, always palm to finger along the head to tail stretch set.
Setting the stretch is imperative to allow the leather to give or "let out" across the knuckles when you make a fist.

After sewing, the gloves are shaped on heated finger forms before final waxing and buffing.
Because of the double layers of leather over the palms and across the knuckles you will have to break these gloves in. You will stretch and shape them by wearing, and later we suggest that you moisturize with Vanson-Leather-Balm (AC-BALM) preceded by a little water while you work them with your hands to get the perfect fit. In this way your gloves will truly become a second skin.
Once broken in you should care for these elegant hand-built gloves by conditioning them in the same way several times a year, depending on how much you ride, to replace the nourishment leached out by wind and sunlight. With proper, regular care these gloves should last for many miles and many years.
Vanson Super Rocket Gloves are available in both men's and women's sizes.
SIZE....1XS.......2S.........3M.........4L..........5XL..........6XXL
MEAS.....7......7.5-8.......8.5-9......9.5-10......10.5-11......11.5-12
Wrap tape over the widest part of the knuckle - make a fist and note this
measurement. Measure your dominant hand.
Measures about 12 inches from tip of middle finger to edge of cuff - Medium
Cuff zipper length is 3 3/4 inches.
Glove length from tip of middle finger to edge of cuff is 13 1/2 inches.
Glove dimensions given are approximate as gloves stretch during manufacture
and use.