MASSACHUSSETTS TAX FREE WEEKEND!
15% OFF SALE*
Sale is effective from 12:01am EST on 8/13/2022 until 11:59pm EST on 08/14/2022.
* Sale applies to all discount marked items. Some items only available at MSRP.
Back
MODEL AR - ORIGINAL VANSON
AR2 BLK
BLACK COMPETITION WEIGHT
Original classic traditional leather motorcycle jacket
Design No. 1 Model A Vanson leather jacket
Dipped back and kidney panel for secure windtight fit
Full length action back
Snap-back mandarin collar
Brass hardware
1 Interior lining zip-close secure wallet pocket
Black rayon lining
Full leather inside facings
STREAMLINER snaps for streamliner vest attachment
1 Zip-close exterior chest pocket
2 Zip-close exterior hand pockets
ID key fob embossed with garment unit-number for reference
Built in underarm gusset for enhanced movement
Windtight low-bulk zip close sleeves
Leather windflap
Creating the first Vanson leather motorcycle jacket back in 1974, as an improved version of a generic bike jacket, inspired us to try new things. So we decided to deconstruct, redesign and refine other styles of riding jackets worn by crusers and Cafe Racers of the day. This is what we ended up doing...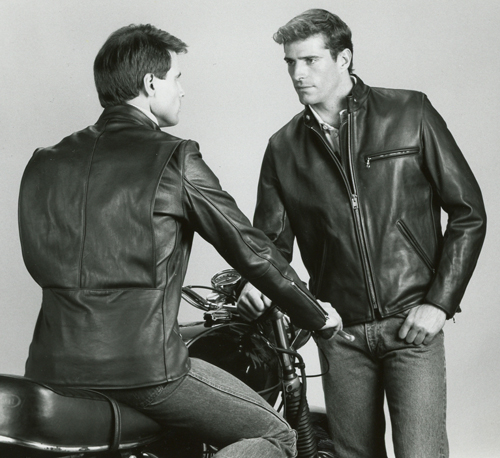 To prevent wind from billowing the jacket around the waist, we extended the back until it almost touched the seat of the bike. To give the jacket a snug, wind-tight fit around the torso, we shaped the jackets sides so they would curve over the riders thighs. Then, to keep the jacket from pushing up into the throat while riding, we shortened the front. To increase wind protection without adding bulk and still maintaining a good collar height, we lined the collar with long-lasting rayon. Then, to allow the collar to either be fully sealed or snapped open, without anything loose flapping in the wind, we extended the collar and added snaps. For further wind protection without bulk, we added a full-length, rayon-lined wind flap. Then, by extending the front zipper up to the neckline and capping it with the collar, we eliminated air leaks. We started the zipper a few inches up from the bottom, so the jacket would splay out slightly, increasing comfort for the rider. Next we looked at the reach, and the need to keep the body of the jacket snug, while allowing easy movement with different layers of clothing. So we redesigned the action back with three internal bands of elastic to hold its shape and pull it back into place. We added matching inside pleats to keep the lining floating in the jacket, so as not to impede movement or reach.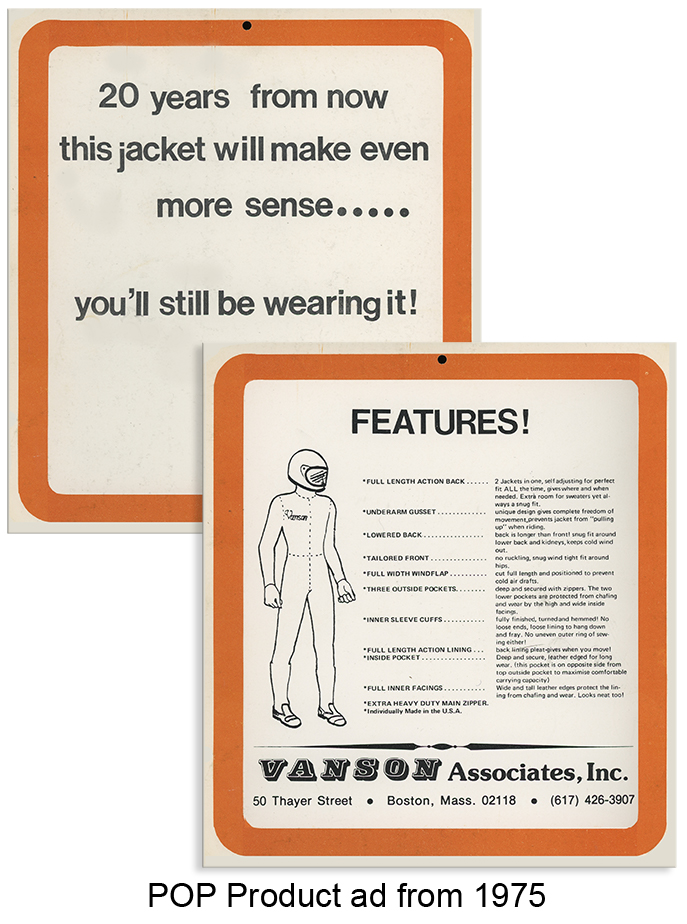 To reach the bars more easily we biased the sleeves forward at the armholes and added underarm gussets. The wrists got particular attention - as most sleeve ends are fully lined the sleeve ends become bulky when the wrist zippers are closed. So we invented a way to sew the lining around the wrist gusset edges for the unlined wrist gusset to fold away when the wrist zippers are closed. From our many years of repair experience, we knew that anti-wear cuffs inside the sleeves would keep the lining from fraying at points of contact so we created all-leather sleeve ends turned up to prevent wear. Then we folded and shaped the leather into the turned up position so a lining repair or alteration would not leave any visible needle holes. Last but not least, we built the jacket with wide, substantial inside leather facings for anchoring the inside pocket and keeping the lining away from predictable wear points.
So, as you see, much thinking and personal riding experience went into the re-engineering and refinement of our jackets. Thats how you build a jacket that lasts for 40 years... or at least how we do it at Vanson.
Don't worry there won't be a test - at least not for you!
Data sheet
Material

Jackets........40
Jackets........41

CATAGORY

Mens........24
Mens........25
Specific References
ean13

HAND MADE IN U.S.A.

upc

26.10,35.10,35.20,.00,.00,.00,.00,.00,.00,.00,.00,.00,.00,.00

MPN

AR2 BLK
SIZES...32..34..36..38..40..42..44..46..48..50..52..54..56..58..60..62
Size 42 - Chest measures 46.5 = Normal ease 4.5 inches
Back Length 27 Front length 21 Nape of Neck to Wrist 35
Bottom circumference sweep is 43 inches.
AR2 - the first Vanson jacket.
This jacket has a full length action back - and under-arm gusset to provide
great movement. The Back is cut longer than the front.
N.B. The jacket is cut for longer torsos - on people of less than 5ft.9
the jacket may be too long - especially in the front.