MASSACHUSSETTS TAX FREE WEEKEND!
15% OFF SALE*
Sale is effective from 12:01am EST on 8/13/2022 until 11:59pm EST on 08/14/2022.
* Sale applies to all discount marked items. Some items only available at MSRP.
Back
ROCK AND ROLL JACKET
R+R BLK
BLACK COMPETITION WEIGHT
Mods + Rockers English style leather biker jacket
50s Rock-n-Roll leather jacket with twin-zip front
Full length action back
Strengthened kidney panel
Removable belt buckle - held by fold-over + snap
Half belts stitched in at sides
Snap-close belt loops
Shoulder epaulets with snaps
Twin front zippers for size adjustability
Concealed Carry - CCW - Pocket
Leather-lined inside gun pocket
Competition weight steerhide
Black quilt lining
1 Zip-close front glove pocket
2 Zip-close exterior hand pockets
Zip-close cigarette pocket
ID key fob embossed with garment unit-number for reference
Ignition key pocket - leather lined - on left sleeve
Windtight low-bulk zip close sleeves
Chrome snaps - all parts
Chrome zippers
This is the leather jacket made famous by the legendary punk rock lead singer Joey Ramone, and can be seen immortalized in the Rock and Roll Museum in Cleveland, OH.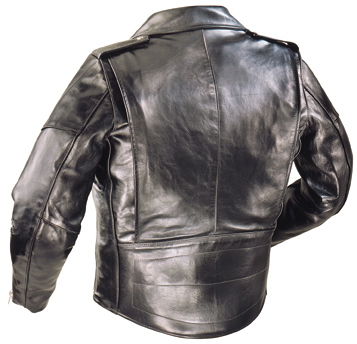 The Vanson Rock & Roll leather jacket is explicitly derived from the British Rockers, Cafe Racersscene of the early '60s. The '60s in England were a time defined by rebellion and creativity. The Mods and Rockers fought each other all around the South Coast of England. Pirate radio ships starting with Radio Veronica off the Dutch coast, then Radio Caroline and Radio London off the English coast were all symptoms of the restless boomer generation. Along with, and maybe because of, the offshore radio stations came The Beatles, the Stones, the Kinks, the Byrds, and so many others building a wave of popular culture that would wash over the Americas as "The British Invasion". The Ace Cafe, BSAs, Nortons, Triumphs, Dresda, Dunstall, all were markers in the world of the Rocker. This very cool dynamic, rebellious energy is reflected in the Rock & Roll Jacket.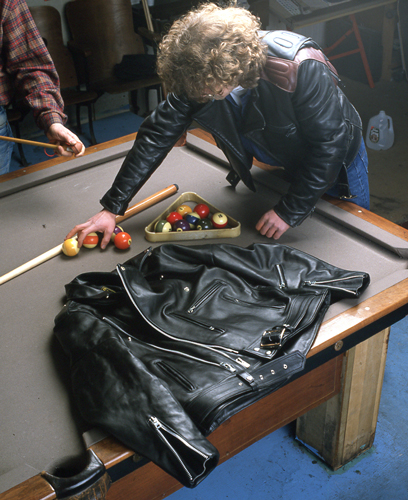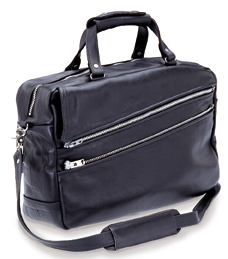 The vintage version featured twin-track zippers and sewn-in half belts for a snug, wind-tight fit, and relied on authentic '60s technology - heavy sweaters and "dead air space" for insulation, with an adjustable tight fit to "keep things in place" while the bikes rattled and shook. Vanson enhancements to our version include a large, stiffened lower-back kidney panel and full-length action back to make this jacket optimally functional. Timeless period features such as the leather-lined ignition key pocket on the left sleeve and a leather lined concealed carry gun pocket built in to the inside facing, this pocket can be ordered for either right or left hand draw. All this makes the Vanson Rock & Roll leather jacket a classic favorite of riders and rockers alike. A rugged look with durable details and hand-built craftsmanship that can only be a Vanson. American made to last a lifetime - and beyond (R.I.P., Joey).
Data sheet
Material

Jackets........40
Jackets........41

CATAGORY

Mens........24
Mens........25
Specific References
ean13

SPECIAL ORDER ITEM

upc

35.10,35.20,.00,.00,.00,.00,.00,.00,.00,.00,.00,.00,.00,.00

MPN

R+R BLK
SIZES......32..34..36..38..40..42..44..46..48..50..52..54..56..58..60..62
Size MED-(SZ 42 Chest measures 48.5 inches = NORM FIT (6.5 of chest ease)
Back length is 27 ...Front 22 ...Sleeves are 35.50 Nape of neck to Wrist.
Bottom circumference sweep is 43 inches.
Jacket is meant to end just below the beltline.
Twin front zipper design allows the circumference of the jacket torso to
grow about 2 inches (a whole size) for either sweaters in winter or greater
air-flow in summer.