We're Cutting Inflation! • 10% OFF Sale*
Slava Ukraini! "Glory to Ukraine!"
* Sale applies to all discount marked items. Some items only available at MSRP.
Back
MERCURY
MERC BLK
BLACK COMPETITION WEIGHT
Classic urban walk-about leather jacket
Timeless casual leather jacket with shirt style collar
Shirt-style collar
Zip front
Chrome hardware
1 Interior lining open-top wallet pocket
Black rayon lining
STREAMLINER snaps for streamliner vest attachment
Traditional leather sweat-guards at underarms
2 Front open hand pockets
Leather-lined hand pockets
ID key fob embossed with garment unit-number for reference
Windtight low-bulk zip close sleeves
Leather windflap

The MERCURY is a big picture jacket with luxuriously large panels that are carefully matched and cut from the center of the hide. The impressive one-piece back is an exclamation point in leather.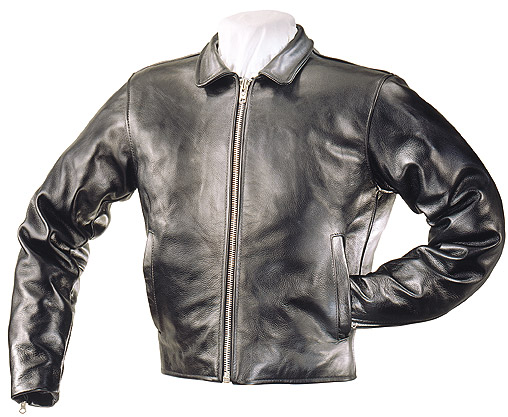 Large panel elements make the MERCURY a statement of design simplicity and sophistication. Following less is more... rayon linings and inside facings make the beautiful full-cut outer shell the focal point of the jacket. The open hand-pockets set into each front are completely leather-lined. Details include a shirt-style collar, inside wallet-pocket, leather wind flap, and zip-sleeves with substantial chrome hardware. The VANSON MERCURY - a simple, straight-ahead, hand-built jacket that will last you a long, long time.
Data sheet
Material

Jackets........40
Jackets........41

CATAGORY

Mens........24
Mens........25
Specific References
ean13

SPECIAL ORDER ITEM

upc

24.10,26.10,35.10,35.20,.00,.00,.00,.00,.00,.00,.00,.00,.00,.00

MPN

MERC BLK
SIZES;...32..34..36..38..40..42..44..46..48..50..52..54..56..58..60..62
Size 42 - Chest measures 47.5 inches = there is 5.5 ease in this fit.
Back length is 24 ---Front 21.5 ---Sleeves are 35.5
Bottom circumference sweep of the jacket is 41 inches.
These jackets are meant to fall on your beltline.
These jackets follow classic race suit design with broad shoulders and
narrow waist.