Back
TECHNICAL PANTS
TEPS BLK
BLACK COMPETITION WEIGHT
Motorcycle riding pants
Performance motorcycle riding pants for SportRider jackets
CE approved F.A.S. armor at knee
Competition double leather in the knee area
Hip pad armor standard
Leather seat with 1000 denier cordura layer for protection
Puck velcro fields - for knee pucks
Padded lower back kidney area support
Exterior side-tabs with velcro for adjustable waist
ARAMID inset in crotch area for low-bulk comfort
Expander section above knees for comfort
Expander section at back for ease of movement
3-way zipper attachment system for Vanson jackets + pants
Molded nylon hardware
Competition weight steerhide
Fully removable ventilated mesh liner
Low bulk - raw edge - hemmed pant end
Snap-closed waistband
Suspender buttons - sewn on - 4 sets of 2 buttons each
Tapered leg to wear inside boot
Zippers at rear of calf
Comfort + Innovation    = Confidence + Concentration
                                     = Safety + Speed
                                     = No Compromises
                                     = Vanson
Vanson Technical SportRider Pants offer the protection of our road-racing suits together with updated ergonomic styling for a more comfortable sport-riding fit. These pants are part of a modular system of garments we call SportRiders (Styles CSR2 COB2  CAV2 etc) and are dedicated to comfort and security for performance riding.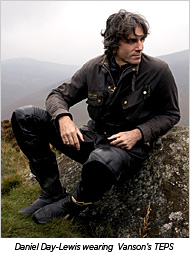 Made from tough competition-weight cowhide with pre-installed hip and knee VanTech CE armor (Floating Armor System US Patent 6070274), the goal is security and comfort while riding in a tucked-in position on a European-style tourer or sportbike. The racing-suit heritage is unmistakable. Specially-made Kevlar® cloth is inlayed at the crotch and runs down the legs along the inner thighs. Even the fly zipper has been set in to the front of the pants without any extra overflaps and bulk. The seat is reinforced with a 1000 denier Cordura layer on the inside for added protection with comfort and low bulk. Doubled leather is used at the knees, with both the underleg and top-of-knee areas sculpted for comfort in the riding position. The athletic mesh lining is removable to facilitate washing, changing or maintenance. Velcro fields for knee pucks are standard equipment and will accommodate the UHMW (Ultra-High-Molecular-Weight) pucks for excellent road feel without grabbing. The waistband is fully adjustable for the most comfortable fit with a built-in padded kidney support area at the rear. Lower down the legs, the fit is tapered with Kevlar® insets from behind the knee, along the calf to the ankle for a snug inside-the-boot fit. Ankle zippers are at the rear calf area for comfort and convenience.
These pants are so comfortable that many riders wear them as pants without attaching to a jacket using our exclusive three-way attachment system. For track days (you need to check with your local organization to make sure three-way pants/jacket connections are allowed) and extreme riding, the three-part jacket-to-pants attachment system allows both the pants and the jacket to have adjustable waists, so you can make fit adjustments at any time while retaining a secure jacket-to-pants connection.
Vanson Technical SportRider Pants come in men's waist sizes 26 to 44 and women's sizes 4 to 20. For unmatched riding comfort, performance and protection….get Technical.
DuPont™ and Kevlar® are trademarks or registered trademarks of E.I. du Pont de Nemours and Company.
26..27..28..29..30..31..32..33..34..35..36..37..38..39..40..41..42..43..44
SIZE 34 ---------Adjustable Waist measures from 33 to 37 inches.
Outseam is 42 ------Inseam is 29.5 -----Hip is 43 ---------Ankle is 11
Crotch to Mid-Knee is 15 ---8 inch long rear ankle zippers allow snug fit.
Technical pants - cut with pre-curved legs + knees. Expander sections
set into leg above knee for ease of movement. Kevlar inlays at the crotch
and behind the knees extending down leg behind calf for less bulk and
ventilation. Waistband is equipped with 3-zippers and opti-panels for
jacket attachment. Velcro tabs on waistband allow 4 inches of adjustment.
Stock Sizes 30...32...34...36...38...40