Back
VENTMAX PANTS
VXPT V150
BLACK 1000 DEN. CORDURA+MESH
Textile vented Nylon Cordura motorcycle jeans
Mesh vent motorcycle pants to compliment mesh jackets
CE approved F.A.S. armor at knee
Hip pad armor standard
Adjustable waistband with secure cam-cleat follower
Beltloops - long - for 2-inch-wide-belt
Expander section above knees for comfort
Rear waist zipper (11 inch) to connect pants to jacket
Ventilated mesh lining
Tack-button close waistband
Tapered leg to wear inside boot
Zippers at rear of calf
1 Rear snap-close pocket
2 Front open hand pockets
Heavy duty cordura lining in pockets
ID key fob embossed with garment unit-number for reference
Coil zippers - self-sealing black nylon coil
The ideal choice for warm weather riding  –  Vanson Ventmax Pants  –  made from 1000 denier Cordura, both heavy-duty mesh and solid.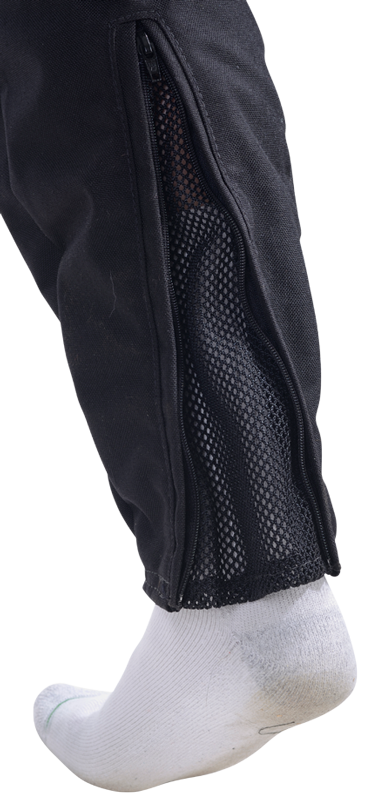 They are made from rugged 1000 denier Cordura cloth and 1000 denier Cordura heavy-duty mesh. 1000 denier Cordura heavy-duty mesh not only allows for maximum air-flow, but is also very flexible and compressible  -  making key areas comfortable, such as behind the knees when riding in a tight tuck.
Vanson Vent Pants are constructed for warm weather riding with strategically placed heavy-duty mesh cutouts for enhanced ventilation at the inner thighs, behind the knees, and below the waistband at the rear. Even the rear ankle-zipper gussets are made of heavy-duty mesh  -  combining low-bulk comfort (when zipped closed) with flow-through ventilation on warmer days. Extra leather reinforcements at the knees, with pre-installed armor (Floating Armor System US Patent 6070274) and hip pads, provide added protection. Waistband adjustment works with a cam-lock slider system making it possible to fully adjust for size, underlayers and comfort. Racing-suit-style expander panels above the knees make almost any riding position a breeze. "Easy does it", could well be the motto for our Vanson Vent Pants.
SZ:..XS..........S...........M...........L.......XL..........XXL.......XXXL
.....27..28..29..30..31..32..33..34..35..36..37..38..39..40..41..42..43..44
SIZE M (33 Waist) Adjustable waist from 33 to 39 inches
Outseam is 42.5 ------Inseam is 29 -------Hip is 41 ---------Ankle is 11
Crotch to Mid-Knee is 15 ------ 8 long ankle zippers allow snug fit.
SportRider pants - cut with pre-curved legs + knees. Expander sections
set into leg above knee for ease of movement. Adjustable waist is secured
by cam-locks and slidiug front pockets.