This Weekend - 15% OFF SALE!
On Internet and Showroom Purchases Now thru Sunday
Holiday Showroom hours are M-F 9-6 Sat 10-4, Sunday 11/27 and every Sunday until Christmas 12-4.
Our Elves are hard at work filling your orders!
Back
MK2 proPERF CSRV SPORTRIDER
CSV2 P150
BLACK PERFORATED COMPETITION
Perf leather motorcycle street riding jacket with armor
Competition weight perforated leather (ProPerf) SportRider
Backpad optional - will accept optional backpad
CE approved F.A.S. armor at shoulder + elbow
Competition double leather at shoulders and elbows
Adjustable Cobra waistband using velcro pull-through tabs
Leather lined collar
Snap-back mandarin collar
3-way zipper attachment system for Vanson jackets + pants
2 Interior zip-close secure wallet pockets
ProPerf competition weight steerhide
STREAMLINER snaps for streamliner vest attachment
Ventilated mesh lining
Long leather zipper-pull
ID key fob embossed with garment unit-number for reference
Windtight low-bulk zip close sleeves
Black snaps - all parts
Leather windflap with license pocket
Black oxidized metal zippers
Comfort + Innovation    = Confidence + Concentration
                                     = Safety + Speed
                                     = No Compromises
                                     = Vanson
It is hot. Humid too. Must concentrate. Every pilot knows comfort is paramount. On a hot day the cooling of Vanson ProPerf leather is remarkable. From Racing Suits, to the MANX, to the SRX, to the CSRV, to today's MK2 CSRV...multiple generations of development and refinement have proven the concept and design of Vanson SportRider jackets. Confidence, Security, and Performance: these are the characteristics of the SportRider.
The CSV2 is built on the basic chassis of the Vanson SportRider family of jackets. Trim, ergonomic, and with direct lineage from the racetrack, the Vanson SportRider family are aristocrats in a crowded field of poseurs and copycats. Forward biased, and slightly rotated forward, the sleeves are set in a racing-suit cut. Another track feature: almost the whole of the jacket is cut from Vanson ProPerf leather. Ventilation at 100%. Pick up speed - more airflow.
Wrist zippers along the inseam are backed with a competition-racing-suit-style gusset. A competition license holder is on the front windflap. The three-piece waistband adjusts by leather and Velcro tabs at the sides, and the inner waistband is soft suede to grip your torso. All SportRider jackets feature the three-piece OptiPanel zip-to-pants system, allowing the jacket to be mixed and matched with any SportRider pants - ideal for track days, or fast European-style touring.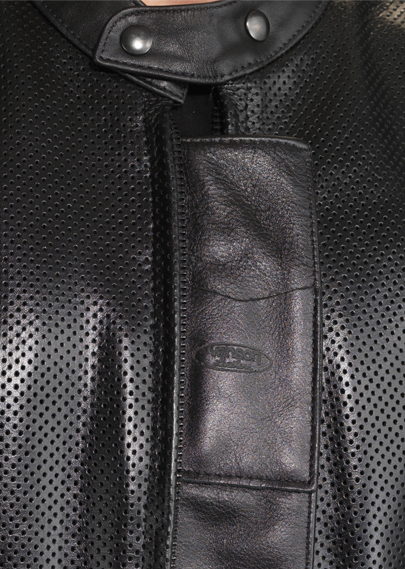 Internal shaped leather patches reinforce the shell at the elbows and shoulders, where additional protection comes from the patented Vanson Floating Armor System. This system mounts the CE-approved armor in a Velcro and elastic harness, allowing controlled movement inside the leather shell, with the optional backpad suspended from Velcro hangers stitched into the sides of the shoulder seams like backpack straps. Translation: protective armor stays in place while you can comfortably move without being restricted by the jacket and armor.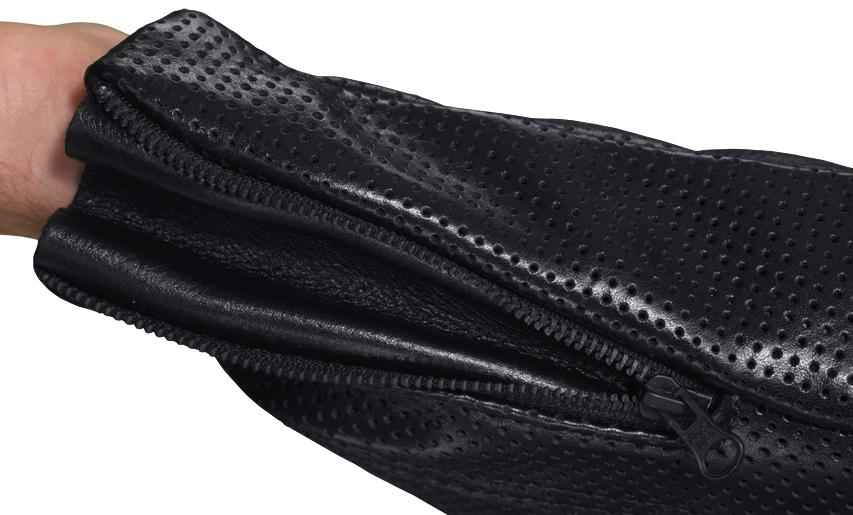 The conceptual brief for this project has always been that the armor must be retained in the correct position, regardless of the attitude, altitude and speed of the rider. In practice this means that the garment has to fit properly (snugly) and not expand when, for example, vents are opened. The armor has to be imperceptible to the rider, so the rider can move; it has to have a little give, which is why we designed the patented Floating Armor System. When the ventilation is active, the airflow mustn't distort the size and the shape of the garment.
All these are lessons that came out of hard-won roadrace experience.
Available in men's and women's sizes.
Data sheet
Material

Jackets........4

CATAGORY

Mens........3
Specific References
ean13

HAND MADE IN U.S.A.

upc

4.40,8.10,23.10,24.10,24.20,26.10,35.10,35.20,35.70,.00,.00,.00,.00,.00

MPN

CSV2 P150
SIZES...32..34..36..38..40..42..44..46..48..50..52..54..56..58..60..62
Size 42 Chest measurement 47.5.....Ease 5.5 inches
Nape of neck to wrist 34.5 inches
Back Length to bottom of waistband 25.....Front length 18.75
Bottom waistband circumference is adjustable from 35 to 39 inches at sides.
Floating armor in the Shoulders - Elbows and Backpad - Vantech armor is now
standard. Wrist zipper is on the inseam. 3-zip pants attachment system
is also standard.
pre-curved for the riding position. Front length may seem short when
standing upright - but should fall just at top of legs when in the riding
position.