Back
MENS SPORT CRUISER
CSRR FIRE
FIRENZE BLACK MEDIUM WEIGHT
Leather motorcycle cruiser jacket with armor
Relaxed fit leather cruiser jacket with SportRider styling
Backpad optional - will accept optional backpad
CE approved F.A.S. armor at shoulder + elbow
Competition double leather at shoulders and elbows
Adjustable Cobra waistband using velcro pull-through tabs
Leather lined collar
Snap-back mandarin collar
Stealth black on black Vanson logo ovals on shoulders
2 Interior zip-close secure wallet pockets
Medium weight steerhide
Ventilated mesh lining
2 Zip-close exterior hand pockets
ID key fob embossed with garment unit-number for reference
Windtight low-bulk zip close sleeves
Black snaps - all parts
2 Zippered exhaust vents on back
Patented RamAir sleeve vent system
Black oxidized metal zippers
Two-way main zipper for comfort
Zip to pants zipper inside jacket body back only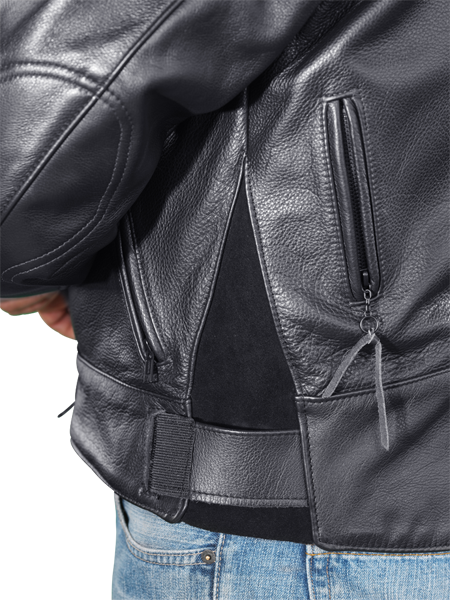 You're a dyed-in-the-wool rider, but not an all-out sport rider; you like to ride the motorcycle, and there may be evenings when you find yourself wanting to put on a sweater (or even two) under your jacket, so you don't want your armholes to be cut really tight.
Here's the jacket we designed for you - it's a SportRider, only with a slightly relaxed fit, cut a little looser, a little less specifically for high-performance riding.
With the pronounced forward bias to its sleeves - they hang naturally at what you might call 4 o'clock - the original Cobra was designed for riding a sportbike leaning forward. The CSR variant is cut for a more upright riding position, still with a slight forward bias to the sleeves, but in this case more like 5 o'clock to upright. It follows that it's also a little longer, and the chest is cut a little looser/more relaxed, omitting the AirCurtain front, while the RamAir sleeves are retained.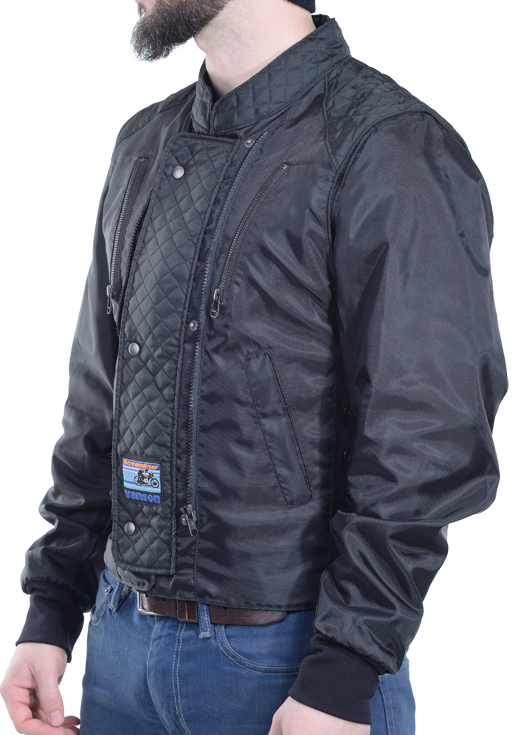 There is a single-zip attachment for pants at the back of the waist, and the jacket is armor-ready.
What you have here is a real Vanson jacket, with a small dose of moderation....in everything except looks and performance. Naturally it accepts the Streamliner vest.
This is available in both men's version CSRR, and women's LSRR.
Sizing is.............XS..Sm..Med..Lge..Xlge..XXL..XXXL..XXXXL
Chest size Scale......34..38..42...46...50....54...58....62
MED (SIZE 42) Chest measures 49.5 inches NORM Ease 7.5
Back Length 25.5 .......Front Length 21 .....Nape to Wrist 35
Bottom circumference sweep is adjustable from 38 to 42 inches.
Jacket is cut to cover top of beltline. The rear waistband is dipped.
This is a RELAXED SPORT-RIDER jacket. Shoulder and elbow armor standard.
Back-Pad is optional. Waistband is adjustable.