This Weekend - 15% OFF SALE!
On Internet and Showroom Purchases Now thru Sunday
Holiday Showroom hours are M-F 9-6 Sat 10-4, Sunday 11/27 and every Sunday until Christmas 12-4.
Our Elves are hard at work filling your orders!
Back
LIGHTNING MK2 SPORTRIDER
C3L2 BLK
BLACK SOLID+PERF COMP WEIGHT
Controllable vent leather SportRider street jacket
AirCurtain + RamAir venting systems with 3M reflective
Backpad optional - will accept optional backpad
CE approved F.A.S. armor at shoulder + elbow
Competition double leather at shoulders and elbows
Adjustable Cobra waistband using velcro pull-through tabs
Leather lined collar
Snap-back mandarin collar
3-way zipper attachment system for Vanson jackets + pants
Reflective ovals for extra visibility at night
Reflective piping for added visibilty at night
2 Open mesh lining pockets
ProPerf and competition weight steerhide
Two-tone color styling
STREAMLINER snaps for streamliner vest attachment
Ventilated mesh lining
Long leather zipper-pull
ID key fob embossed with garment unit-number for reference
Windtight low-bulk zip close sleeves
Black snaps - all parts
Patented RamAir sleeve vent system
Leather windflap with license pocket
Black oxidized metal zippers
Comfort + Innovation    = Confidence + Concentration
                                     = Safety + Speed
                                     = No Compromises
                                     = Vanson
You're a sportrider, you're serious, you're not into flash (at least not for its own sake). You like to fly  -  but prefer to do so under the radar. You keep a low profile  -  except that when you're riding at night you really want to be seen.
Here's the jacket we designed for you: the Lightning. It has all the ventilation features of the Cobra  -  adjustable air-curtain vents in front, ram-air sleeves  -  and all the safety features  -  armor-ready, 3-zip attachment to compatible pants. Where it diverges from the primal austerity of the Cobra is in its two-panel front, with a horizontal seam; we use that seam, as well as the shoulder and sleeve seams, to install 3M reflective piping, visible at night for a great distance. Add a reflective Vanson shoulder oval on each side, and more piping on the back – and you have  full circumference enhanced visibility.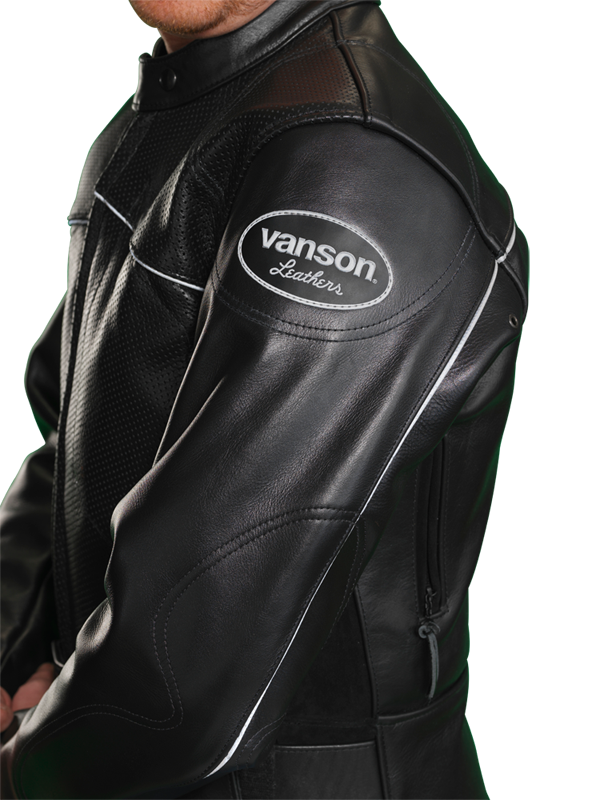 In keeping with its low-profile intent, it comes in black, but other colors may be ordered. Naturally it accepts the Streamliner vest.
The conceptual design brief for this project has always been that the armor is to stay in the correct position, regardless of the attitude, altitude and speed of the rider. In practice this means that the garment has to fit properly (snugly) and not expand when, for example, vents are opened.
The armor has to be imperceptible to the rider, so that the rider can move; it has to have a little give, which is why we have the patented Floating Armor System. When the ventilation is activated the airflow mustn't distort the size and shape of the garment.
All these are lessons that come out of hard-won Road Race experience.
Data sheet
Material

Jackets........4

CATAGORY

Mens........3
Specific References
ean13

HAND MADE IN U.S.A.

upc

4.40,8.10,22.10,22.20,22.70,24.10,24.20,24.75,26.10,28.20,35.10,35.20,35.70,.00

MPN

C3L2 BLK
SIZES...32..34..36..38..40..42..44..46..48..50..52..54..56..58..60..62
Size 42 Chest measurement 47.5.....Ease 5.5 inches
Nape of neck to wrist 34.5 inches
Back Length to bottom of waistband 25.....Front length 18.75
Bottom waistband circumference is adjustable from 35 to 39 inches at sides.
Floating armor in the Shoulders - Elbows and Backpad - Vantech armor is now
standard. Wrist zipper is on the inseam. 3-zip pants attachment system
is also standard.
pre-curved for the riding position. Front length may seem short when
standing upright - but should fall just at top of legs when in the riding
position.