Back
SATELLITE MK2 SPORTRIDER
C3S2 BLK
BLACK COMPETITION WEIGHT
Leather motorcycle jacket reflective RamAir vent and armor
Sportrider with 3M piping RamAir sleeve vents and armor
Backpad optional - will accept optional backpad
CE approved F.A.S. armor at shoulder + elbow
Competition double leather at shoulders and elbows
Adjustable Cobra waistband using velcro pull-through tabs
Leather lined collar
Snap-back mandarin collar
3-way zipper attachment system for Vanson jackets + pants
Reflective ovals for extra visibility at night
Reflective piping for added visibilty at night
2 Interior zip-close secure wallet pockets
Competition weight steerhide
Two-tone color styling
STREAMLINER snaps for streamliner vest attachment
Ventilated mesh lining
Long leather zipper-pull
ID key fob embossed with garment unit-number for reference
Windtight low-bulk zip close sleeves
Black snaps - all parts
Patented RamAir sleeve vent system
Leather windflap with license pocket
Black oxidized metal zippers
Comfort + Innovation    = Confidence + Concentration
                                     = Safety + Speed
                                     = No Compromises
                                     = Vanson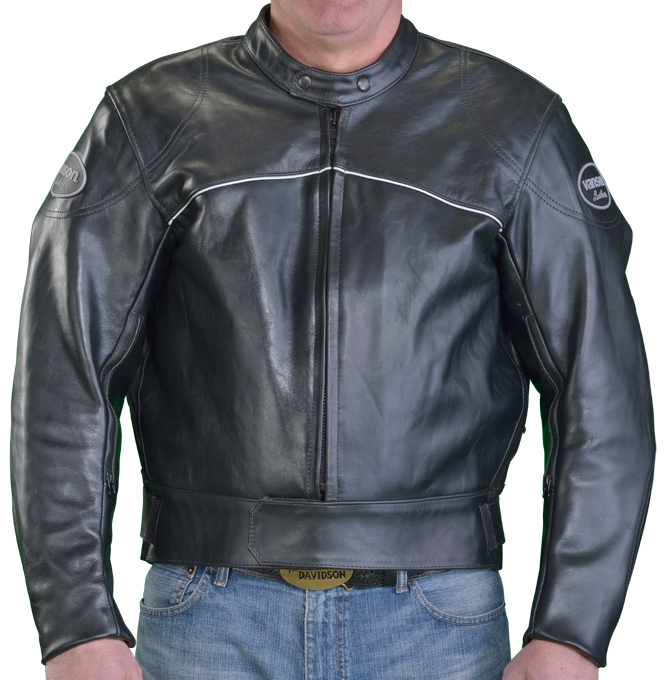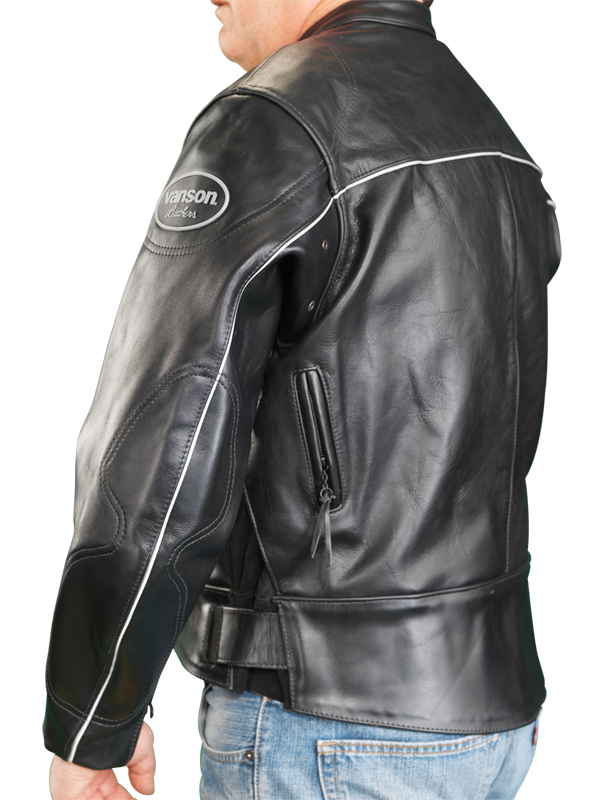 Serious road-work Jacket, no flash desired...Low altitude flying,  under the radar, these are all adjectives that describe the Satellite Jacket. The patented RAM-Air sleeve vent system combined with the rear exit vents allows for comfortable warm weather riding, while the optional removable Streamliner vest brings the riding season well into the Fall and early Spring .
Provision is made to attach matching pants to the jacket using the Vanson 3-way connector system.
The conceptual design brief for this project has always been that the armor is to stay in the correct position, regardless of the attitude, altitude and speed of the rider.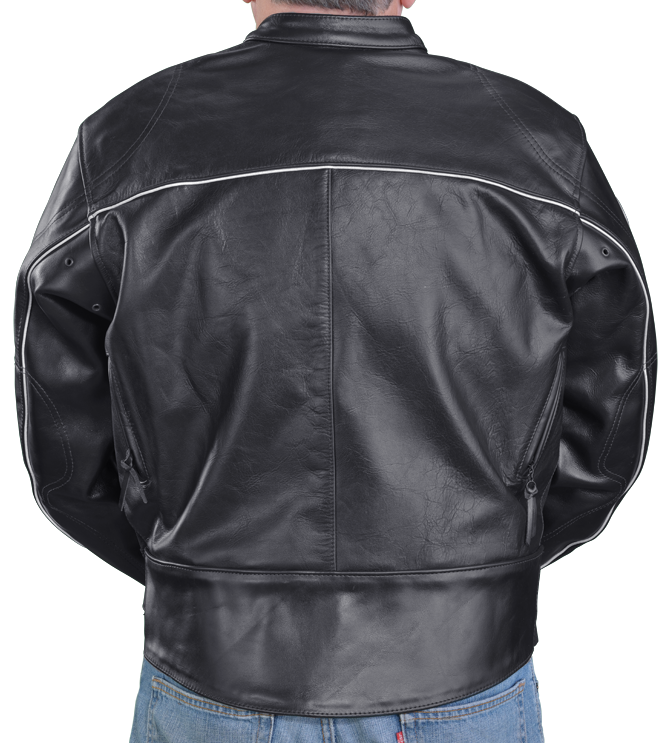 In practice this means that the garment has to fit properly (snugly) and not expand when, for example, vents are opened.
The armor has to be imperceptible to the rider, so that the rider can move; it has to have a little give, which is why we have the patented Floating Armor System. When the ventilation is activated the airflow mustn't distort the size and shape of the garment.
All these are lessons that come out of hard-won Road Race experience.  
SIZES...32..34..36..38..40..42..44..46..48..50..52..54..56..58..60..62
Size 42 Chest measurement 47.5.....Ease 5.5 inches
Nape of neck to wrist 34.5 inches
Back Length to bottom of waistband 25.....Front length 18.75
Bottom waistband circumference is adjustable from 35 to 39 inches at sides.
Floating armor in the Shoulders - Elbows and Backpad - Vantech armor is now
standard. Wrist zipper is on the inseam. 3-zip pants attachment system
is also standard.
pre-curved for the riding position. Front length may seem short when
standing upright - but should fall just at top of legs when in the riding
position.