We are now offering Sezzle as an interest-free payment option when purchasing our product
You can choose between 4 payments. 6 weeks. (cart $1-$500) or a 3-month loan (cart $500-$25,000)
Back
CHOPPER (CONTINENTAL CHPQ)
4014 BLK
BLACK COMPETITION WEIGHT
CHP Chip leather motorcycle jacket with CCW
Chip Leather Jacket with quilted top-stitching detail
Bi-Swing action back for greater movement
Strengthened kidney panel
Double buckle side-adjusters
Leather lined collar
Quilted leather detail in elbows shoulder and yoke
Slant front zipper
Brass hardware
1 Interior lining open-top wallet pocket
Concealed Carry - CCW - Pocket
Leather-lined inside gun pocket
Rayon-lined sleeves for easy wear comfort
Red quilt lining
2 Zip-close exterior hand pockets
ID key fob embossed with garment unit-number for reference
Windtight low-bulk zip close sleeves
Black capped snaps with brass socket stud and post
The distinctive quilting on the shoulder and elbow areas reflects the heritage of this design from the Pacific Northwest. Police departments in Washington and Oregon added this feature for extra protection to the original California Highway Patrol design favored in Sacramento. We have also offer an optional concealed carry (CCW) leather lined gun pocket to the Chopper for either a right or left hand draw.
We use a double layer of military-derived ballistic nylon spacer fabric under the quilted area - this resists compression, giving additional padding and energy absorption. It offers little resistance to airflow, so when the front lapels are opened cooling air flows through the quilted areas, making this jacket more comfortable in warm weather. When the front is zipped up, and the lapels are closed, the quilted areas become an insulating dead air space which keeps the rider warmer in winter. Performance and protection in one streamlined package.
The cut of the Chopper is very much a period piece. During WW2 Patton, Bradley, Eisenhower and their officers wore waist length Tanker Jackets - a look which became very popular after the Allied Victory.
After WW2 Highway Patrol Departments in the Western states evolved an unmistakable style for their motor patrols. Also during the 60's in Englandthis style of jacket was popular with theCafe Racermotorcycle sub-culture. Practical considerations drove these developments.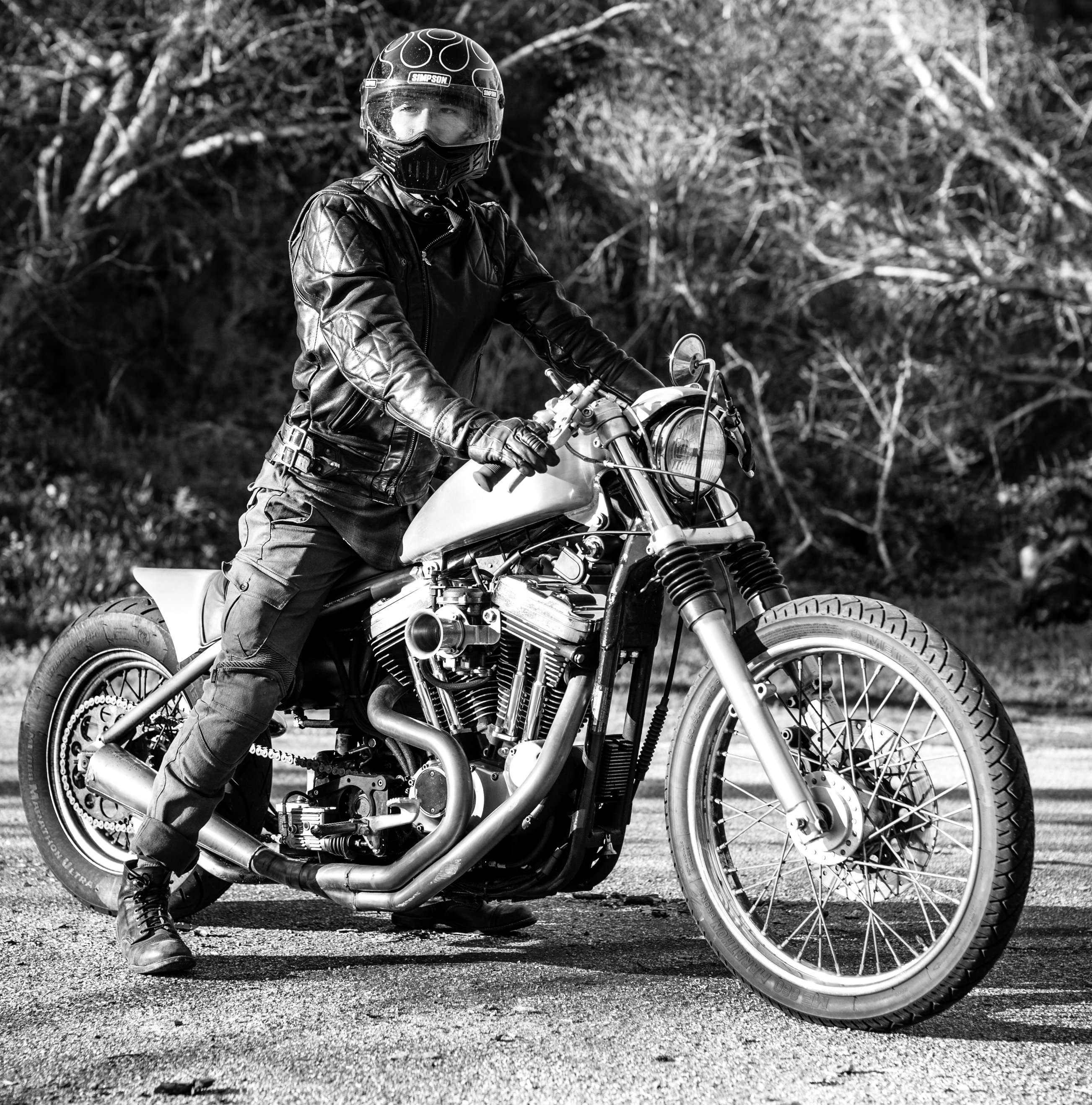 Zippered fronts had become more common instead of buttons and hooks. The front was shortened so contact with the thighs would not push the jacket up into the rider's throat. A moderately-dipped back was added to support the kidney area and help seal out the wind. To keep the freedom of a full-blouson upper-torso cut with wind-tight snug waist, we added traditional double side-buckles of polished solid brass.We also incorporated a concealed carry leather lined gun pocket.
Details are important, so is the leather. The Chopper is made from Vanson XL X150 leather - a reproduction of the leathers made in the '40s. Hand waxed, hand finished, milled and plated just as in the distant past. Vanson XL Leather is the Real Deal when it comes to bringing good things to life, again.
So when you hold a Chopper in your hands you can feel the resonance of Patton and his generals, enjoy the beauty of the details and the cut, and sense the pride of the CHP; with the unparalleled quality and craftsmanship that can only be a Vanson. Simple lines, functional details, long-lasting durability inside and out.
Data sheet
Material

Jackets........1

COMFORT

Non armored........1

ARMOR

Leather........1

CATAGORY

Mens........1

CHANAME

Not vented........1
Specific References
upc

24.10,32.10,35.10,35.20,.00,.00,.00,.00,.00,.00,.00,.00,.00,.00

EAN13

CHP2

MPN

4014 BLK
SIZES......XS......SM......MED.....LGE.....XL......XXL.....XXXL
SCALE......32......36......40......44......48......52......56
Size MED-(SZ 40 Chest measures 45.5 = CONTINENTAL FIT (5.5 of chest ease)
Back length is 27.25 in. Front 21.5 Sleeves 34.5 in. Nape of neck to Wrist.
Jacket is meant to cover the beltline - Back waistband is dipped to cover
the lower back and beltline. Bottom circumference sweep with the lacing
tight is 39 inches