Back
NO-BLAST VEST
NOBL N100
FIRE RETARDANT BLACK
Top fuel drag race protection
Blast protection vest - 8 layers of cordura front
Exterior shoulder-tabs with velcro for adjustable fit
Exterior side-tabs with velcro for adjustable waist
Composite construction - ARAMID + Cordura
The Concept is to protect the upper torso of the rider from blast effects should a motor explode during a run down the Dragway track. Protection is from both shock waves of energy from the explosion and flying bits of motor that can be as deadly as shrapnel.
Protection is from 12 layers of Kevlar® folded tightly together and stitched using a quilting pattern. This is sandwiched by two sets of 1000 Denier Cordura, one set is 8 layers, the other 9 layers. In total there are 29 layers of strong material, bound tightly together with 1 diamond quilting...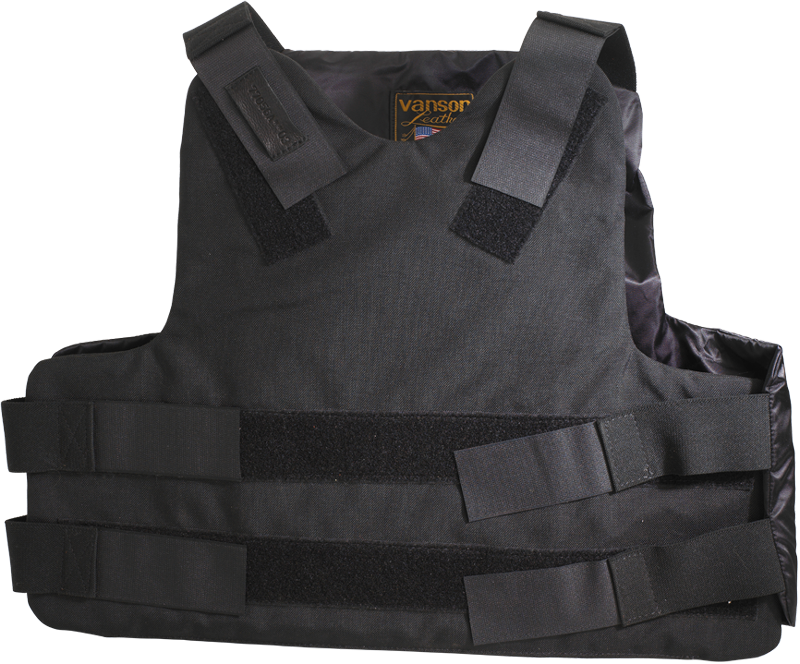 This is not a bulletproof item.... but Vanson's Matt Silva did a test with a 9mm and a .357 magnum... in both cases the bullet was stopped, completely absorbed and buried in the layers... The No-Blast Vest is constructed for protection and equipped with adjustable velcro tabs over the shoulders and at the side seams. The key to protection is that the vest fit the body both snugly and comfortably. For even more protection, in the front of the vest is a pocket to accept the optional Titanium metal plate see Style TP01. Safety in numbers... 29 layers a pretty good number...
DuPont™ and Kevlar® are trademarks or registered trademarks of E.I. du Pont de Nemours and Company.