DR1 - Men's 1 piece Custom Leather Motorcycle Drag Racing Suit
The DR1 is the "NO COMPROMISE" professional one piece Drag racing suit designed for maximum comfort and flexibility without sacrificing safety. This custom made suit is constructed of a single layer of 1.4mm competition weight cowhide.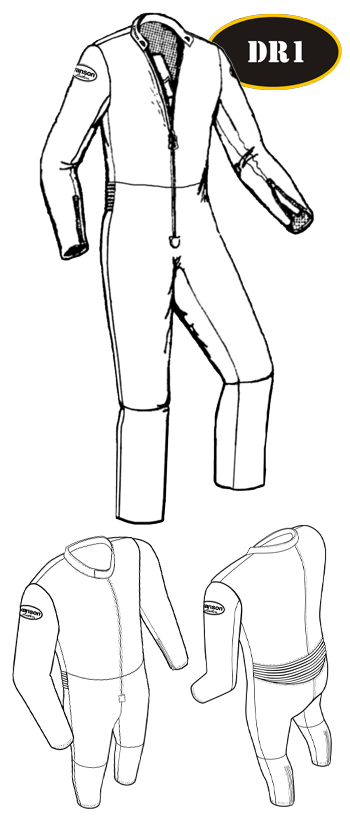 All the zippers and hardware are long lasting brass. The mandarin collar has a Velcro closure as a standard feature. The wrist and ankles are raw edge leather construction to reduce the bulk in your gloves and boots. There is a small license pocket (stamped with the Vanson unit number for identification) on the wind flap of the jacket for time slips. The ankle zippers and fly zipper have velcro closure tab flaps to keep those zippers in the safety locked position. As with all of our racing suits we have customizing options that can be added for small additional cost.

The two most asked for options with this suit are the Back pad. VA4V ce level 2 and Grind. TheBack pad. VA4V ce level 2 that lives in a pouch attached to the lining. This can be removed. Grind is a Vanson exclusive sandwich of extra leather and Powerstretch in the shoulders, elbow/forearm, hips, knees and seat. The effectiveness of Grind has been tested at 248mph; if you want to know how it works just ask Korry Hogan (248 mph) or Chris Hand (225 mph) from Redneck Express. We are the only company that offers Grind in a drag racing suit.

We have also developed special Thermo Kevlar Heat Shield options for the Top Fuel, Pro Fuel, Pro Drag and Destroyer classes.

Input from many riders has been instrumental in the development of this suit; We thank Dave Schultz, Jim McClure, Steve Johnson, Ian King, Larry Mcbride, Angelle Savoie, Matt Smith.
• One piece suit of single thickness leather. (no inside patches).
• Adjustable Mandarin collar, Velcro® closure with Vanson logo embroidery.
• Back pad. VA4V ce level 2, that lives in a pouch attached to the lining.
   This can be removed.
• Wind flap with license/time slip pocket.
• Low bulk raw edge sleeves and ankles.
• Leather expansion section at back for comfort and freedom of movement.
• Straight-cut pant legs with slight pre-curved knee and 10" ankle zippers on rear.
   Sized to fit over boots.
• D-ring on right sleeve.
• Nylon mesh lining for comfort and ventilation.
Get started by downloading the Custom Suit Measurement Guide below, if you have any questions about how to order or size your suit feel free to call or email our suit expert, Matt Silva : matts@vansonleathers.com or 508-678-2000 
---
Drag Racing Leathers Testamonials
Korry Hogan The Worlds Fastest Motorcycle Drag racer- 255 MPH 4-Time World Record Holder- Funnybike/Top Fuel Motorcycle
November 25, 2011
Dear Vanson Leathers,
I am writing today to send you my most sincere thank you and tell anyone who is thinking about purchasing leathers that you are THE BEST IN THE BUSINESS!!!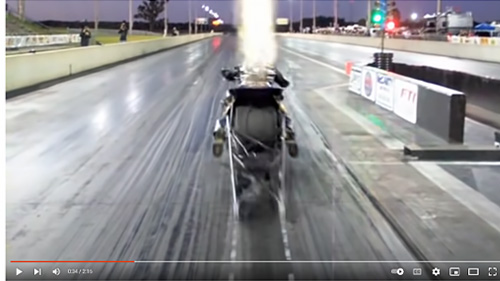 On September 10, 2011, I was making a few exhibition passes at US131 (Martin, MI) during the tracks Nitro Funnycar Event when I made one of the quickest and fastest drag racing passes in history. As I went through the Finishline, I was blown off of my Top Fuel Motorcycle at 246 MPH in 5.78 SECONDS.
When I exited the motorcycle, I was lifted into the air and slammed to the pavement, which knocked me unconscious. In hind site, this was the best scenario that could have happened as my body went limp and I slid on my back for over 300 yards.
As I sit and write this letter, I am totally healed from the crash. Totally. The ONLY damage that I suffered was road rash on my lower spine, where the vented material of my suit succumbed to the intense heat and abrasion of sliding across the pavement at 245+ MPH. I had NO OTHER DAMAGE. None. I could have run a 5K marathon the next morning except I had forgotten my running shoes back in Denver. HA!
To my knowledge, this is the fastest motorcycle crash in history. What makes it even more amazing is the fact that I suffered almost NO damage. The suit is truly a work of art and I would NEVER put myself in another set of leathers as I have now proved that I can walk away from a second 200 MPH crash with NO abrasions. Back in 2008, I was electrocuted by a broken spark plug and had to let go of the motorcycle while traveling over 210 MPH and hit the ground going 200. This crash had the same exact result- NO DAMAGE to my skin whatsoever. TRULY AMAZING!!
I cannot thank you enough for the incredible leathers that you have provided me with for the past 8 years of my Professional drag racing career. I started using your leathers and gloves back in 2003 and have been a diehard VANSON FAN since.
Thank you again for all you do to keep us racers and riders safe from harm. You have proved to me that the cost of leather is much, much cheaper than time spent in the emergency room.
Thank you,
Korry Hogan
---