We're Cutting Inflation! • 10% OFF Sale*
Slava Ukraini! "Glory to Ukraine!"
* Sale applies to all discount marked items. Some items only available at MSRP.
Back
SATURN GLOVES
SAT D150
BLACK DEERSKIN GLOVE LEATHER
Retro leather motorcyle touring gloves
Full Gauntlet Deerskin Gloves w/wrist strap + buckle
Finger seams sewn inside for durability
Old school full size cowhide gauntlet
Wrist beltlet with slider and snap
Chrome hardware
Specially tanned and prepared Glove deerskin
Gauntlet gloves are some of the oldest, most classic glove designs ever made by man. Look at old pictures of cavalrymen, aviators, motorcycle couriers, and troopers  -  you often see them wearing versions of this design. Gauntlets certainly date back to the swordsmen of the Middle Ages, and likely originated even earlier in ancient Central Asia.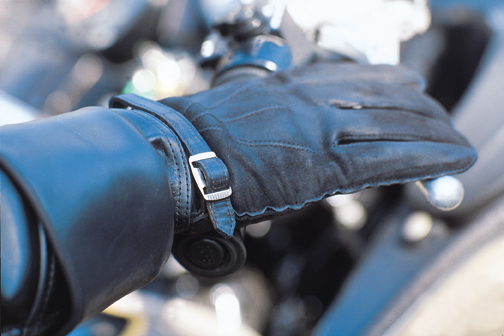 Vanson Saturn Gloves would be equally at home on the hands of a WW1 open cockpit biplane pilot, a 1930s motorcyclist, a 1950s motor patrol officer...or you today.
A classic deerskin hand is attached to a competition weight cowhide cuff. The deerskin hand gives a glove that stretches to conform to your hand and remains comfortably elastic over time. A soft deerskin bead is an elegant finish to the outer edge of the cuff, a barely visible touch of luxury...
On the outside of the wrist a belt with slide-buckle passes through a D-ring and lets you adjust the fit.
Vanson Saturn Gloves are available in both men's and women's sizes.
Data sheet
Material

Gloves........25

CATAGORY

MENS GLOVES
Specific References
ean13

HAND MADE IN U.S.A.

upc

30.10,35.10,.00,.00,.00,.00,.00,.00,.00,.00,.00,.00,.00,.00

MPN

SAT D150
SIZE....1XS.......2S.........3M.........4L..........5XL..........6XXL
MEAS.....7.....7.5- 8.....8.5- 9.....9.5- 10.....10.5- 11.....11.5- 12
Wrap tape over the widest part of the knuckle - make a fist and note this
measurement. Measure your dominant hand.
Measures about 13 inches from tip of middle finger to edge of cuff - Medium
Cuff length is about 4 1/2 inches.
.
Glove dimensions given are approximate as gloves stretch during manufacture
and use.