Back
MK3 STREAMLINER
3ST N100
BLACK STREAMLINER COMPOSITE
Hi-vis insulated liner
Wind resistant reversible insulated universal liner
Side laces with black grommets
Nehru collar
Embroidered sunray inspired motorcycle rider on liner
Black oxidized metal hardware
2 Interior lining pockets button-close
Inside multi-media pocket with earphone wire pass through
H2O-proof zipper in liner to access interior storage area
Hi-Vis safety yellow lining with reflective safety stripe
Self stowable in pocket in back for easy transport
2 Zip-close exterior hand pockets
2 Front open hand pockets
Removeable sleeves with comfortable soft knit wrist cuffs
Inner windflap and outer stormflap full front length
Click here to flip through our Streamliner Brochure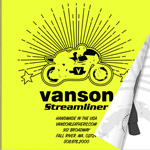 How it works ….
It is cold, you have some air leaks, you need to insulate, you reach for your Streamliner Vest, make sure the sleeves are zipped closed and into the body armhole, and then snap or zip the Streamliner into your Vanson Jacket. The side laces allow you to set the body fit for maximum comfort. Elastic built into the wrists keeps the sleeves just-so tight. Even the front zipper has a wind-proof overflap to keep the wind out.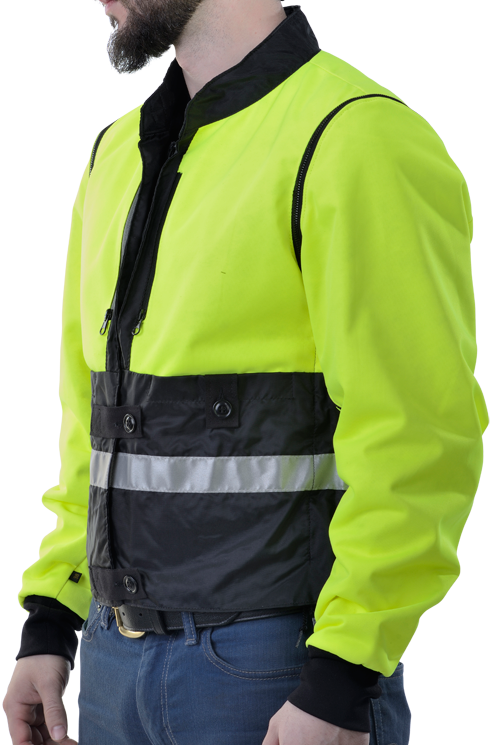 It is night, you are on Route 3, a busy road, some shoulder, and you have a flat tire. You take your Streamliner off, reverse it so the safety hi-vis lining and reflective strips show in the headlights of oncoming traffic. Because the Streamliner is designed to be fully reversible you can zip close the front zipper and windflap system either the reflective hi-vis side or the four pocket front side out. In one of the two zip-closed chest pockets you have an LED flashlight...
Finally you got there, bike is parked, time to get to the show. It is going to be slightly cool this evening, so the Streamliner is perfect. Unzip the sleeves, fold them up, and because of the revolutionary thin insulation and construction they fit neatly into their storage pockets in the back panel where you will always have them with you... Walking over, hands in pockets, we can just use the button tabs to keep the vest lightly closed with a hint of cooling air...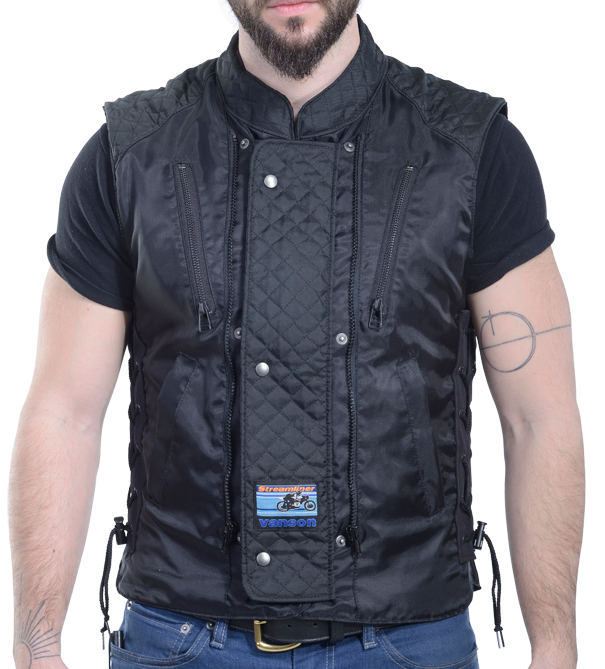 You get to the show and people are noticing your vest. The shoulder padding is obviously hand quilted and top stitched. The front looks all business with the four pockets and hand quilted wind-proof applied windflap. So you give in and show the admirers the hi-vis inside lining with the reflective material worked into the custom embroidery design... The trick Media Pocket with wire pass-through in the upper left chest area gets a special mention. Neat zip-off sleeve-storage pockets, air gauge and pen holder strip, and the twin inner large capacity storage pockets round out the tour. What you did not show them is the secret pocket-in-a-pocket feature in which you have your stash...
What is the deal? How does the STREAMLINER do everything it does?
First Vanson is using a proprietary blend of soft structure high-density polyethylene quilted to 4.3 oz polyester knit. This mix allows wicking and helps create dead air spaces. Then we insert this assembly into a 200 denier nylon that has been sealed at the textile mill with polyurethane for water resistance, wind-proofness, and strength. This sandwich of materials makes for a very thin, lightweight, wind-proof garment ideal for use in a high wind environment such as motorycling.
Through all of these details, the obvious hand made one at a time philosophy that is Vanson Leathers shows through. The Streamliner is a complete thought, on its own or as a supporting part of a jacket, in all respects.
SIZES........32..34..36..38..40..42..44..46..48..50..52..54..56..58..60..62
Relative-Scale...XS......SM......M.......L.......XL.....XXL.....XXX....XXXX
Chest Size 42 (Med) 44 inches Ease 2 inches
Front Length 19.5 inches Back Length 23.5 inches
Nape of Neck to Wrist 35.5 in.( +- .50inches in length per size )
Bottom Circumference 42.25 in. ( +- 2 inches in circumference per size)
Note: Fully adjustable side lacing allows Chest + Bottom Circumference to
grow 2 in. So loose laces will allow 42 to grow to a 44 or shrink to a 40.