15% OFF SALE*
Happy 4th of July - We're Celebrating 246 Years of Freedom! - (Now thru July 10th)
* Sale applies to all discount marked items. Some items only available at MSRP.
Due to these Inflationary times we have had to raise our Custom Racing Suit prices, Please call us for these prices adjustments.
---
Slava Ukraini! "Glory to Ukraine!"
Back
ARMORED VANSON ORIGINAL
AR3 BLK
BLACK COMPETITION WEIGHT
First Vanson leather motorcycle jacket
Vanson original Model A jacket updated with armor
Backpad optional - will accept optional backpad
CE approved F.A.S. armor at shoulder + elbow
Dipped back and kidney panel for secure windtight fit
Full length action back
Snap-back mandarin collar
Brass hardware
1 Interior lining zip-close secure wallet pocket
Competition weight steerhide
Black rayon lining
Full leather inside facings
STREAMLINER snaps for streamliner vest attachment
1 Zip-close exterior chest pocket
2 Zip-close exterior hand pockets
ID key fob embossed with garment unit-number for reference
Built in underarm gusset for enhanced movement
Windtight low-bulk zip close sleeves
Leather windflap
In 2012 we began to produce Vanson AR2 jackets with armor. This was such a successful update to the AR2 that we made it a style of its own and called it the AR3.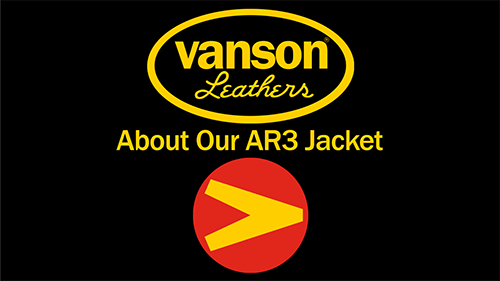 Taking all the great features of the AR2 as a base we added some room to the shoulders and the back, to allow backpad and shoulder-armor installation without compromising the flexible fit of the jacket. We built this jacket with wide, substantial inside leather facings for anchoring the inside pocket and keeping the lining away from any potential wear points.For greater wind protection without adding bulk and keeping a good collar height, we lined the collar with long-lasting rayon.
Then, to allow the collar to either be fully sealed, or snapped open without anything loose flapping in the wind, we extended the collar and added snaps. We also started the front zipper a few inches up from the bottom so the jacket would splay out slightly, increasing comfort for the rider. Then we moved the wrist zippers to the inseam so that when elbow/forearm armor is installed there is no conflict with the top of the wrist zipper. For installing or adjusting the armor there is a zipper in the center back seam of the lining.
This update is just the latest in the 40 years since the Type A jacket family was first designed. To appreciate how years of firsthand riding experience, re-engineering and refinement lead to the AR3, you can read about the first Vanson leather motorcycle jacket here. Built to last for 40 years and beyond. Thats how we do it at Vanson.
Data sheet
Material

Jackets........1

CATAGORY

Mens........1
Specific References
upc

4.40,8.10,26.10,35.10,35.20,35.70,.00,.00,.00,.00,.00,.00,.00,.00

EAN13

AR2

MPN

AR3 BLK
SIZES...32..34..36..38..40..42..44..46..48..50..52..54..56..58..60..62
Size 42 ----Chest measures 46.5 --------Normal ease 4.5 inches
Back Length 27 ......Front length 21 ...Nape of Neck to Wrist 35
Bottom circumference sweep is 43 inches.
AR3 - is the original Vanson jacket updated for Armor.
This jacket has a full length action back - and under-arm-gusset to provide
great movement. The Back is cut longer than the front.
N.B. The jacket is cut for longer torsos - on people of less than 5 ft.9
The jacket may be too long - especially in the front.