Back
LADIES DRIFTER JACKET
DRFL FIRE
FIRENZE BLACK MEDIUM WEIGHT
Armored cruising street leather motorcycle jacket
Drifter cruising jacket with armor for ladies
Backpad optional - will accept optional backpad
CE approved F.A.S. armor at elbow
CE approved F.A.S. armor at shoulders
Dipped back and kidney panel for secure windtight fit
Snap collar
2 Interior zip-close secure wallet pockets
Armor access zipper in lining to adjust or remove armor
Full leather inside facings
STREAMLINER zippers along facing - attach streamliner vest
Ventilated mesh lining
2 Zip-close exterior hand pockets
ID key fob embossed with garment unit-number for reference
Racing suit style wrist zippers with shaped zip guard
Underarm gusset for enhanced movement
2 Rear zip-close exhaust vents
Patented RamAir sleeve vent system
Underarm ventilation grommets
Leather windflap
Black oxidized metal zippers
In 2005, we decided to make a SportRider-influenced jacket with a little more relaxed fit, lighter in weight, but with protective armor, and cut for a comfortable touring riding position.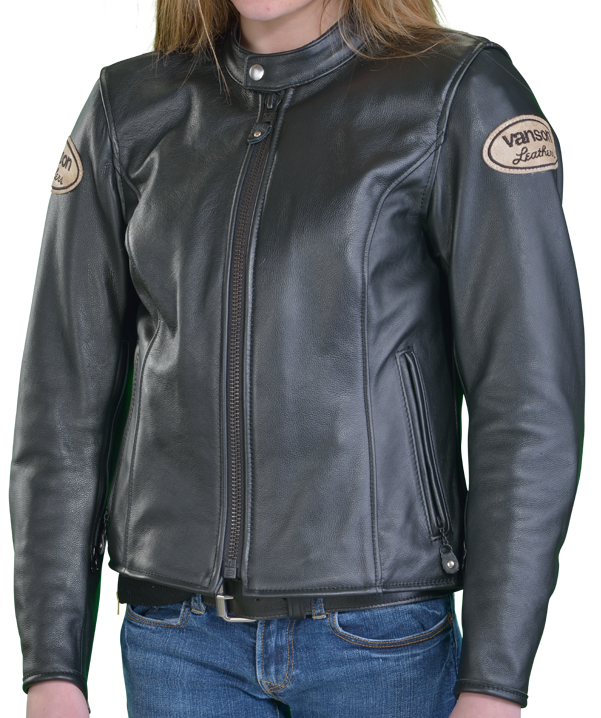 We wanted to build a leather jacket that you would grab first on your way out the door. The result is the Drifter family. Today we offer these easy-to-wear styles in both men's and women's versions.
A streamlined look meets functional modern technology.
Vanson's leather Drifter Jacket has the classic center front zipper and two zipped hand pockets. Subtle-yet-substantial body armor uses our patented Floating Armor System which allows the rider to adjust protection level as needed for maximum comfort. Ventilation is via Vanson's patented sleeve vents that maintain the diameter of the sleeves, with the jacket keeping its shape whether open or closed. Rear exit vents ensure smooth airflow. The Vanson Drifter will accept our insulated, reversible Streamliner. For a sleek look, comfort and safety, the Vanson Drifter will be the jacket you grab as you head out.
Sized in..........XXS....XS....S....MED...LG...XL...XXL...XXXL
Ladies Size.......0
Chest measurement.34....35....36...40....42...44...48.....50
Front 18.5 in.----Chest Measurement Medium 43 in.------Norm Ease 3
Sized to take armor - Shoulders + Elbows standard - will accept optional
backpad. Access for armor is through zippered lining at back.
Cruiser fit - pre-curved sleeves. Medium back length is 23 inches.
Nape of Neck to wrist 32 inches.
Bottom circumference sweep is 42 inches.