Back
LADIES FULL THROTTLE JACKET
DRCL Z150
PERF ZIRCONIAN BLACK SMOOTH
Armored street cruiser leather jacket
Ladies leather AirCurtain vented jacket
Backpad optional - will accept optional backpad
CE approved F.A.S. armor at elbow
CE approved F.A.S. armor at shoulders
Dipped back and kidney panel for secure windtight fit
Snap collar
MiniPerf - Tight perforation pattern leather panels
Armor access zipper in lining to adjust or remove armor
Ventilated mesh lining
2 Zip-close exterior hand pockets
ID key fob embossed with garment unit-number for reference
Racing suit style wrist zippers with shaped zip guard
Underarm gusset for enhanced movement
Windtight low-bulk zip close sleeves
Chrome hardware black cap snaps
2 Rear zip-close exhaust vents
AirCurtain vent system - patented
Patented RamAir sleeve vent system
Underarm ventilation grommets
Leather windflap
As Miss Vikki in the Vanson Showroom once said: If a Cobra 2 and a Drifter had a baby what would you get? Youd get a DRAC!
Back in 1995, when we first worked on designs with variable venting, the idea was to allow airflow into the jacket to cool the rider without creating a billowing puffed-up bag of humanity coming down the road. You know the look. Weve all seen a guy like this jacket filled with air, holding onto the bars for dear life with the wind trying to rip him off his bike. Not exactly a comfortable ride. Until another Vanson innovation solved the problem.
Most so-called vent systems were nothing more than zipper slits - when open they expanded the jacket shell forming an air brake around the rider. See this and you'll know that any protective armor in the jacket has probably shifted. Crash forces twist an oversized garment around, with the protection areas likely to move away from points of contact, leaving little or no benefit from having the armor in the first place.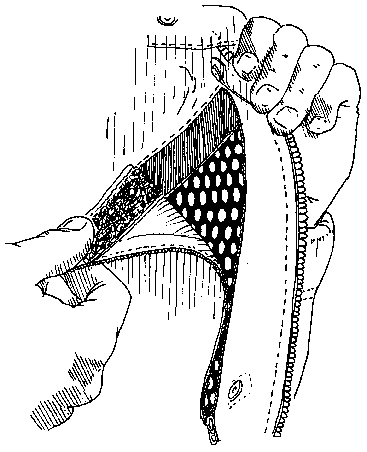 Our patented innovations all start from the principle that controllable airflow and protection dont have to be mutually exclusive. All our venting is controllable, and allows air to pass through the shell by making the vent area non-stretchable but air-permeable, so the shell keeps its correct shape, the protection stays where it should be, and the jacket itself does not become (literally) a drag on the rider.
Full Throttle jackets use our AirCurtain Vent System (US patents 5507042, 6883178, 6868557) in the front panels. Behind the perforated leather front panels are water - and air-proof nylon curtains that can be unzipped and rolled down for airflow. There are two exit vents on the back near the underarm. Opening both front and rear vents lets air flow through the jacket shell.
The Sleeves use our patented RamAir Vent System (US Patent 5704064), with a zippered vent safely at the crook of the elbow for air to enter, flow past the armpits and exit through the rear vents. Under the entry vent is a heavy mesh that keeps the sleeve from expanding while the outer material of the sleeve forms an air scoop.
Enhanced protection comes from our F.A.S. - Floating Armor System (US Patents 607274, 6260196) which attaches shoulder and elbow armor with a Velcro harness for easy adjustment or removal. This allows the rider to move while the armor stays in the right place.
We incorporated these technical features in the basic shell of our Drifter jackets which feature a relaxed comfortable fit ideal for touring or just kicking about. We make these for both Men (DRAC) and Ladies (DRCL).
Sized in..........XXS....XS....S....MED...LG...XL...XXL...XXXL
Ladies Size.......0
Chest measurement.34....35....36...40....42...44...48.....50
Front 18.5 in.----Chest Measurement Medium 43 in.------Norm Ease 3
Sized to take armor - Shoulders + Elbows standard - will accept optional
backpad. Access for armor is through zippered lining at back.
Cruiser fit - pre-curved sleeves. Medium back length is 23 inches.
Nape of Neck to wrist 32 inches.
Bottom circumference sweep is 42 inches.