DR2- Men's 2 piece Custom Dirt Track/Drag Racing Suit
The DR2 is the "NO COMPROMISE" Professional two piece Custom Dirt Track/Drag Racing Suit designed for maximum comfort and flexibility without sacrificing safety. This custom made suit is constructed of a single layer of 1.4mm competition weight cowhide. All the zippers and hardware are long lasting brass. The mandarin collar has a Velcro closure as a standard feature.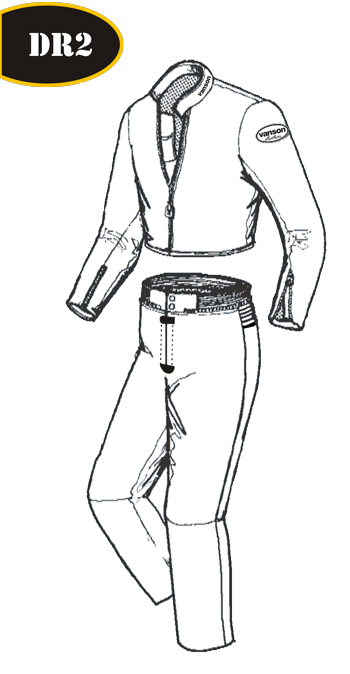 The wrist and ankles are raw edge leather construction to reduce the bulk in your gloves and boots. The ankle zippers and fly zipper have velcro closure tab flaps to keep those zippers in the safety locked position.

There is a small license pocket (stamped with the Vanson unit number for identification) on the wind flap of the jacket for time slips. The leather end of the waistband on the pants is also embossed with the Vanson unit number. The unit number allows us to track ownership and service history of each suit.

It has a nylon mesh lining for comfort and ventilation. An inside access zipper along the fronts and around the neck allows the lining to be semi-removable for ease of repair, graphics, maintenance, and cleaning.

As with all of our racing suits we have customizing options that can be added for small additional cost.

The two most asked for options with this suit are the Pro4(4 scale backpad) and Grind. The Pro4 back pad attaches into the jacket with velcro and can be adjusted for comfort or removed. Grind is a Vanson exclusive sandwich of extra leather and Powerstretch in the shoulders, elbow/forearm, hips, knees and seat. The effectiveness of Grind has been tested at 248mph; if you want to know how it works just ask Korry Hogan (248 mph) or Chris Hand (225 mph) from Redneck Express. We are the only company that offers Grind in a drag racing suit.

We have also developed special Thermo Kevlar Heat Shield options for the Top Fuel, Pro Fuel, Pro Drag and Destroyer classes.

Input from many riders has been instrumental in the development of this suit; we thank Angelle Savoie, Matt Smith, Dave Schultz, Jim McClure, Steve Johnson, Ian King, and Larry McBride.
Standard Features
• Two piece suit of single thickness leather. (no inside patches). Full circumference waist zipper and stretch knit inner pants waistband.
• Adjustable mandarin collar with VELCRO closure.
• No waistband on jacket.
• Wind flap with license/time slip pocket.
• Low bulk raw edge sleeves and ankles.
• Straight cut pants - over boots (slightly pre-curved knee).
• Ankle zippers on back leg.
• D-ring on right sleeve.
• Vanson logo embroidered on collar.
How to Order your Vanson Suit:
Get started by downloading the Custom Suit Measurement Guide below, if you have any quwstions about how to order or size your suit feel free to call or email our suit expert, Matt Silva : matts@vansonleathers.com or 508-678-2000